H. Arlan Heiser
Additional Details
Arlan Heiser is one of the primary contributors to the 16th O.V.I. website. Arlan has travelled throughout Ohio and surrounding states, visiting libraries, newspapers and homes, always searching for information or photographs of the 16th. Here are some of the many materials presented on this site and provided by Arlan Heiser:
• finding and providing copies of proceedings of most of the reunions held by the 16th O.V.I. reunion associations
• tediously prepared charts reflecting the attendance of veteran soldiers at 16th O.V.I. reunions (one chart displayed, more to come)
• several photographs of 16th O.V.I. soldiers (some yet to be presented)
• images of the diary of Sgt. John Caskey Hall, Company C, which are in the process of being published on this website (1/8/2017)
• photograph and detailed research and reports on Thomas B. Linn, soldier-author of the Linn diaries, presented on this site.
• photographic prints of several relics of the regiment, including:
a guidon and two battleflags used by the 16th OVI
a drum used by Pvt. Franklin Freeman, Company K, while with the regiment
Along with the precious materials, Arlan has donated his time, hard work, good advice and friendship to this website and, most importantly, to the 16th Ohio Volunteer Infantry and its descendants. My deepest thanks and appreciation to Arlan for all he has done!
Below are a few more photos taken by Arlan:
---
Arlan at the 16th Ohio monument at Vicksburg National Cemetery, ca. 2006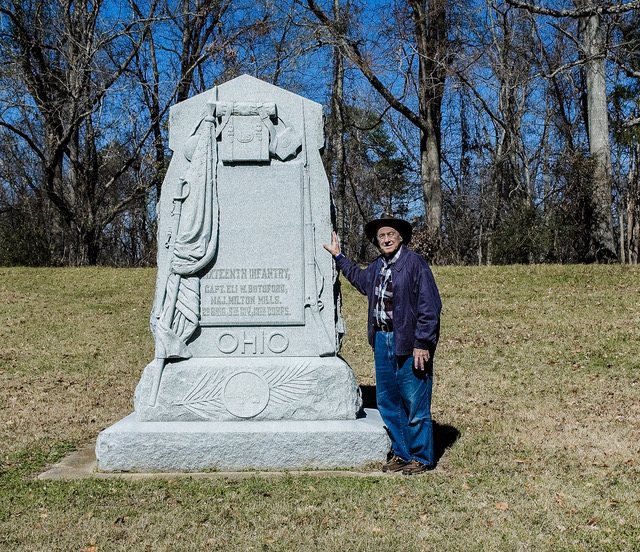 A beautiful scene from Vicksburg National Cemetery.
Note: More than 69 soldiers or over 6% of the three-year 16th Ohio Infantry are buried here.