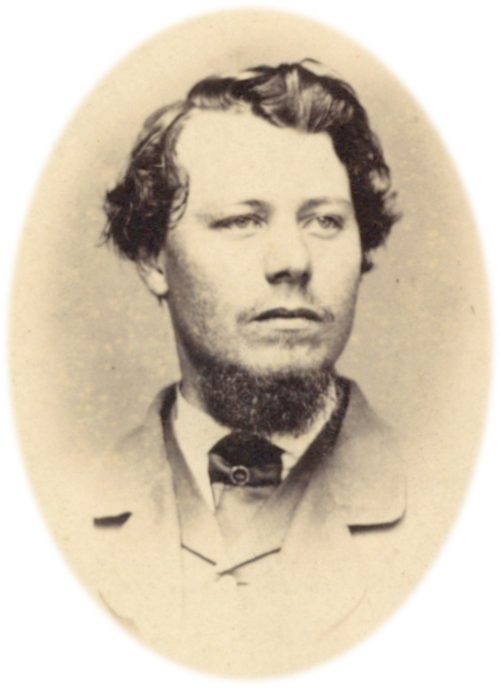 Thomas Buchanan Linn
by H. Arlan Heiser
Perhaps after reading the delightful diary materials of Thomas Linn, you like myself, became interested in learning a bit more about this young man. We have done a little research about him in 1997 and include it for your enlightenment. No doubt some place there are relatives that can confirm, correct and certainly expand upon the information we learned from public sources in Ohio.
Lets start with Tom's birthplace. Census records tell us he was born in Ohio and it seems quite probable this was in Mechanic Township, Holmes County, Ohio. For the reader that does not have a detailed Ohio map you can locate Holmes County by dividing the state of Ohio into thirds east and west and north and south. This would make the state into nine blocks and Holmes County would fall in the southwest corner of the most northeast block. Established another way you can judge the Linn home as approximately 70 miles straight south of Cleveland, Ohio and about 70 miles straight west from the point where Ohio, Pennsylvania and West Virginia borders meet.
In the Holmes County records there is a November 3, 1836 entry for the marriage of Cicero Linn and Margaret Tidball. One, Archibald Hanna performed the ceremony. These people are Tom's parents. Cicero was born May 4, 1812 in Burgettstown, Washington County, Pennsylvania. Cicero married Margaret Buchanan Tidball November 3, 1836. She was born December 30, 1817, in Allegheny County, Pennsylvania, the daughter of Brownhill Tidball and Lovely Caldwell Tidball. Margaret died April 12, 1885 and is buried in the Temple Methodist cemetery. On April 1, 1886 Ciciero married Nannie Wilson. He died November 11, 1902 and is also buried in the Temple Methodist cemetery.
Tom was born January 23, 1842 so he should be in the 1850 Ohio census and indeed he is there in the Mechanic Township listing. Mechanic Township is south and just slightly east of Millersburg, the county seat of Holmes County. As the census taker came down the road he stopped at dwelling number 1118 and found Zachariah Linn, a 57 year old farmer born in Pennsylvania, holding property worth $3,800.00, and Elizabeth Linn, age 67, also born in Pennsylvania. The next dwelling, number 1119, had Cicero and Margaret Linn. It seems a reasonable guess that Zachariah and Elizabeth are the grandparents of Tom. Elizabeth's maiden name was Elizabeth Burgett.
The farm immediately south of the Zachariah Linn farm was owned by George and Prudence Elliott the G-G-Grandparents of the writer. The Elliott farm includes a small cemetery that surrounds a small, long vacant, church building. This is the final resting place of Elizabeth Linn. They were also active members of the Sunday school held at the church when it was an active part of the Methodist circuit in the early 1850's. A class book from the Sunday school indicates Zachariah was a faithful attendee at services but that Elizabeth was marked sick many times. Her tombstone records her death as March 23, 1861 at age 78.
A drive by this area in 1997 will take you down gravel roads over gently rolling terrain. The eastern half of Holmes County, which includes Mechanic Township, is heavily populated by members of the Amish religious sect and in all probability more buggies have passed over the road this week than have automobiles. One has the feeling that you have stepped back close to the time of Tom Linn. There is a house on the old Linn property but its age is unknown to the writer.
When the 1850 census taker counted people at dwelling 1119 he recorded Cicero Linn, a 37 year old farmer who was born in Pennsylvania and holding property worth $600.00. Margaret is listed as Margaret B. age 33. The five children are included only by initials, age and sex. It has:
	    	J.B.	12	M				E.A.	4	F
		T.B.	 7	M  (This is our Tom)		E.C.	8/12	F
		C.B.	 5	M

The next census is in 1860 and during the ten years between these surveys the Cicero Linn family moves and grows. Now the family is living on the south side of Ripley Township, Holmes County. This is about eighteen miles north west of the Mechanic Township location. The writer visited this site on Ripley Township road #T 519 which is a gravel road in 1997. This is the Paint Creek valley and a small branch of this stream passes a corner of the property. There is an older home on the west side of the road that is very probably on the site of the Linn home but it has been modernized and had several additions so determining its age from the outside is just a guess. A woman living there did not know if the place was ever owned by Linn's but she did point to a mobile home located about 300 yards north of the house and stated that she had heard that this is on the site of what was the Linn school house.
The census taker had very nice handwriting but some of it is difficult to read and there are possible errors.
The census for Ripley Township dwelling #1207 reads as follows:
| | | | |
| --- | --- | --- | --- |
| Cicero Linn | 48 | Farmer Real estate 300 Personal Prop 450 | PA |
| Margaret B. | 43 | | PA |
| John B | 22 | Pedling m***ines | OH |
| Thomas B. | 18 | School teacher | OH |
| Cicero B. | 16 | Apprentice silversmith | OH |
| Elizabeth | 14 | In school | OH |
| Ezakiel | 10 | In school | OH |
| Maria ? | 8 | In school | OH |
| Julia S. | 5 | In school | OH |
| William ? | 4 | | OH |
| Sarah A. | 2 | | OH |
| Casper M. | 5/12 | | OH |
The census sheet is a very good one but some of the handwriting was hard to read. The occupation of John B. is unclear. The first word is Pedling with only one D but what he is peddling is a puzzle. My best guess that the word would be machines. We do have Thomas as a very young (age 18) schoolteacher.
The complete list of children of Cicero and Margaret are as follows:
Child
Birthdate
Died
Place at Death
John Brownshill Linn
July 31, 1837
November 3, 1907
Monta Vista, Colo.
Zachariah Swearingen Linn
January 22, 1840
Infant
Thomas Buchanan Linn
January 23, 1842
January 28, 1921
Indianapolis, IN
Cicero Boston Linn
November 26, 1843
June 4, 1916
Prescott, AR
Elizabeth Ann Linn
September 21, 1846
January 11, 1863
Ezekiel Caldwell Linn
December 16, 1849
January, 1931
Maria Jane Linn
April 30, 1852
June 27, 1931
Canton, Ohio
Julia Lovely Linn
August 12, 1854
April 8, 1888
William Isaiah Linn
October 5, 1856
February 15, 1933
North bend, Neb.
Sarah Agnes Linn
April 12, 1858
March 24, 1892
Albert Linn
August 22, 1863
Allie Linn
September 18, 1863
The Holmes County marriage records of 1873 include a Maria Jane Linn marrying William McClelland on April 10, (W.M Gibson Minister) and a Julia L. (or I) Linn marrying Robert S. Appleman, November 20 with E.B. Caldwell minister. Tom's sisters would be of marrying age in 1873 and both the McClelland and Appleman farms can be located a mile or two east of the Linn property in Ripley Township.
Brother Cicero made the Holmes County 1860 census twice for he is also listed in Millersburg, Hardy Township. He is in the A.B. Frey household listed as a 17-year-old apprentice silversmith. Mr. Frey is 33 years old, he was born in Virginia, his wife's name is Lovey (?) E. and she is age 33. No children are listed. Holmes marriage records have Love E. Tidball marrying A.B. Fry June 4, 1859 with John C. Tidball officiating (he was a Presbyterian Minister). Love Tidball Fry is probably a niece of Tom's mother. The 1875 Caldwell Atlas of Holmes County includes a drawing the Frey jewelry store and of their home. Tom Linn mentions a gold pen coming from Uncle Frey. We also find him called "Fry". By the time of the diary Tom mentions that Cicero is in Fort Wayne. In several letters, including one of September 20,' 63 Tom appears to call Cicero, Boston. He later mentions Cicero looking at Wapakaneta as a place to start a jewelry business. There is an Ohio town by this name about 70 miles north of Oxford.
The library has an obit of Tom's mother, Margaret. This claims she was born Dec. 30, 1817 in Allegheny County, PA, she came to Ohio at age 10, and married Cicero Linn November 3, 1836 in Holmes County. She was the mother of 13 children, 8 of whom survive her. She died April 12, 1885.
In the Tom Linn diary we read copies of letters to LS and there are two LS women involved, Lizzie Shafer and Lizzie Shera. Learning about Lizzie Shera was relatively easy but at this writing Lizzie Shafer is a bit of a mystery. He refers to the small town of College Corner so the search should begin here. College Corner is indeed a modest sized town even today but the town is divided by a state boundary and three county boundaries. The town is partially in Butler County, which is in the southwest corner of Ohio. The Ohio Indiana border divides the town east and west and the Ohio portion is divided north and south between Butler and Preble Counties. Taking a straight line College Corner is about 175 miles from Holmes County so how Tom became interested in a woman so far from home is open to speculation. The explanation of the name of College Corner is not known to the writer but the town is about four miles from Oxford, Ohio, the home of Miami of Ohio University. Miami University has been in operation since early in the 1800's and it is possible Tom attended classes here. A listing of Miami alumni of the nineteenth century does not include a Tom Linn. If he attended and did not graduate he would not be in the alumni list but note that this is speculation. He was a schoolteacher in Holmes County and perhaps he was teaching in this area.
Oxford also was home to Oxford Female College and the class of 1859 includes an Eliza A. Shera. The Shera family appeared to be large and some members well known in the Oxford, Ohio community. It is probable that she was a daughter of Caleb Shera (born Feb. 16, 1805) and Sallie Shafer and that she was born in 1841. There is the name Shafer but connecting Lizzie Shafer to this family has not been proven. In Tom's letters of July 25, '63 and August 2,' 63 to Lizzie Shafer he refers to Uncle Caleb. This appears to be Lizzie's uncle rather than his uncle so it is possible her father and Mrs. Caleb Shera are brother and sister.
Checking for a Lizzie or Elizabeth Shafer using several spellings of Shafer in the 1860 census of Ohio and of Indiana has proven frustrating. The important thing the reader will want to know is, did Tom marry the girl he wrote to? Yes! On November 24, 1864 Thomas Linn and Elizabeth Shafer were married by the Reverend William B. Moler in Butler County, Ohio. Rev. Moler was an Oxford Minister of the United Methodist Church. Note that Tom did not waste much time getting to Lizzie, he was mustered out of the army October 31, 1864.
A month before Tom and Lizzie tied the marital knot; Eliza A. Shera married Thomas Greer on October 16, 1864 by the Rev. William McCord in Butler County, Ohio. They lived at 47 Church St., Oxford, Ohio; John Shura lived at 48 Church St.. In 1881 Tom & Eliza Greer have a daughter Ada.
Elizabeth and Lizzie Shafer are common names so the 1860 census' does turn up a few possibilities. In the Butler County census there is an Alfred Shafer age 25 with a wife, Elizabeth age 25. If Alfred died by 1863 it is possible that Tom was writing to the Widow Shafer. There is an Elizabeth Shaffer, age 14 living in Lemon Township, Butler County, Ohio. This Elizabeth would be 17 -18 by 1864 but Lemon Township is on the east side of Butler County and not really close to College Corner. There is an Eliza Shaffer in Killbuck Township, Holmes County and it is possible that she moved to Butler County. There is a township between Tom's Ripley Township home and Killbuck Township. There are quite a number of Elizabeth Shafer's in the 1860 Indiana census but none seem to be located close to College Corner. All of this is speculation.
In the diaries, Tom Linn expresses considerable interest in the election results. He has strong Unionist sentiments and is not interested in talking with any neighbors that have secessionist inclinations. Holmes County did have a significant pacifist group. Some of these people in the Glenmont area decided that they would not submit to draft calls. When state authorities came after them they set up a very modest redoubt on French Ridge and prepared to hold off the authorities by force of arms. The event is now called "Fort Fizzle" as the uprising was put down with very little difficulty. Passions in the community were aroused.
Tom's obituary in the Indianapolis newspaper gives us some information about what happen with the drummer of the old 16th. It claims that he went into the jewelry business in Wellsville, Ohio with his brother. Next he became an agent for the C.H. & I. railroad in College Corner and Liberty, Indiana. In 1873 they transferred him to Indianapolis. He stayed here until the latter part of the 1870's when he joined the "Order of Chosen Friends" an insurance operation. He remained in this job for 20 years. In his later days he was an assistant custodian of the Federal Building in Indianapolis. He was active in the Masonic Lodge, GAR and he attended the Tenth Street Methodist Church.
In a listing of soldiers attending the reunions of the 16th Ohio Volunteer Infantry regiment Tom attends several of the reunions and he lists himself as a resident of Indianapolis, Indiana. The 1870 Indiana census is not indexed and looking through pages and pages of microfilm to find Tom and Lizzie will be a low priority with the writer. It was possible to check in Indianapolis city directories and we find that if Tom did go into the jewelry business with his brother, Cicero it did not last long.
In 1875, the Indianapolis listing is:
Linn, Thomas B. clk CH&IRR shops, res 92 E. Michigan Road
In 1877 the listing is:
Linn, Thomas B. bookkeeper CH&IRR shops. Res N W cor Michigan Ave. and State.
Thomas B. Linn died January 28, 1921. Lizzie died March 17, 1924.
Research and report by H. Arlan Heiser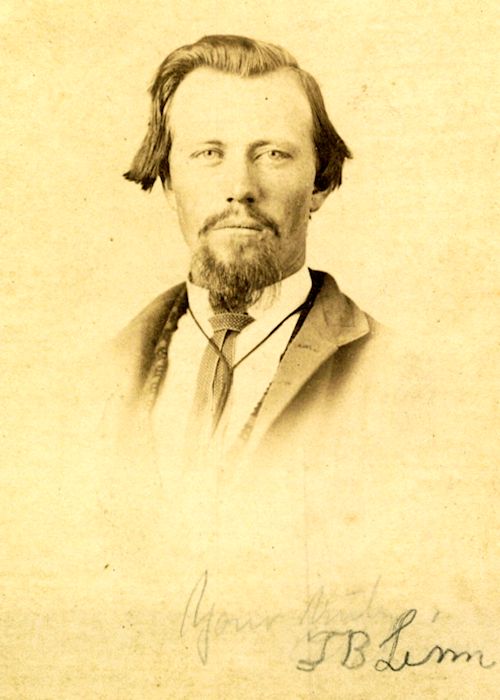 ---
(Mr. & Mrs. Thomas B. Linn) Celebrate 43rd Wedding Anniversary
Indianapolis, Indiana
Thansksgiving, 1907
Surrounded by their children and grand-children in their own cozy home, at 2314 East Twelfth street, Thanksgiving day, Mr. and Mrs. Thomas B. Linn, celebrated their forty-third wedding anniversary. Mr. Linn first met Miss Elizabeth Shaffer in 1861 at Brookville, Ind. Friendship ripened into love, but when the call for troops was issued by President Lincoln Mr. Linn left for the front. He was discharged on Oct. 31, 1864, and on Nov. 24, he was married to Miss Shaffer. They are the parents of six children, all living and all but one of whom were present at the celebration yesterday. The children are Misses A. and Maud E. Linn, both at home; Mrs. Love M. Thompson, 2310 East Twelfth street; Fred E. Linn of 1026 North Keystone avenue; Mrs. Maragret F. Johnson, 1124 North Beville avenue, and C. Harry Linn of Denver, Colo., who was not present.
Both Mr. and Mrs. Linn are in the best of health, and each is 65 years of age. They came to Indianapolis in August, 1872. Mr. Linn is at present assistant custodian of the Federal Building. Before coming to Indianapolis he was in the railroad service for ten years.
As a veteran of the civil war, Mr. Linn has an enviable record. He enlisted in Company B of the Sixteenth Regiment of Volunteer Ohio Infantry and was mustered out in August, 1864. During his service he was under fire for eighty days, this including some of the hardest battles of the war. The worst, as far as Mr. Linn was concerned, was Chickasaw Bayou. An assault was made by his company, and when they were forced to retreat after a terrible fight, but nine men went back over the ground that fifty-four had covered a short time before. He served through the Vicksburg campaign from start to finish and soon afterward marched to the Gulf.
Mr. Linn is a member of the George H Thomas Post of the G. A. R. and was third colonel of the Union Veteran Legions. He is a thirty-third degree Mason and has passed through every degree of the I. O. O. F. order.
Newspaper article provided by H. Arlan Heiser
---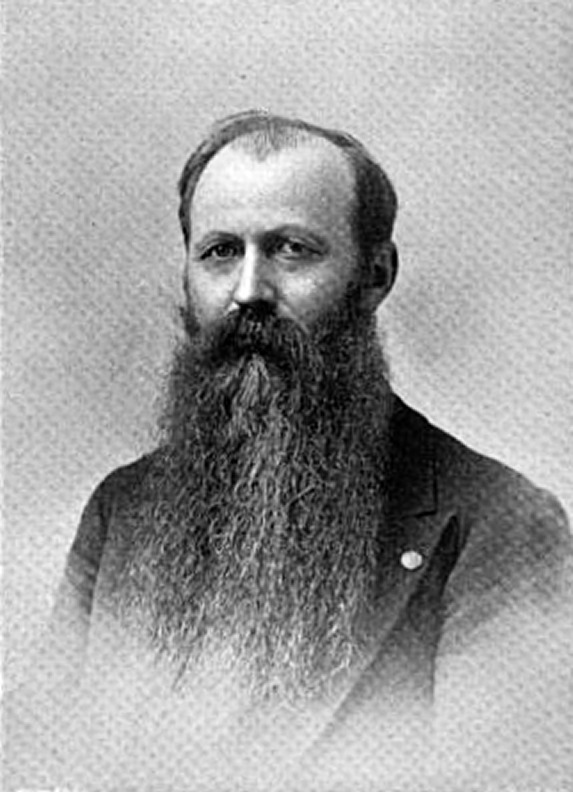 Thomas Buchanan Linn
THOMAS B. LINN DIES AT DAUGHTER'S HOME
Indianapolis, Indiana
January (30), 1921
Thomas B. Linn, age seventy-nine, assistant custodian of the Federal building, a thirty-third degree Mason and a veteran of the civil war, died suddenly at 10 o'clock Saturday night at the home of a daughter, Mrs. J. Claude Thompson, 2314 East Twelfth street. The cause of death was heart disease, with which he had been a sufferer for several years. He was at his office in the Federal building Saturday as usual.
The funeral will be held at 10 a.m. Wednesday at the home of a daughter, Mrs. Marion Van Aradell, 1019 North Beville avenue, and burial will be in Crown Hill cemetery. The Scottish Rite Masons will have charge of the services.
Mr. Linn was widely known in Masonry. He was a member of Capital City lodge No. 312, F. and A. M., which he joined in 1886. He was an officer of the Scottish Rite for twenty-one years before his death. He became a Thirty-third degree Mason in 1907. Mr. Linn was also active in G. A. R. work. He was born January 23, 1842, on a farm at Millersburg, O., and joined Company B, of the 16th Ohio volunteers, before he was twenty years old. He served more than three years in the civil war, most of the time as a drum major.
Before the war, he had taught school. After the war he married Miss Elizabeth Shafer at College Corner, O., and then entered the jewelry business with his brother, C. B. Linn, at Wellsville, O. Later he became an agent for the C., H. & I. railroad at College Corner and Liberty and from there was transferred by the railroad to Indianapolis in 1873.
Late in the seventies Mr. Linn left the employ of the railroad to assist in the organization of the Order of Chosen Friends, an Insurance organization of which he was secretary until the order went out of existence twenty years later. For a time he was employed by the Central Chair Company and finally, about fifteen years ago, he became assistant custodian of the Federal building.
Besides his activities as a Mason and a member of the G. A. R., he was also active in the affairs of the Tenth Street Methodist church, of which he was a trustee at the time of his death. He was a member also of the I. O. O. F.
Mr. Linn is survived by his widow, Mrs. Elizabeth Shafer Linn, 2314 East Twelfth street; four daughters, Mrs. Thompson, Miss Lillie A. Linn, Mrs. VanArsdell and Mrs. Margaret F. Johnson. Emerson avenue and Twenty-first street; two sons, Fred E. Linn, 1034 North Keystone avenue, and C. H. Linn, Pueblo, Col. He is survived also by two grandsons and by two brothers and one sister. The brothers are Dr. E. C. Linn, Monmouth, Ill., and Dr. W. I. Linn, Prescott, Ariz. The sister is Mrs. William McClelland, Canton, O.
Research and report by H. Arlan Heiser