Diary of Thomas Buchanan Linn
Private and Drummer, Company B, 16th OVI
July 6, 1863 through January 27, 1864
Web Author's Notes:
The following was transcribed from the diary of
Thomas B. Linn
, a drummer in the 16th OVI. This transcription was kindly provided by John M. Pierson who obtained it from Mary Bavender.
The diary covers the period from July 6, 1863, to January 27, 1864. Along with the original diary were a series of letters written by Linn or received by him from others during this time period. These letters provide additional detail and perspective. Links to the letters are provided at the appropriate dates within the diary trans script ions, below, or go to the Linn Letters index page to access them all.
It is highly likely additional diary entries were made by Pvt. Linn but these have yet to be found.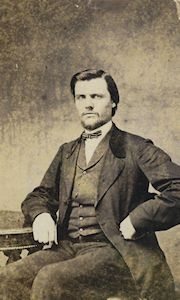 | Item | From Date | Location | To Date | Location | Description |
| --- | --- | --- | --- | --- | --- |
| Part 1 | July 6, 1863 | near Edward's Station, Mississippi | July 31, 1863 | Vicksburg, Mississippi | |
| Part 2 | August 1, 1863 | Vicksburg, Mississippi | August 31, 1863 | Carrollton (New Orleans), Louisiana | |
| Part 3 | September 1, 1863 | Carrollton (New Orleans), Louisiana | September 30, 1863 | near Brashear City (Morgan City), Louisiana | |
| Part 4 | October 1, 1863 | near Brashear City (Morgan City), Louisiana | October 31, 1863 | near New Iberia, Louisiana | |
| Part 5 | November 1, 1863 | near New Iberia, Louisiana | November 30, 1863 | Gulf of Mexico off Matagorda Peninsula, Texas | |
| Part 6 | December 1, 1863 | Gulf of Mexico off Matagorda Peninsula, Texas | December 31, 1863 | Decros Point, Matagorda Peninsula, Texas | |
| Part 7 | January 1, 1864 | near Edward's Station, Mississippi | January 27, 1864 | Indianola, Texas | |