John Hall was with the [90-day] 16th OVI when the unit was moved to Phillipi, (West) Virginia, to participate in one of the very first battles of the Civil War. When his enlistment was over, he re-enlisted for three years and was with this unit for its entire term of duty. He was in Company C, the left flank company of the Regiment.
December 27-29, 1862, John and the regiment were involved in the unsuccessful charge at Chickasaw Bayou.
May 16-17, 1863, involved in the approach battles to Vicksburg at Champion's Hill and Big Black River bridge.
May 19, 1863, John received a concussion in the first charge at Vicksburg.
June 13, 1864, while at parade John suffers a severe cut to his right ankle and foot.
In a brief biography, John mentions among his army experiences that he is involved in the He was one of the ten men detailed to shoot the bushwacker, Lieutenant Robertson. Additional details on the nature of this event are not known.
October 21, 1874, married Lavinnie Eicher, who is a sister of Joseph Eicher, another member of Company AAA, 16th OVI. Lavinnie died in 1897, and John remarries Susan Livingston in November of 1898.
John Hall lived on West Liberty Road (now Route 30), near Wooster, and had a coal business in the area behind the house.
John applied for a pension on June 4, 1898, claiming that on June 13, 1864, his right foot and ankle were injured at Morganza Bend, Louisiana. In the Declaration for Original Invalid Pension, on February 2, 1898, he claims that while going to school, he slipped and fell and injured his right ankle and he could do no duty after this time.
March 29, 1907, John died due to a complication of diseases from which he had suffered for about a year, but always bearing his suffering in a quiet manner and did not complain. Family stories have him suffering from severe arthritis.
Details provided by H. Arlan Heiser, great grandson of Sgt. Hall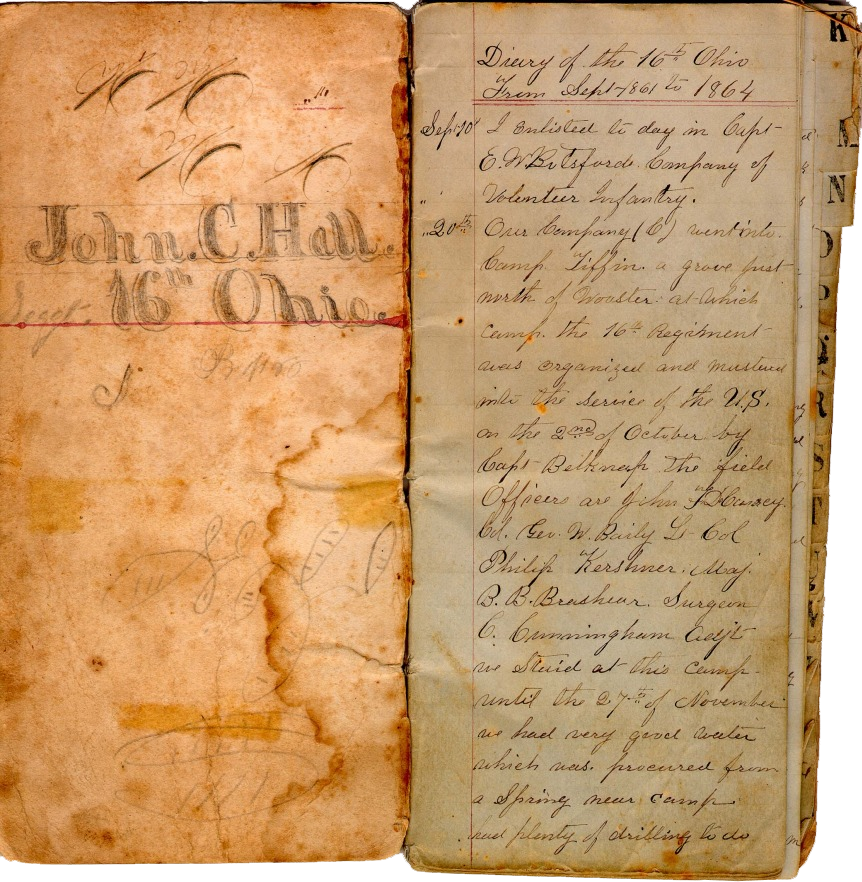 First page of diary of Sgt. John C. Hall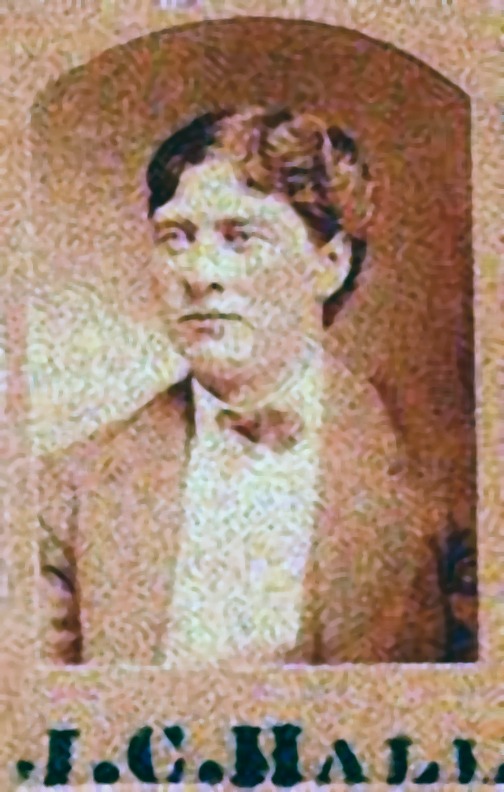 John C. Hall