Military Notes of John M. Boling
Lieutenant, Company B
1862-1863
Web Author's Notes:
The following images were submitted to this website by a donor in the year 2000. They represent eight pages from what is believed to be a military ledger or notebook belonging to Lt. John Boling of Company B. The donor indicates she attempted to donate the book(s) to the Ohio Historical Society but was not successful. She ultimately sold the book(s) on an Internet auction site. If anyone has these books, the 16th Ohio Volunteer website would greatly appreciate obtaining additional scans of the remainder of the pages.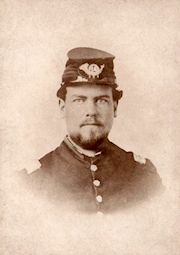 | Page | Content |
| --- | --- |
| 1 | Company Roll - Sergeants and Corporals |
| 2 | Company Roll - Privates |
| 3 | Company Roll - Privates (continued) |
| 4 | Company Roll - Privates (continued) |
| 5 | List of Prices of Clothing |
| 6 | List of Boats Running Blockade at Vicksburg April 16 and 22, 1863 |
| 7 | List of Killed, Wounded and Missing at Chickasaw Bluffs, Dec. 28-29, 1862 |
| 8 | List of Killed, Wounded and Missing at Chickasaw Bluffs, Dec. 28-29, 1862 (continued) |