Military Notes of John M. Boling
Lieutenant, Company B, 16th OVI
1862-1863
List of Prices of Clothing
Web Author's Notes:
The following image was submitted to this website by a donor. The transcription, below, is by the web author and reflects the actual text as accurately as possible. The specific purpose of this listing and any marks is unknown.
Note: The term painted, used below, indicates a method used during the Civil War to waterproof material.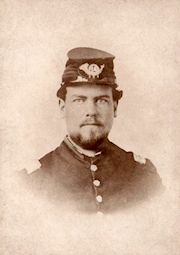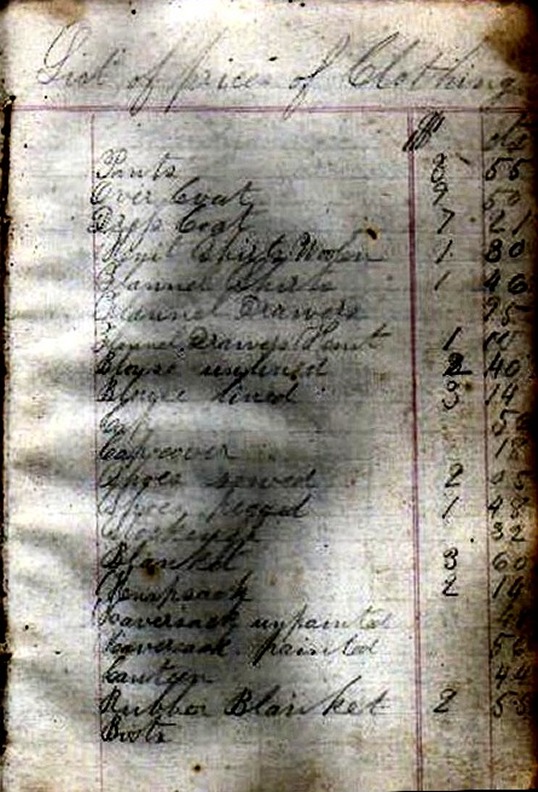 | | | $ | cts |
| --- | --- | --- | --- |
| | Pants | 8 | 56 |
| | Over Coat | 9 | 50 |
| | Dress Coat | 7 | 21 |
| | Knit Shirts Woolen | 1 | 80 |
| | Flannel Shirts | 1 | 46 |
| | Flannel Drawers | | 95 |
| | Flannel Drawers Pants | 1 | 10 |
| | Blouse unlined | 2 | 40 |
| | Blouse lined | 3 | 14 |
| | Cap | | 50 |
| | Cap cover | | 18 |
| | Shoes sewed | 2 | 05 |
| | Shoes pegged | 1 | 48 |
| | Stockings | | 32 |
| | Blanket | 3 | 60 |
| | Knapsack | 2 | 16 |
| | Haversack unpainted | | 41? |
| | Haversack painted | | 56 |
| | Canteen | | 44 |
| | Rubber Blanket | 2 | 55 |
| | Boots | | |
| | | | |