MARCHING SOUTH TO JOIN THE FIGHT
Today, the 16th Ohio left their camp at Nicholasville, Kentucky, and resumed marching southward. They crossed the Kentucky River at Hickman Bridge, a two-lane, covered, wooden bridge and an amazing feat of engineering built in 1838. Cpl. Wolbach describes the march:
The next morning the regiment resumed the march, crossing the Kentucky River at Flickman [Hickman] Bridge, viewing the grand scenery that flanks the Pike for miles, taking a passing look at Boone's Knob, that rises abruptly from the edge of the river.
After a march of 10 miles the regiment camped for the night near the Kentucky River.
Note: Available records provide some discrepancy in the dates and campsites of the regiment at this time. A diary entry by Pvt. Peter Perrine, Company C, indicates the regiment left Camp Clay at Lexington on the morning of January 13 and, after marching 10 miles, camped this night near the Kentucky River. However, Cpl Theodore Wolbach, Company E, in his Camp & Field articles written over 20 years after the war, remembers the regiment leaving Camp Clay, at Lexington, on January 12, and marching 22 miles all the way to Lancaster, arriving there on January 13. Doubting the regiment could have marched 22 miles and that Perrine's diary was likely recorded on or near the actual event dates, this website will give precedence to Pvt. Perrine.
---
period map showing approximate route of the 16th Ohio from Nicholasville, Kentucky, to a campsite near the Kentucky River
image from Library of Congress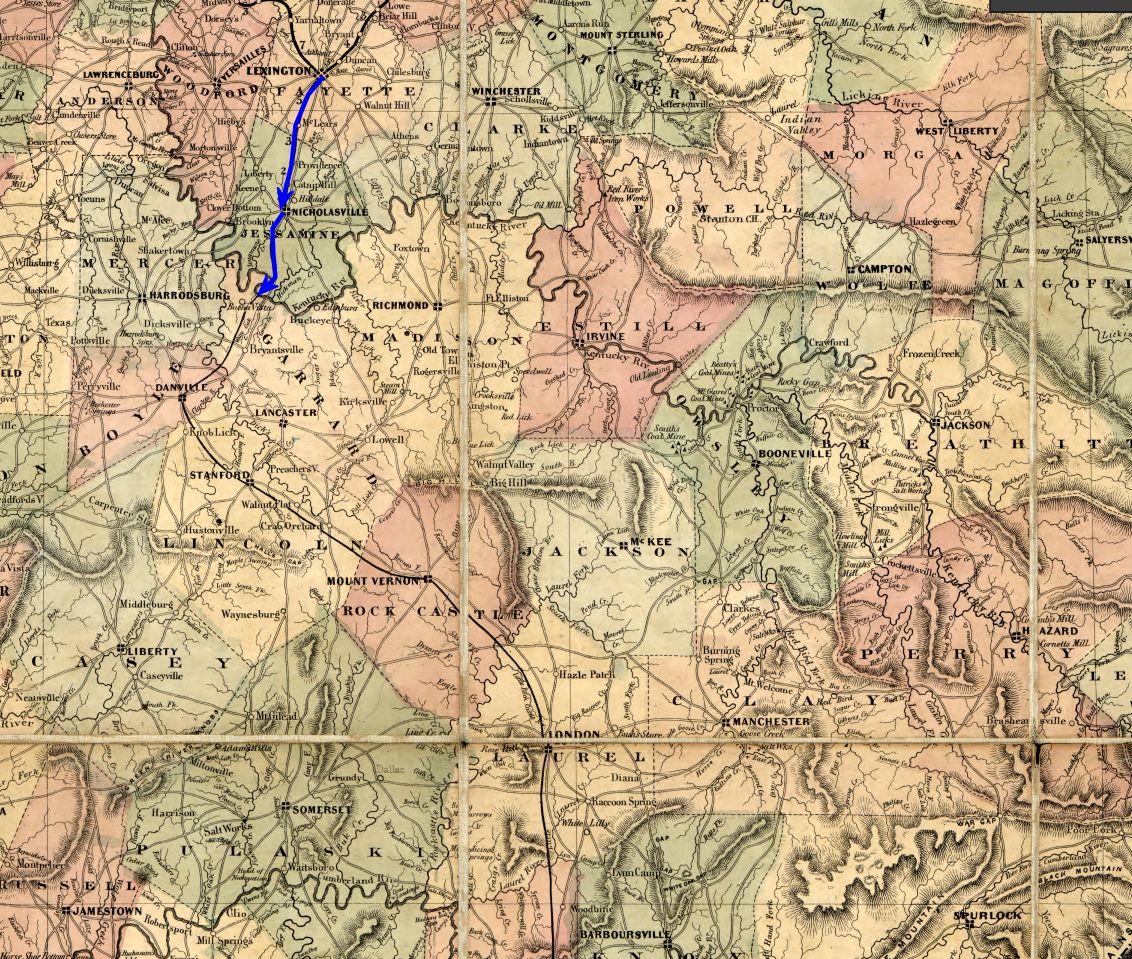 ---
modern day map of the approximate route taken by the 16th Ohio on their march from Nicholasville to a campsite near the Kentucky River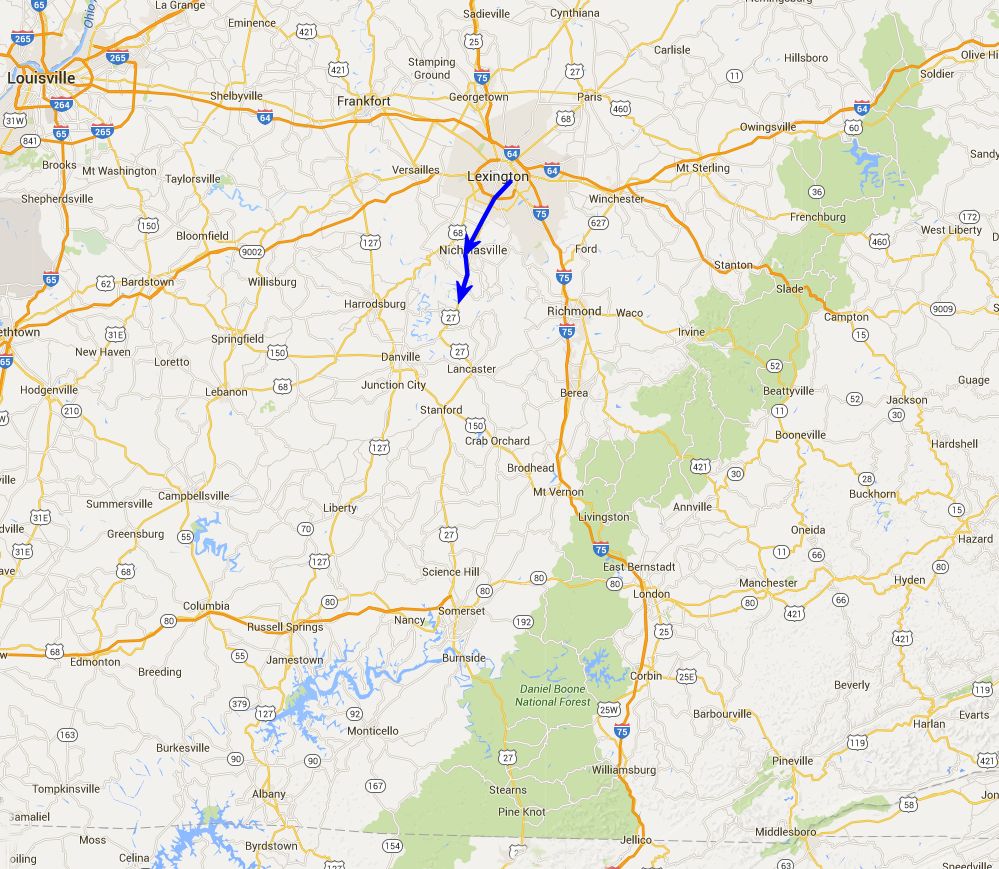 ---
photo of Hickman Bridge over the Kentucky River taken in 1864
image from Library of Congress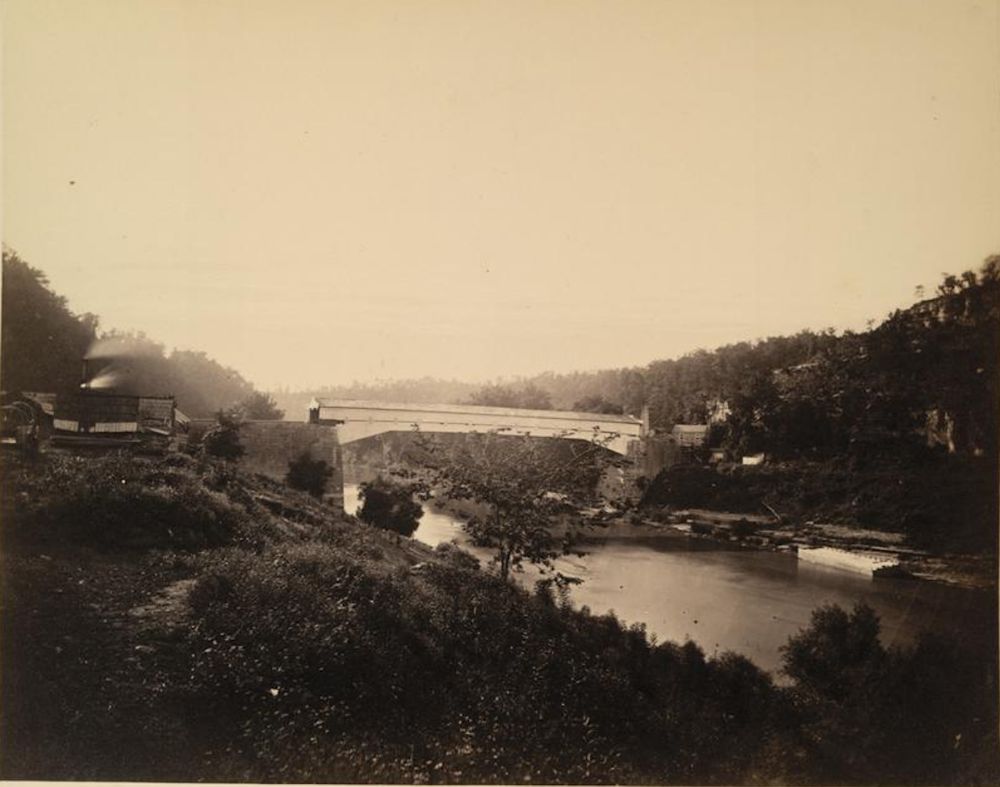 ---
Boone's Knob along the Kentucky River, taken in 1864. Cpl. Wolbach mentions seeing this mountain.
image from Library of Congress