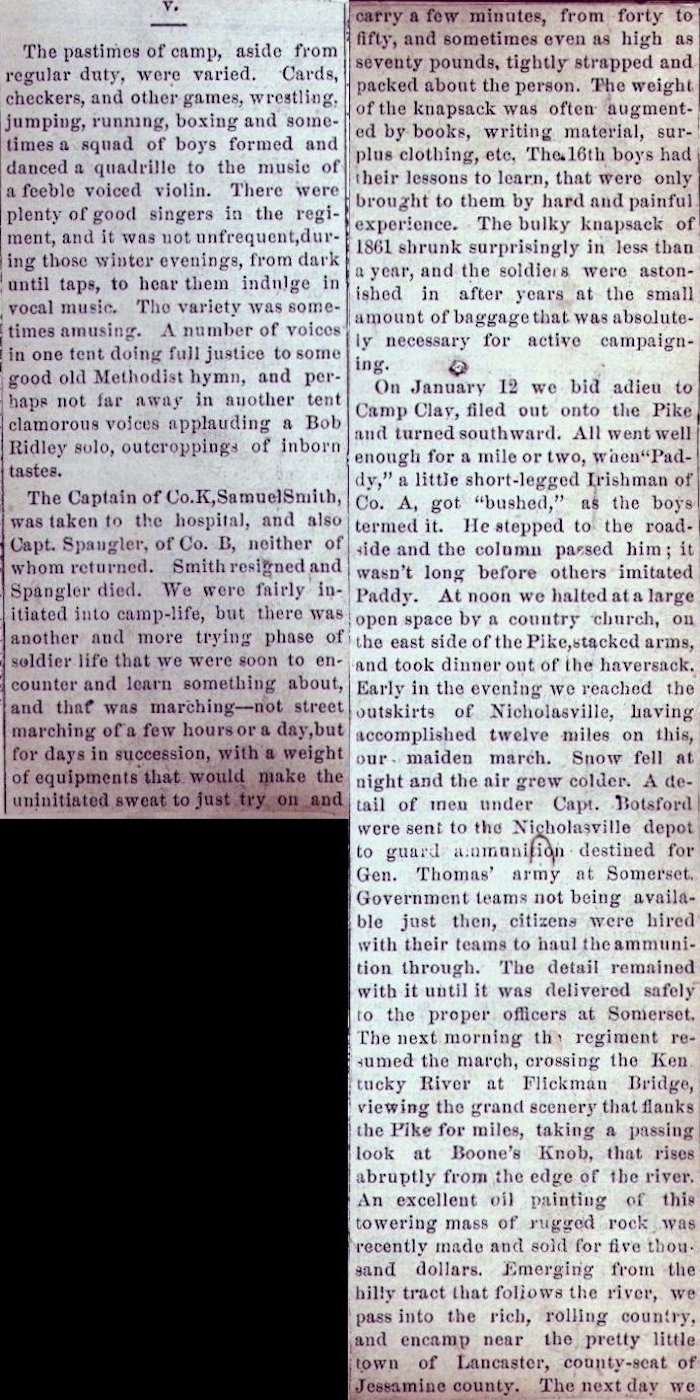 The pastimes of camp, aside from regular duty, were varied. Cards, checkers, and other games, wrestling, jumping, running, boxing and sometimes a squad of boys formed and danced a quadrille to the music of a feeble voiced violin. There were plenty of good singers in the regiment, and it was not unfrequent [sic], during those winter evenings, from dark until taps, to hear them indulge in vocal music. The variety was sometimes amusing. A number of voices in one tent doing full justice to some good old Methodist hymn, and perhaps not far away in another tent clamorous voices applauding a Bob Ridley solo, outcroppings of inborn tastes.
The Captain of Co. K, Samuel Smith, was taken to the hospital, and also Capt. Spangler, of Co. B, neither of whom returned. Smith resigned and Spangler died. We were fairly initiated into camp-life, but there was another and more trying phase of soldier life that we were soon to encounter and learn something about, and that was marching--not street marching of a few hours or a day, but for days in succession, with a weight of equipments [sic] that would make the uninitiated sweat to just try on and
carry a few minutes, from forty to fifty, and sometimes even as high as seventy pounds, tightly strapped and packed about the person. The weight of the knapsack was often augmented by books, writing material, surplus clothing, etc. The 16th boys had their lessons to learn, that were only brought to them by hard and painful experience. The bulky knapsack of 1861 shrunk surprisingly in less than a year, and the soldiers were astonished in after years at the small amount of baggage that was absolutely necessary for active campaigning.
On January 12 we bid adieu to Camp Clay, filed out onto the Pike and turned southward. All went well enough for a mile or two, when Paddy, a little short-legged Irishman of Co. A, got bushed, as the boys termed it. He stepped to the roadside and the column passed him; it wasn't long before others imitated Paddy. At noon we halted at a large open space by a country church, on the east side of the Pike, stacked arms, and took dinner out of the haversack. Early in the evening we reached the outskirts of Nicholasville depot to guard ammunition destined for Gen. Thomas' army at Somerset. Government teams not being available just then, citizens were hired with their teams to haul the ammunition through. The detail remained with it until it was delivered safely to the proper officers at Somerset. The next morning the regiment resumed the march, crossing the Kentucky River at Flickman Bridge, viewing the grand scenery that flanks the Pike for miles, taking a passing look at Boone's Knob, that rises abruptly from the edge of the river. An excellent oil painting of this towering mass of rugged rock was recently made and sold for five thousand dollars. Emerging from the hilly tract that follows the river, we pass into the rich, rolling country, and encamp near the pretty little town of Lancaster, county-seat of Jessamine [Garrard] county. The next day we