CAMPING ALONG THE THE JACKSON ROAD
On this day, the 16th Ohio remained camped in a cornfield along The Jackson Road. Cpl. Wolbach writes:
Next day, May 11th, we remained in bivouac by the roadside, and Sherman's corps passed us on the way to the front. Sherman had been left back at Young's Point to make a demonstration up the Yazoo as a diversion in their favor. Having satisfactorily done that he rapidly followed us up leaving Blair's Division temporarily at Milliken's end, but soon relieved by other troops, they joined us on the 16th. As Sherman's soldiers were passing friendly greetings were exchanged and many questions asked and answered. They looked tired from their hard marching in the hot sun but were cheerful. For a long time the dust brown ranks kept moving on. The 8th Wisconsin Infantry with its living historic eagle borne on a shield by the side of the National colors, and many other regiments and batteries that had been in battle at Ft. Donelson, Shiloh and Corinth formed a part of this formidable procession. A German regiment, 13th Missouri, to which our Division General, Osterhaus, formerly belonged, were particularly interesting to us as almost every officer and man was foreign born; besides this their arms were the same as ours--short French rifles and sword bayonets.
Noting Wolbach's mention of seeing the live bald eagle mascot of the 8th Wisconsin as they passed by the bivouacked 16th Ohio, the eagle was quite a novelty, surviving 36 battles, being wounded, deliberatley fired upon by Confederates and loosed from his perch several times, he became the property of the State of Wisconsin near the end of the war and lived in the State Capitol until his death in March, 1881.
---
Members of 8th Wisconsin Infantry at Big Black River Bridge with mascot Old Abe (taken July, 1863, after fall of Vicksburg)
"Old Abe" and his "shield perch"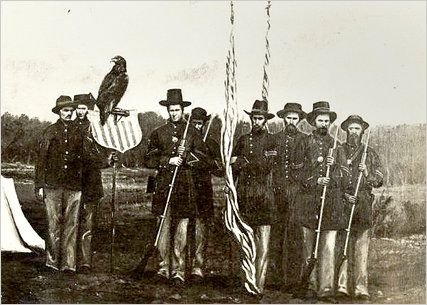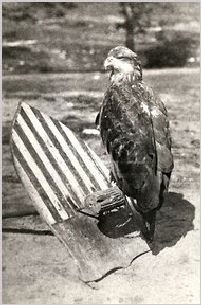 ---
Period map showing the route of the 16th Ohio, with Gen. Osterhaus' 9th Division, camped at a point northeast of Cayuga, Mississippi, on May 11, 1863: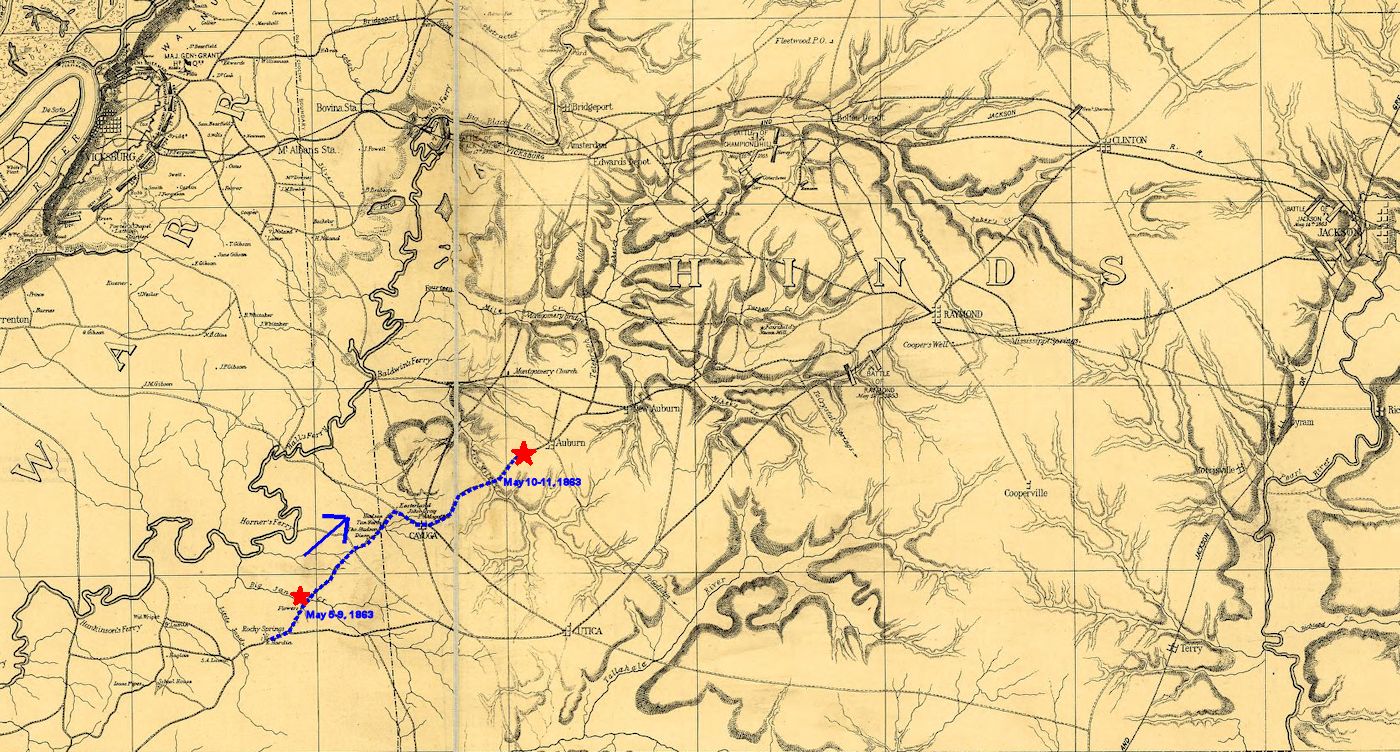 ---
Modern day map of the 16th Ohio's march from their camp on Big Sandy Creek, through Cayuga and, it is believed, near Auburn, Mississippi:

Lavender pin - Village of Rocky Springs, the approximate position of where the 16th Ohio camped on the night of May 3 and May 4, 1863.
Purple pin - approximate campsite of 16th Ohio on The Jackson Road at Big Sandy Creek May 5 through 9, 1863.
Yellow pin - approximate campsite of 16th Ohio on the Jackson Road (now called Old Port Gibson Road) on the night of May 10 and all day May 11, 1863.