NORTHEAST TOWARD JACKSON
On this day, the 16th Ohio marched from their campsite on Big Sandy Creek 13 miles further northeast, in the direction of Jackson, Mississippi. Pvt. Peter Perrine, Company C, states:
...until the 10th when we marched 13 miles and camped in a corn field by the road side.
Cpl. Theodore Wolbach, Company E, further states:
On the 10th, at about 8 o'clock in the morning, we moved forward on the Jackson road. The dust was very thick at times and water not very plenty. To-day we passed through Cayuga, a very small place. Here more evidence of hasty flight presented itself in the topsy turvy appearance of things. It seemed that the terror stricken people stood not on the order of going but suddenly vamoosed.
---
Period map showing the route of the 16th Ohio, with Gen. Osterhaus' 9th Division, now having reached a point northeast of Cayuga, Mississippi, on May 10, 1863: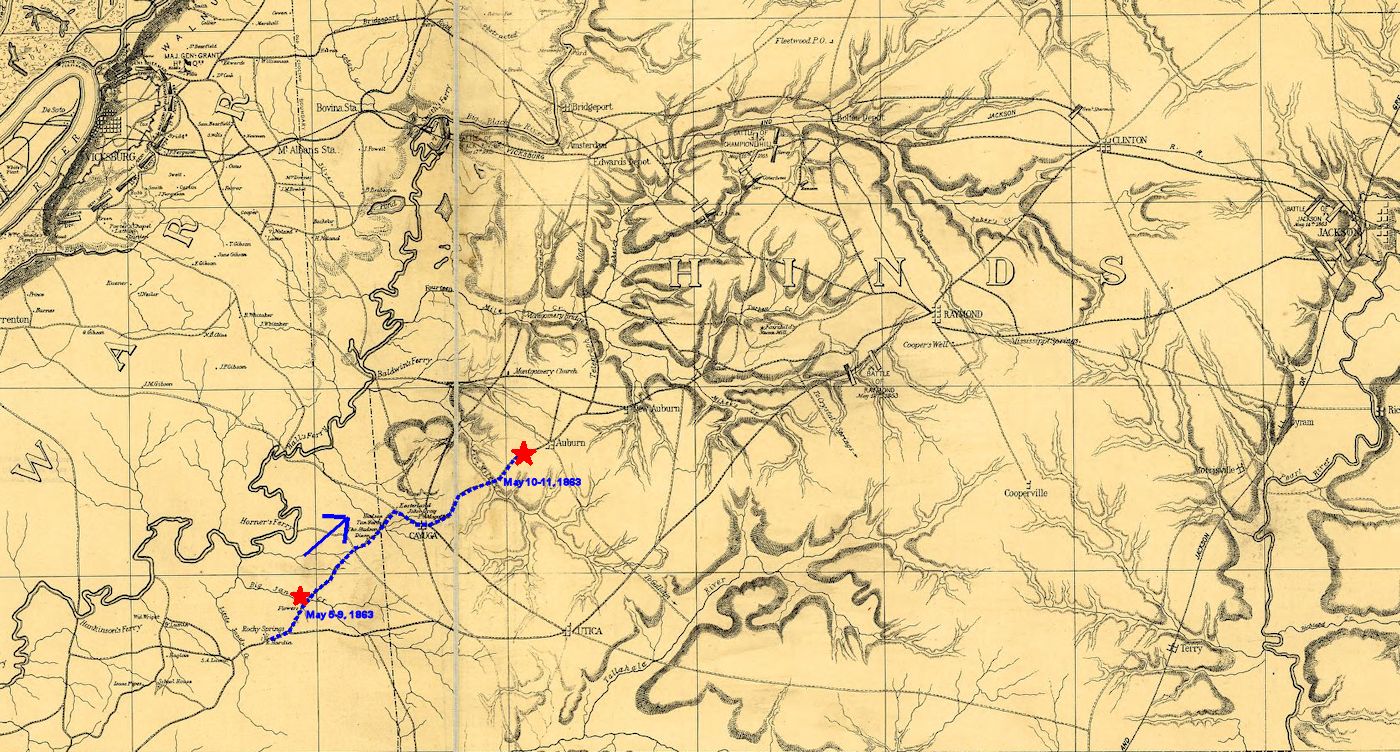 ---
Modern day map of the 16th Ohio's march from their camp on Big Sandy Creek, through Cayuga and, it is believed, near Auburn, Mississippi:

Lavender pin - Village of Rocky Springs, the approximate position of where the 16th Ohio camped on the night of May 3 and May 4, 1863.
Purple pin - approximate campsite of 16th Ohio on The Jackson Road at Big Sandy Creek May 5 through 9, 1863.
Yellow pin - approximate campsite of 16th Ohio on the Jackson Road (now called Old Port Gibson Road) on the night of May 10, 1863.