FOURTEEN MILE CREEK
On this day, Pvt. Perrine tells us:
Marched 14 miles to fourteen mile creek. our forces under McPherson whipped the rebels.
Perrine indicates the 16th Ohio marched 14 miles further northeast, along the Jackson Road, toward Jackson, Mississippi. The regiment, with Gen. Osterhaus' division, camped for the night near Fourteenmile Creek.
It should be noted that, at this point, there is a slight discrepancy in the distances marched by the 16th Ohio each day since May 2, 1863. Based on information from Perrine and previously calculated locations, there are only about three miles between the cornfield camp of May 10 and 11, and Fourteen Mile Creek, although Perrine says they marched 14 miles to Fourteenmile Creek. There is little doubt that sketchy information and the process of estimation have resulted in an eleven mile discrepancy but, overall, since the positions of the regiment's camps each night are fairly easy to identify on maps, the discrepancy can be attributed to inaccurate reports from the soldiers.
About this day, Cpl. Wolbach also tells us:
Eight o'clock the next morning found us on the road moving toward Edward's Depot, a station on the Jackson and Vicksburg R.R., where the enemy was known to be in heavy force and willing to give battle. While moving occasional sounds like distant firing reached our ears. In the afternoon we reached a wide level track of country through which ran a small stream called Fourteen Mile creek. As the troops of our corps neared this they deployed to the front into line. Our division being in the second line. Artillery unlimbered and prepared for action. The Infantry stacked arms and waited for further orders; a few men were allowed to go from each company for water. Now and then rifle shots were heard distinctly and not very far to the front. A battle seemed imminent and the indications were that we were to fight on the defensive. At night we lay down with very strict orders to be ready to move at a moment's warning. The night air was cool and a little damp. Almost every soldier that was not on duty slept and the hours of darkness wore away. Returning daylight brought its usual activity, but no alarm gun had been fired.
It is likely the sounds of battle described by Wolbach on this day were those of Gen. McPherson's troops, in advance, attacking the Rebel forces under Gen. John Gregg, two miles west of Raymond, Mississippi. The Corps of Generals McPherson and Sherman had passed Gen. Osterhaus' division, and the 16th Ohio, the day before, heading east toward Raymond and Jackson, Mississippi.
---
Period map showing the route of the 16th Ohio, with Gen. Osterhaus' 9th Division, camped near Fourteenmile Creek, Mississippi, on May 12, 1863: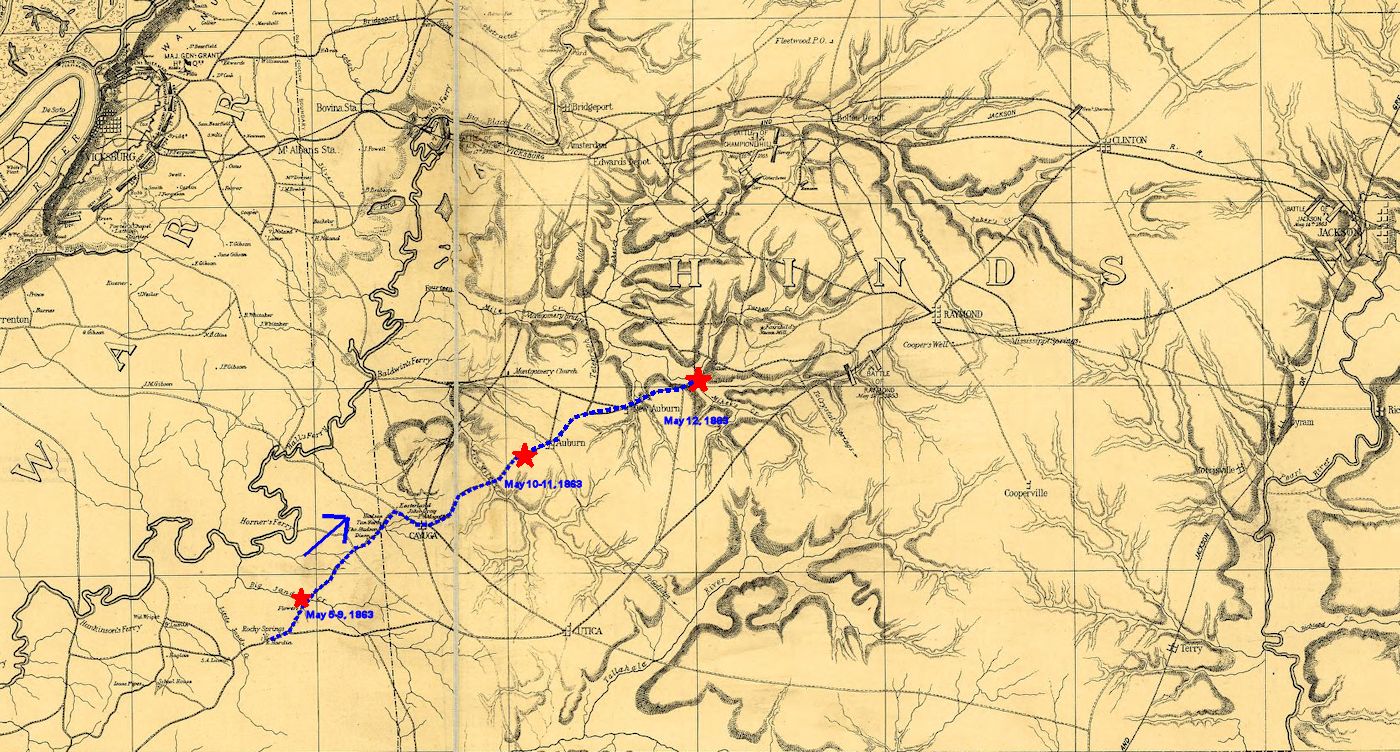 ---
Modern day map of the 16th Ohio's march from near Auburn to Fourteenmile Creek, Mississippi, on May 12, 1863:
Lavender
pin - Village of Rocky Springs, the approximate position of where the 16th Ohio camped on the night of May 3 and May 4, 1863.
Purple
pin - approximate campsite of 16th Ohio on The Jackson Road at Big Sandy Creek May 5 through 9, 1863.
Yellow
pin - approximate campsite of 16th Ohio on the Jackson Road (now called Old Port Gibson Road) on the night of May 10 and all day May 11, 1863.
Green
pin - approximate campsite of 16th Ohio on the Jackson Road near Fourteenmile Creek on the night of May 12, 1863.