A CAMP ON THE BIG SANDY
On May 5, it is believed the 16th Ohio marched a few miles further northeast to a location where Big Sandy Creek crosses Port Gibson Road. Cpl. Wolbach states:
On the 5th we started early with some prospects of a fight. About noon we reach a broad, dry, gravely creek bed at Brown's plantation, not very far from one of the fords of Black river. Fences were down and dead horses lay in sight. Our cavalry and that of the enemy had a sharp fight here in the morning, the latter were worsted and lost some prisoners. Shortly after the halt hundreds of men were scattered over the neighborhood foraging. Some of the men were a little rude in entering houses where people had remained at home and taking property that was of no use to a soldier.
The regiment camped here, along the road, for five days.
---
Period map showing the route of the 16th Ohio, with Gen. Osterhaus' 9th Division, now having reached a point northeast of Rocky Springs on May 5, 1863: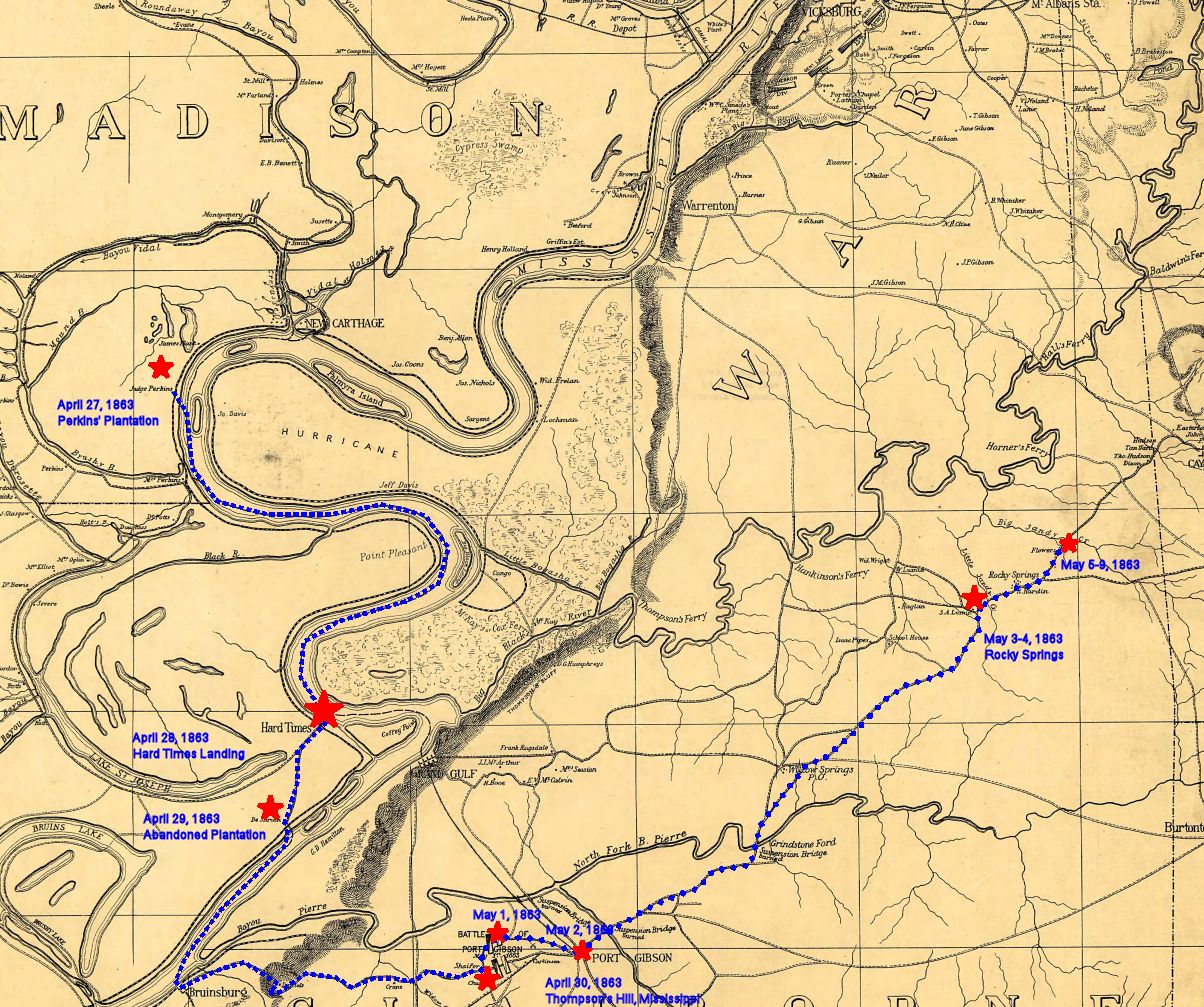 ---
Modern day map of the 16th Ohio's march from Port Gibson to near Rocky Springs, Mississippi:
Note: The town of Rocky Springs, Mississippi, had a population of 2600 near the start of the Civil War. Due to several factors, including a Yellow Fever outbreak, boll weevil infestation and severe erosion caused by improper farming practices, the town declined and eventually became a ghost town. Remnants of the town can be visited during daylight hours at mile post 54.8 on the Natchez Trace Parkway.

Red pin - Approximate location of Thompson's Hill, about two or three miles west of Port Gibson, Mississippi, where the Battle of Thompson's Hill occurred on May 1, 1863.
Green pin - Village of Port Gibson, occupied by the 16th Ohio and Grant's troops on May 2, 1863.
Lavender pin - Village of Rocky Springs, the approximate position of where the 16th Ohio camped on the night of May 3 and May 4, 1863.
Purple pin - approximate campsite of 16th Ohio on The Jackson Road (now Old Port Gibson Road) at Big Sandy Creek May 5 through 9, 1863.