Web Author's Notes:
Below is a transcription of the recorded proceedings of the 16th Ohio's twenty-ninth reunion at Canton, Ohio. It was taken from an unidentified source, assumed to be an addendum to the original
Proceedings of Eleven Reunions Held By the 16th Regiment, O.V.I
, compiled by Enos Pierson, Secretary of 16th O.V.I. Reunion Association, in 1887. This document was provided by fellow 16th OVI descendant H. Arlan Heiser of Ohio.
Certain misspellings from the original document, believed to be accidental, were corrected, while others were transcribed as recorded.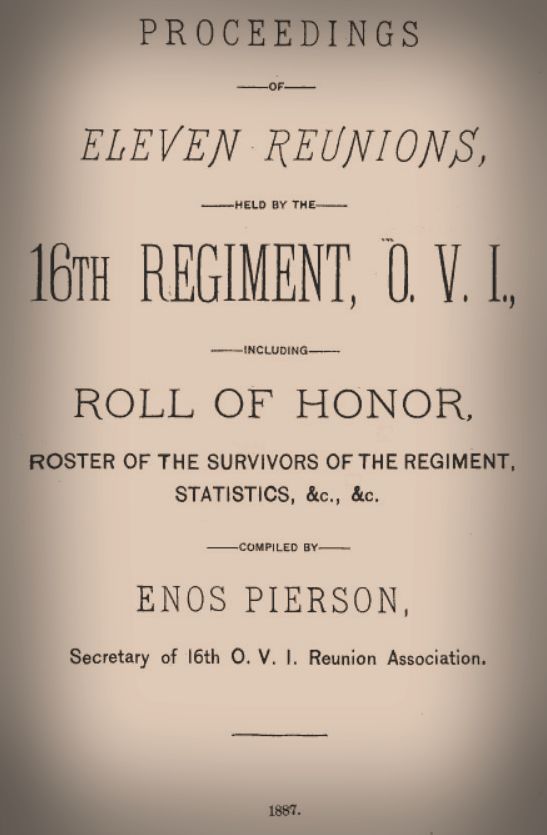 The Twenty-ninth Annual Reunion of the 16th Regiment, O. V. I., was held at Canton, Ohio, August 3d and 4th, 1904. Early in the afternoon of August 3d, comrades of the 16th began to gather at the headquarters in the Assembly Room, City Hall, where their comforts were looked after by the different committees.
In the evening of August 3, between seventy-five and one hundred comrades, wives and friends assembled in the Hall, where for more than an hour exchange of greetings, handshakings and recalling of incidents of their army life were chief topics of the hour.
At 8:00 a.m. President Jesse E. Goodyear called the meeting to order and America was sung by the audience, after which short addresses were made by comrades. Comrade Thos. T. Dill, of Mansfield, was the first one called to the platform. In a few well-chosen words he thanked his comrades and expressed his great pleasure in being able to meet with them. As, however, I did not come prepared to make a speech, I have obtained as my substitute Comrade Ross of Indiana, who will take my place.
Comrade Ross: ...