Web Author's Notes:
Below is a transcription of the recorded proceedings of the 16th Ohio's thirtieth reunion at Ashland, Ohio. It was taken from an unidentified source, assumed to be an addendum to the original
Proceedings of Eleven Reunions Held By the 16th Regiment, O.V.I
, compiled by Enos Pierson, Secretary of 16th O.V.I. Reunion Association, in 1887. This document was provided by fellow 16th OVI descendant H. Arlan Heiser of Ohio.
Certain misspellings from the original document, believed to be accidental, were corrected, while others were transcribed as recorded.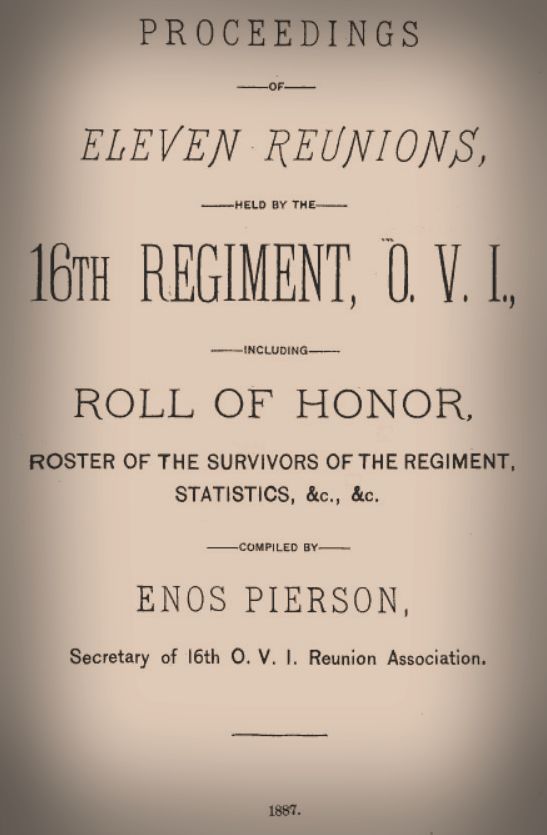 The comrades of the 16th O. V. I. and their wives who have been arriving at Ashland during the day for the purpose of attending the 30th Reunion of the Association, assembled in the Opera House at 7:00 o'clock p.m., where a reception and campfire was held. The hall was well filled with 16th, 23d, 42d and 120th, O. V. I. Comrades, also the Woman's Relief Corps of the city.
The President of the association called to order and introduced Mr. C. J. Kenny of Ashland, who welcomed the Comrades in a short speech and was followed by Comrade T. D. Wolbach, of the 16th. Short speeches were made by COmrades Simeon Chapman, A. Branstetter, Wm. Hummer and James Jobe, of the 16th, and Jo. Swartz and Capt. Starr of the 42nd Ohio, also by Past dept. Commander T. R. Shinn, and Judge T. V. McCray. Rally round the Flag was sand by COmrade S. R. Daugherty, the audience joining in the chorus.
Refreshments consisting of ice cream and cake were served during the evening by the ladies of the W. R. C. After enjoying two or three hours of social intercourse, the meeting adjourned at 10 o'clock. ...