Images from the
Twenty-second Regimental Reunion
16th Ohio Volunteer Infantry
Buffalo, New York
August 23-26, 1897
Web Author's Notes:
Although no images have yet been found directly related to the 16th Ohio at their 1897 reunion, a number of images are shown, below, from the 31st Grand Encampment of the G. A. R. (Grand Army of the Republic). The G. A. R. held annual reunions in various cities from 1866 to 1949. All Union Army veterans were invited and the events attracted many thousands. The 16th Ohio planned their 22nd regimental reunion to coincide with the Grand Encampment of 1897 held in Buffalo, New York.
The 16th Ohio held their reunion ceremony on Thursday, August 26, in a Buffalo school house, however, many of the soldiers arrived several days earlier, on Monday, August 23, and enjoyed viewing Niagara Falls and participating in the events scheduled by the G. A. R. in and around Buffalo.
A scene of the beginning of the route of the Grand Parade, in Buffalo, New York, which began at 10:00 a.m. on Wednesday, August 25, 1897, and lasted six hours. The parade included 50,000 marchers as well Civil War veteran President William McKinley. 16th Ohio reunion records mention the Grand Parade and it is highly likely the regiment marched through this arch and along the parade route.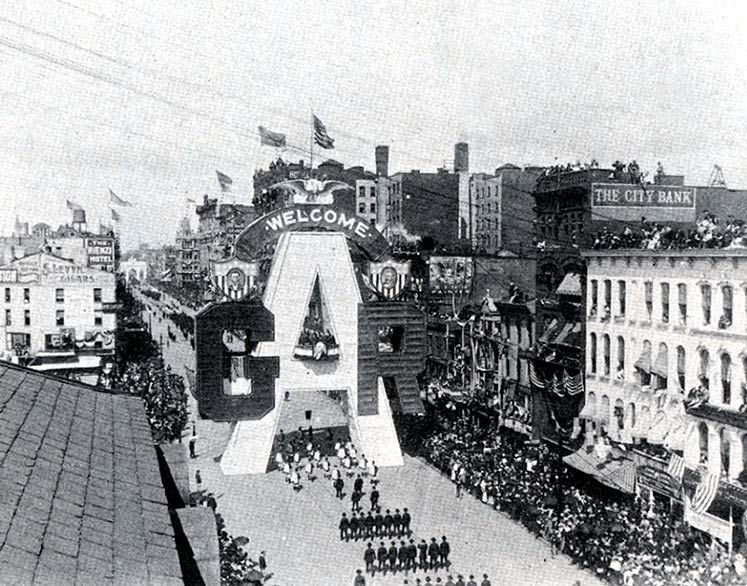 Another of the five arches along the route of the Grand Parade, August 25, 1897, in Buffalo, New York.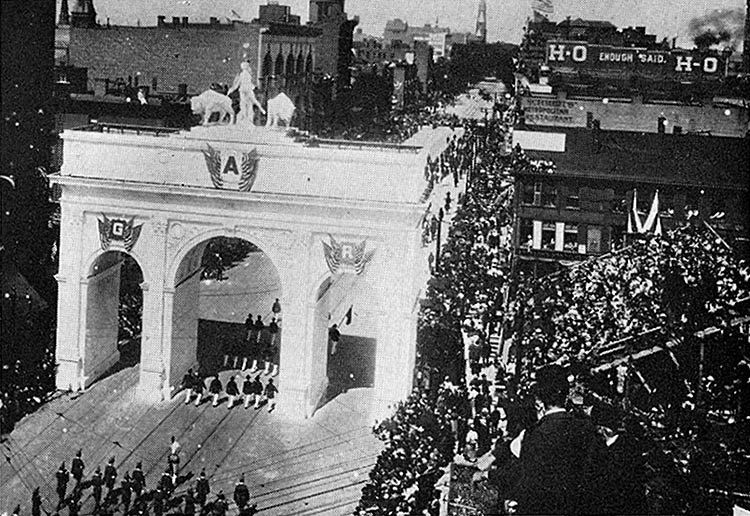 A closer view of the parade.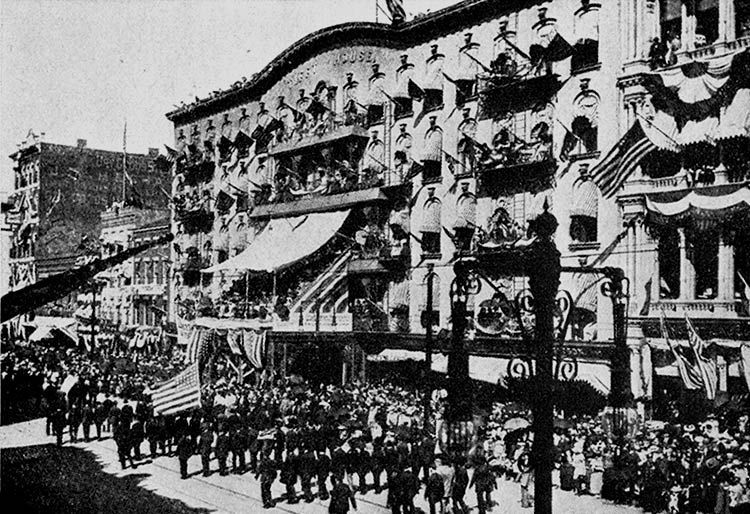 This is the entrance to Camp Jewett, a temporary city where 1,350 tents were set up along with a large reunion tent that held 4,000 people. The camp was constructed at Front Park and over 10,000 veterans registered to stay there during the encampment. The camp was named after the current Buffalo mayor, Edgar B. Jewett, also a Civil War veteran and Brigadier General of the 8th Brigade, New York National Guard.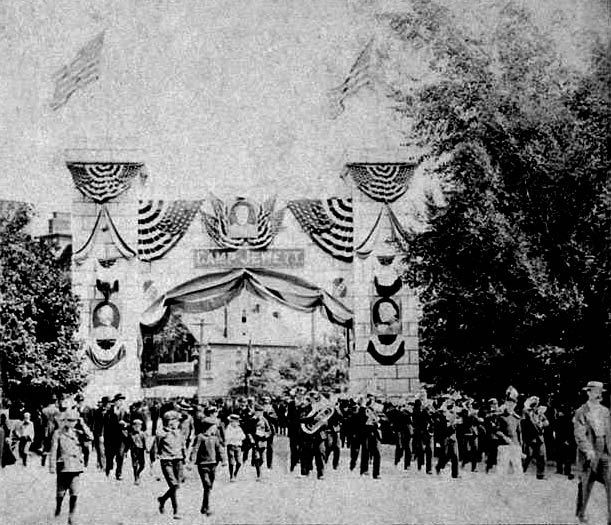 A view of the tents and other structures in Camp Jewett. It is possible some 16th Ohio soldiers stayed here.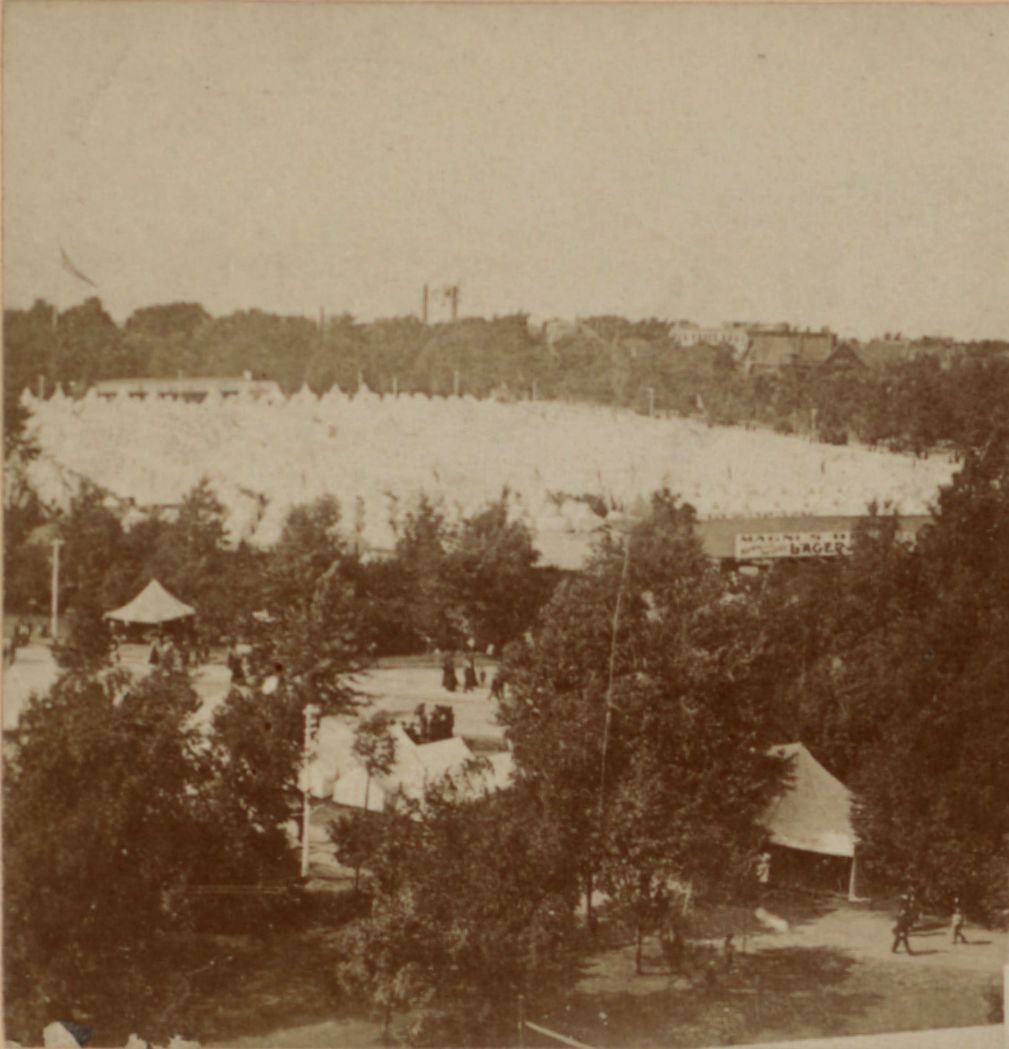 Souvenir reunion medals and ribbon from the 31st National Encampment in Buffalo, New York, August, 1897.