Web Author's Notes:
Below is a transcription of the recorded proceedings of the 16th Ohio's twenty-second reunion at Buffalo, New York. It was taken from an unidentified source, assumed to be an addendum to the original
Proceedings of Eleven Reunions Held By the 16th Regiment, O.V.I
, compiled by Enos Pierson, Secretary of 16th O.V.I. Reunion Association, in 1887. This document was provided by fellow 16th OVI descendant H. Arlan Heiser of Ohio.
The location for this reunion was chosen to be in conjunction with the 31st G. A. R. National Encampment, at Buffalo, where 50,000 Union Army veterans gathered for a national reunion of Civil War soldiers. Although the official reunion of the 16th Ohio took place on August 26, many of the soldiers arrived in Buffalo on the 22nd, and, as described in the Reunion notes, below, enjoyed viewing Niagara Falls and the many events held by the 31st G.A.R. Encampment in Buffalo.
Certain misspellings from the original document, believed to be accidental, were corrected, while others were transcribed as recorded.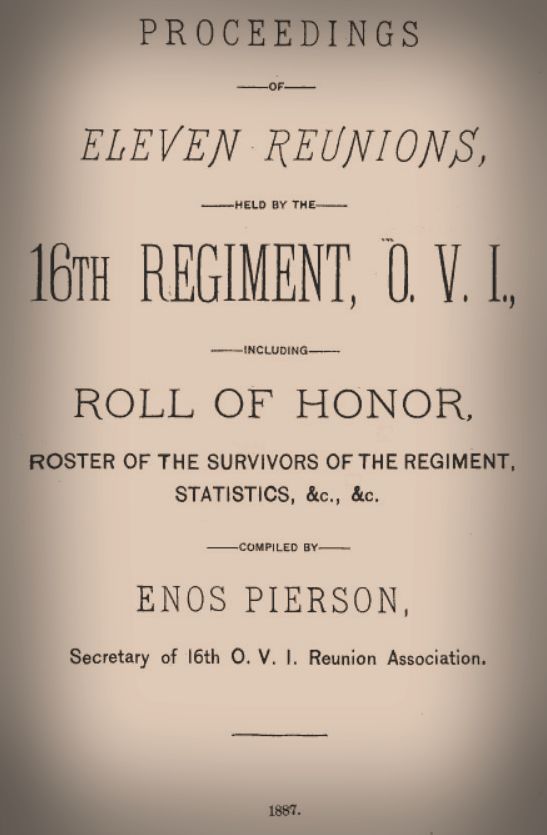 OF THE

School House No. 49, Buffalo, N. Y., August 26, 1897.
At an early hour on Monday morning, August 22d, a goodly number of the veterans of the 16th, O. V. I., with their wives and friends, boarded a special train on the B. & O. R. R. for Buffalo, N. Y., where the National Encampment, G. A. R., was being held. ...