Diary of Peter J. Perrine
Private, Company C
September 20, 1861 to July 4, 1864
Web Author's Notes:
The following image was submitted to this website by a donor. The transcription, below, is by the web author and reflects the actual diary text as accurately as possible.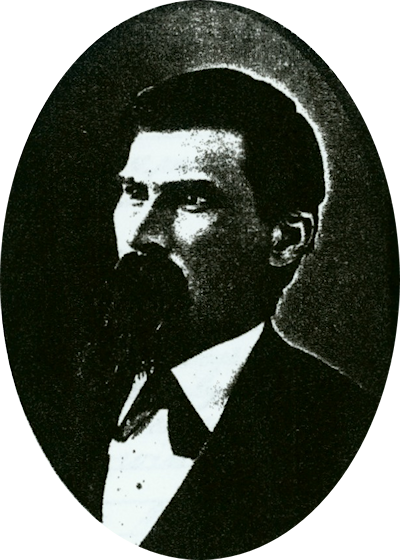 Page 9 - March 28, 1862 to April 30, 1862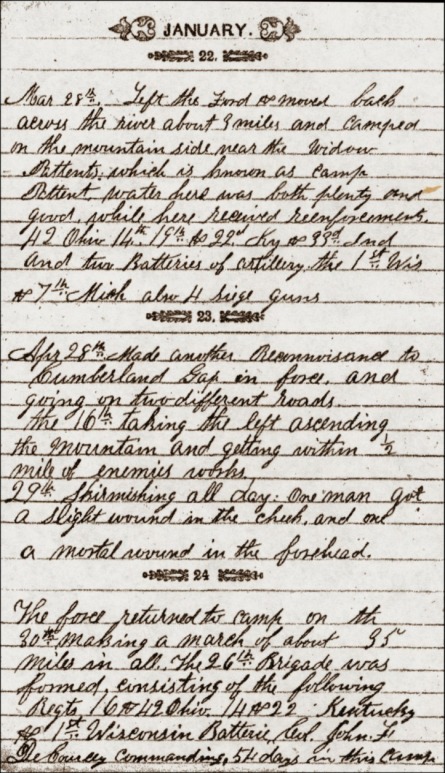 Mar 28th. Left the Ford & moved back across the river about 3 miles and camped on the mountain side near the Widow Pattents which is known as Camp Pattent. Water here was both plenty and good. While here received reenforcements. 42 Ohio, 14th, 19th & 22nd Ky & 33rd Ind and two Batteries of artillery, the 1st Wis & 7th Mich also 4 siege guns.
Apr 28th. Made another reconnaissance to Cumberland Gap in force, and going on two different roads the 16th taking the left ascending the mountain and getting within 1/2 mile of the enemies works.
29th. Skirmishing all day: One man got a slight wound in the cheek, and one a mortal wound in the forehead.
The force returned to camp on the 30th making a march of about 35 miles in all. The 26th Brigade was formed consisting of the following Regts, 16 & 42 Ohio, 14 & 22 Kentucky & 1st Wisconsin Batterie. Col. John F DeCourcey commanding. 54 days in this camp.