---
Diary of Peter J. Perrine, Private, Company C, 16th OVI
1861 - 1864
---
Web Author's Notes:
The following image was submitted to this website by a donor. Transcription, below, is by the web author and reflects the actual diary text as accurately as possible.
---
Page 35 - July 9 1863 to July 24, 1863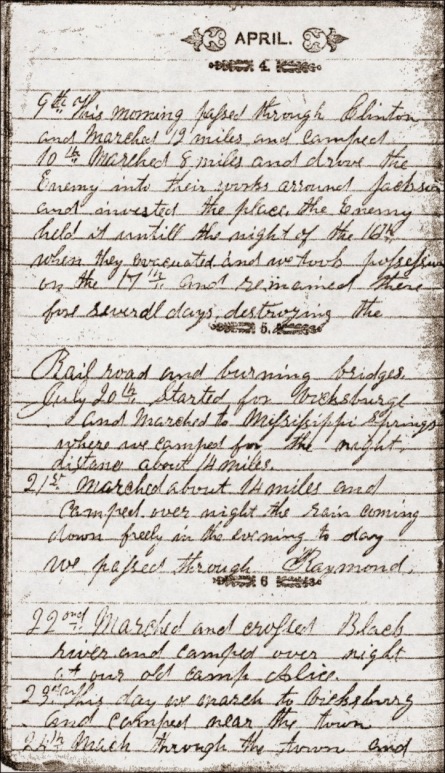 Page 35
9th. This morning passed through Clinton and marched 12 miles and camped.
10th. Marched 8 miles and drove the Enemy into their works around Jackson and invested the place. The enemy held it untill the night of the 16th when they evacuated and we took possession on the 17th and remained there for several days, destroying the Rail road and burning bridges.
July 20th. Started for Vicksburg and marched to Mississippi Springs where we camped for the night, distance about 14 miles.
21st. Marched about 14 miles and camped over night the rain coming down freely in the evening. to day we passed through Raymond.
22nd. Marched and crossed Black river and camped over night at our old camp Alice.
23rd. This day we march to Vicksburg and camped near the town.
24th. March through the town and...
* Webauthor's note: Subsequent research seems to indicate Pvt. Perrine's records, above, for the 20th through 24th are off by one day. The regiment didn't leave Jackson and camp at Mississippi Springs until July 21st, and each subsequent entry is actually one day later.
---
---