Diary of Peter J. Perrine
Private, Company C
September 20, 1861 to July 4, 1864
Web Author's Notes:
The following image was submitted to this website by a donor. The transcription, below, is by the web author and reflects the actual diary text as accurately as possible.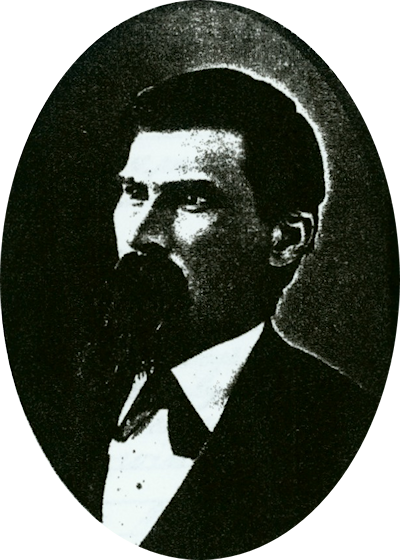 Page 19 - October 23, 1862 to November 10, 1862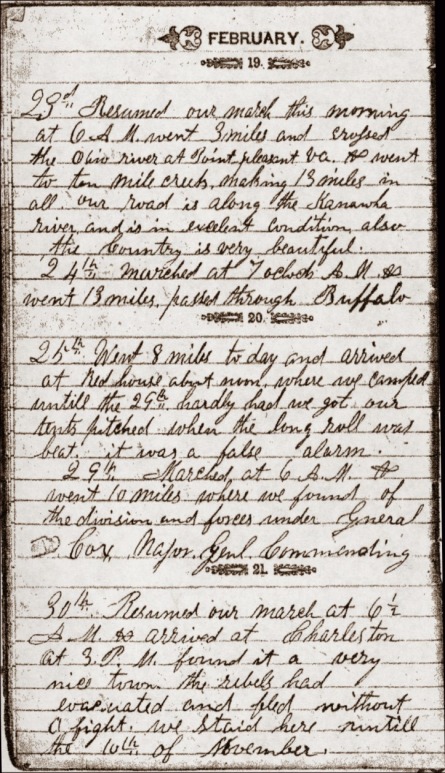 23d. Resumed our march this morning at 6 A.M. went 3 miles and crossed the Ohio river at Point pleasant Va. & went to ten mile creek making 13 miles in all Our road is along the Kanawha river and it is in excellent condition. also the Country is very beautiful.
24th. Marched at 7 oclock A.M. & went 13 miles. passed through Buffalo.
25th. Went 8 miles to day and arrived at Red house about noon, where we camped untill the 29th. hardly had we got our tents pitched when the long roll was beat. it was a false alarm.
29th. Marched at 6 A.M. & went 10 miles where we found of the division and forces under General Cox, Major Genl. Commanding.
30th. Resumed our march at 6 1/2 A.M. & arrived at Charleston at 3 P.M. found it a very nice town. the rebels had evacuated and fled without a fight. we staid here untill the 10th of November.