Letter (#30) from Private Thomas Buchanan Linn, Co. B, 16th OVI
to sister Ida
November 6, 1863
New Iberia, Louisiana
Web Author's Notes:
The following letter of Thomas B. Linn, a drummer in the 16th OVI, was transcribed by contributor John M. Pierson who obtained it from Mary Bavender. The letters were part of a collection of papers from Linn and included a detailed diary. Combined, the letters and diary entries give us an intimate look at the life of a soldier in the 16th OVI during the Civil War.
These letters were all written or received while Linn was a Private in Company B. He was later promoted, on July 1, 1864, to Principal Musician, as a drummer, and transferred to Field & Staff. He survived the war and mustered out with the regiment on October 31, 1864, near Columbus, Ohio.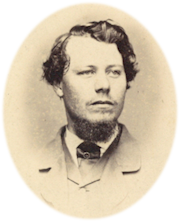 Letter addressed to sister Ida
New Iberia, La., Nov. 6, 1863
I was real glad to get your letter of Sept. 29th as well as the things Lieut. Boling brought me. Your letter came yesterday. I guess you will get to eat all of this years molassus yourselves without my aid. I do not expect to get home till my time is out. We are too far away for fur- loughs and have only ten months longer to stay. I am glad you were all so fortunate to get well of that dangerous disease. Poor little Albert and Allie how I should like to have seen the dear little twins. But they are better off now than while here, we should not wish to call them back. I should like to hear from Aunt Jane - hope she is not dangerously ill, is she? I received a letter from Uncle Caldwell a few days ago. Aunt Deb is still at her father's. Uncle was at Gahana. Have not answered it yet. I have not heard from Cicero since Father wrote, have had no letter from him. Received a letter from Brownhill some time ago and answered it.
The boys with the company are all well. Isaac McCullough and Jon't Williams are at Carrollton. Hugh Tidball came from there and says Ike is pretty poorly, he thinks he will die, he just pines himself away. John Stimmel is dead - died a few days before Hugh left. Newt Gorsuch is with us and well, fat and hearty. Tell Zekie if he don't poney me up a letter I will have to put him through a course of sprouts. Fie on his not writing good enough for his brother to read. Why I can read any thing from Willie's scribling up to the plainest hand writing ever put on paper.
Now I will tell you what we have been doing. We are about 50 miles further up the Bayou Tech to Oppaolusas when we were ordered back here making the return trip in three days march. I sprained my foot the first day and had a hard time getting back, had to ride part of the last day and have my things hauled to make the riffle. My foot is nearly well now. I guess we were afraid of the rebels getting in our rear. Col. Kershner met us as we were coming back and had command again. He is appointed Commander of this post and we are left to garrison it. The rest of our brigade and division went through here last night and this morning and are now lying in line of battle a few miles to the front. We were looking for an attack. A lot of rebels are between us and the 19th Corps. - had a fight with and whipped a part of Hovey's division taking a lot of them prisoners. I think they want to get our grub here. They will have to fight for it if they do. We have built ourselves shanties of boards and covered them with our shelter tents, have comfortable quarters if they will only let us stay here all winter. We are better fixed than we ever were before. My drum head is broken so I have been doing no drumming for over a week. I am getting a new one tanned, it will be several days yet before I get it fixed. Who teaches your winter school?