Letter (#31) from Private Thomas Buchanan Linn, Co. B, 16th OVI
to his father Cicero Boston Linn
November 6, 1863
New Iberia, Louisiana
Web Author's Notes:
The following letter of Thomas B. Linn, a drummer in the 16th OVI, was transcribed by contributor John M. Pierson who obtained it from Mary Bavender. The letters were part of a collection of papers from Linn and included a detailed diary. Combined, the letters and diary entries give us an intimate look at the life of a soldier in the 16th OVI during the Civil War.
These letters were all written or received while Linn was a Private in Company B. He was later promoted, on July 1, 1864, to Principal Musician, as a drummer, and transferred to Field & Staff. He survived the war and mustered out with the regiment on October 31, 1864, near Columbus, Ohio.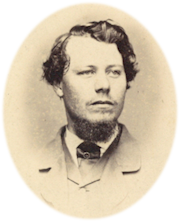 Letter addressed to Father
New Iberia, L., Nov. 6, 1863
I must write you a few words and answer your questions. I have had no letter from Boston since he went to Fort Wayne. Would like to hear from him - what he is doing - how he makes it pay, etc. I am glad your clover seed is all safe in the barn. Are you going to have a pretty good turn out? I received another Republican of Oct. 15th yesterday. I get all of my papers I think - sometime I do not get them for two or three weeks after they are due, but they come at last -- will come here regularly I think. You need not fear of me changing my company or regiment now - my time is to near out to reinlist before I go home, besides better offers will be made about the time we are discharged than now - they will be no worse. Newt Gorsuch sends two dollars in this letter to Uncle Frey requesting him to send him a good pen just like mine. Mine is Valentine and Aiken No. 6. Uncle knows what it is like. Newt says he wants a soft one. We do not know what the price of such pens are and send two dollars - if that is not enough he will write to his Father and he will pay the balance. The pen Uncle can send either to me or to Newt in person in a letter as he did mine. I do not expect to get home now till my time is up which will be in ten months if I am discharged when I enlisted. I do not wonder at your feeling lost for those dear little babes sent as they were to supply the place Lizzie and Cappie left vacant and hardly become acquainted ere they too were called away. I forgot to say I am nearly out of postage stamps and wish you would send me some more in your next.