Letter (#29) from Private Thomas Buchanan Linn, Co. B, 16th OVI
to his mother Margaret Buchanan Tidball Linn
November 6, 1863
New Iberia, Louisiana
Web Author's Notes:
The following letter of Thomas B. Linn, a drummer in the 16th OVI, was transcribed by contributor John M. Pierson who obtained it from Mary Bavender. The letters were part of a collection of papers from Linn and included a detailed diary. Combined, the letters and diary entries give us an intimate look at the life of a soldier in the 16th OVI during the Civil War.
These letters were all written or received while Linn was a Private in Company B. He was later promoted, on July 1, 1864, to Principal Musician, as a drummer, and transferred to Field & Staff. He survived the war and mustered out with the regiment on October 31, 1864, near Columbus, Ohio.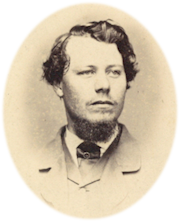 Letter addressed to Mother
New Iberia, La., Nov. 6, 1863
Lieut. Boling arrived safely bringing my shirts, socks and gloves. How can I thank you for such good warm shirts as you sent me - never did anything come in better play than they did; I lost two shirts by having them stolen when they were washed and had but one - a secesh thing as dirty almost as dirt could make it for we were marching through mud and slop for several days. We had just arrived three miles below here and gone into camp when the Lieut. and Warner hall came. It had been raining, the wind was then coming from the north-west and it was getting pretty cold, I through off old Mr. Secesh and put on a new shirt and then I slept warm while others by me were shivering and shaking with the cold. I'll bet I thought of home and my good old Mother who had made and sent them to me. I had four pair of socks and at present did not need them but will before I can get more and they are not heavy as long as I don't lose them. I have socks enough now to last me till my time will be out. It is still warm here only after a rain but the gloves will come in good play after awhile. I am greatly pleased with what you sent me especially with the shirts which are the very thing and a nicer fit could not have been made had you measured every time a stitch had been taken. The socks are not too big. I am glad Father took my glee-book out of the bundle, we have so much marching to do of late that it is too heavy to carry, besides I lose so many things. I do not want to lose it. I would like to have some good writing paper we can get nothing but thin poor stuff at double price here. This is the best I could find. Harry Myers (that singing teacher Myers' son) has all of his writing paper, envelopes and stamps sent from home by mail and then he never has any flimsy stuff to write on. Paper can be sent by rolling it in a roll about a quire at a time and his envelopes he has put in a large envelope with the end off then pastes a small strip across to keep them from coming out and leave the ends bare. They cost only one cent to bring a pack. I think three cents will bring a quire of good heavy paper the size of this through.
We are in Bank's department now and at present Gen. Washborne commands our corps. Gen. Lawler the division, Col. Sheldon the brigade and Lieut. Col. Kershner has command of the regiment and the Post of New Iberia. Our company and Tanneyhill's are consolidated under command of Capt. Tanneyhill although Lieut. Corn does the business of Co. B. Lieut. Boling started back to Brashear City yesterday. I do not know what duty he went on. Gen. Ord is our corps General but is under arrest for arming the citizens of Vermillionville to shoot soldiers who go foraging over their plantations while we lay at Vermillion Bayou. Gen. Washborne is our division commander and Gen. Lawler our brigade commander. We are in the 3d Brigade 1st Division of the 13th Army Corps, Department of the Gulf. We are a part of the overland route Texas expedition. I will not get home this winter. I will write more to Ida.