Web Author's Notes:
The following letter of Thomas B. Linn, a drummer in the 16th OVI, was transcribed by contributor John M. Pierson who obtained it from Mary Bavender. The letters were part of a collection of papers from Linn and included a detailed diary. Combined, the letters and diary entries give us an intimate look at the life of a soldier in the 16th OVI during the Civil War.
These letters were all written or received while Linn was a Private in Company B. He was later promoted, on July 1, 1864, to Principal Musician, as a drummer, and transferred to Field & Staff. He survived the war and mustered out with the regiment on October 31, 1864, near Columbus, Ohio.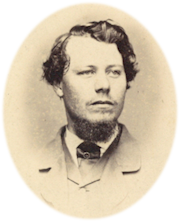 Letter addressed to Pvt. Thomas Buchanan Linn
Millersburg, Ohio, Sept. 20, 1863
It has been a long time since we received a letter from you and we have not written for we expected you home this fall but since you have gone further away we now think you may not get home this fall but I will write a few lines at all events. Sometime in August Mrs. Wilson and Alexander took the dysentery. Mrs. Wilson died. Then Mary, John and Albert and Allie then took it. On the 22d August Albert died and on the 19th September Allie died. The rest of us are well again. Boston is now in Fort Wayne, he received your letter -- we sent it to him. We got a letter from him yesterday, he is well and says he will write to you. I am writing to him and Henry McConnel today. I am going to town tomorrow to take our buggy to be repaired and a covered bed put on it. I have not been there for a long time. We have got our seeding done and our corn cut -- threshing done - had 200 bushels of wheat and 250 of oats. Mr. Frey sent you a pen in a letter did you get it? Newt Gorsuch left your vest -- it is said he is sick at his sisters on his way back. Franklin Wilson is in camp but thinks he will get home soon again as they are not exchanged. As William Fleming wrote to you a few days ago he will probably give you more such news than I can. We made no effort to send your clothes, expecting you home. There has been a great deal of dysentery through the country and a great many deaths. Peter Stimmel buried their child. I have but little time and don't know what to write you. Be a good boy - write soon. Mr. Frey has received your letter -- we have not seen it yet.