Web Author's Notes:
The following letter of Thomas B. Linn, a drummer in the 16th OVI, was transcribed by contributor John M. Pierson who obtained it from Mary Bavender. The letters were part of a collection of papers from Linn and included a detailed diary. Combined, the letters and diary entries give us an intimate look at the life of a soldier in the 16th OVI during the Civil War.
These letters were all written or received while Linn was a Private in Company B. He was later promoted, on July 1, 1864, to Principal Musician, as a drummer, and transferred to Field & Staff. He survived the war and mustered out with the regiment on October 31, 1864, near Columbus, Ohio.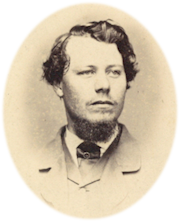 Letter addressed to Pvt. Thomas Buchanan Linn
Your Father has told you of the death of our dear little twins. You cannot imagine how dear they were to us. I always looked on those children as a heritage from the Lord. They gave us much pleasure before they took sick. Many people came to see them who were never in the house before. But their Angels who do always behold the face of our Father in heaven may have seen if they were left in this world of sin they would offend and used their influence to have them removed. These providences are mysteries to us, but it is enough for us to know our Savior said "it is not the will of our Father in heaven that one of these little ones should perish." Five of our family in heaven! what a nice little group. All the rest in the place "where prayer is heard and mercy found." What cause for praise: -- Kind Father follow us up by they Spirit, by they providances, by afflictions and chastisements if need be but never say of any of us "they are joined to their idols let them alone."
We have not had a letter from you since the one of August 9th - you speak of your gold pen - Mr. Frey did sent it -- you should have got it before my letter of July 22nd. I told you in that he had not written but it was a mistake. It cost $1.75, did you get it? and do you like it? Jonathan is in Company with Mr. Frey. I am glad you get the paper regularly. We noticed Billy Roberts obituary. Could any comrade write so many Christian practices of Thomas Linn? Yes I dare say they could for he is a kind, cheerful, truthful, obliging fellow. His comrades praise him while he yet lives, but could they write he was "frequently seen with his open Bible seriously perusing the golden words of promise there found." That would be a comfort to friends - it would tell he loved God as well as man and God says "I love them that love me."
Newt Gorsuch brought your vest and scraps - I will take care of them. Newt started back but I heard he was lying sick some hundred miles away at his sister Sarah's. Wm. Korn is dead. I wish I knew what you wanted done with your shirts and socks -- if you are gong to Texas and won't be home this fall maybe we could send them with Boling but we won't know till he is gone. When Newt was here we hoped you were coming to Kentucky. Capt. Tanneyhill told him that DeCourcey had said so, we were delighted with the idea -- we though you would have a long visit at home and would get to rest this winter but it seems there is no rest for you fellows -- if you keep on you will soon be over the Union. The last we heard of you you were within three miles of New Orleans. Some think you are going to Texas, some say Mobile, others think you are going to Charleston. O but I would like to know where you are tonight and how you feel. Mr. Burkholder says to pour whiskey in your boots when you march it will toughen the feet - they will not get so sore. There are a great many things I would like to say but the room is cold and I have been sick with a cold. I guess Father told you of the deaths of our neighbors Mrs. Wilson, Mary and John Fleming in a letter some time ago. Mrs. Fleming died the 12th of August, our little boy died the 22nd of August, the girl the 18th September. Dr. Ebright was sent for the 7th of August to see Aggie and missed but two days until the 22nd he thought Lissa would get along then but she never got much better. She got worse the Saturday night before she died. We all had a turn but Zekie and me -- but I see I have never mentioned the disease -- it was dysentery. Ada Burkholder was very low but is getting well. Preacher Brown is not expected to live with it. James Roland has it. It is very bad in Nashville and Clinton now. We had a heavy frost last night I hope will purify the air. The Officers of the Home Guards are having an eight days drill in Wooster. Do write soon as possible.