Letter (#16) from Private Thomas Buchanan Linn, Co. B, 16th OVI
to his mother Margaret Buchanan Tidball Linn
September 5, 1863
Carrollton, Louisiana
Web Author's Notes:
The following letter of Thomas B. Linn, a drummer in the 16th OVI, was transcribed by contributor John M. Pierson who obtained it from Mary Bavender. The letters were part of a collection of papers from Linn and included a detailed diary. Combined, the letters and diary entries give us an intimate look at the life of a soldier in the 16th OVI during the Civil War.
These letters were all written or received while Linn was a Private in Company B. He was later promoted, on July 1, 1864, to Principal Musician, as a drummer, and transferred to Field & Staff. He survived the war and mustered out with the regiment on October 31, 1864, near Columbus, Ohio.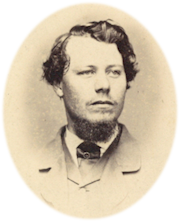 Letter addressed to Mother
Carrollton, La., Sept. 5, 1863
We have not started yet on our march, are packed up ready and are awaiting orders to move. We had a grand review yesterday by Gen. Grant, after the review I am told Gen. Grant was thrown from his horse and badly hurt. That may have something to do with our not being gone. I send this report of Gen. Grant of our Vicksburg Campaign - keep it for me. I am well.