Adam's certificate of disability for discharge states:
Reported at Camp Chase about the middle of Sept 1863. In 1862 while going down the river from (unreadable-Ta?) to Illinois in the line of duty his eyes became inflamed, and the results of this principly disable him. His lungs are weak and general health bad. - S. S. Schults, Surg. U. S. (unreadable) in charge Chase Gen'l Hospital
I certify that I have carefully examined the said Adam Swinehart of Lt. Boling's Company, and find him incapable of perfomring the duties of a soldier because of iritic althesims? of the right eye, following inflammation contracted in the service; the sight of the eye is nearly destroyed and that if the left much impaired Has also irritable lungs and frequent palpitations of the heart. Not suitable for T.R.C. having less than 6 Mos. to serve. - S. S. Schultz
Photo and details above provided by Chris Powell, 3rd great-grandson of Adam Swinehart
Information from FindAGrave.com:
Adam Swinehart enlisted in B Company of the 16th Ohio Volunteer Infantry as a Private. Adam was wounded by a near miss of a cannonball at Chickasaw Bluff on December 29, 1862. He sustained permanent injury to sight in his right eye and hearing in his right ear, and was eventually discharged due to disability in 1864. In later years Adam received a pension for permanent disability.
An obituary:
The Astoria Argus
Astoria, Fulton Co, IL
April 22, 1897
Adam Swinehart, aged 81 years, 10 months and one day, died at the residence of Charley Fawcett in Astoria, Sunday, April 18, 1897. Mr. Swinehart was a member of the United Brethren church for many years and lived a good christian life. The funeral was held Monday at the U. B. church conducted by Rev. Valentine and Rev. Poulton, assisted by the soldier boys. The remains were laid to rest at the Salem cemetery west of Astoria.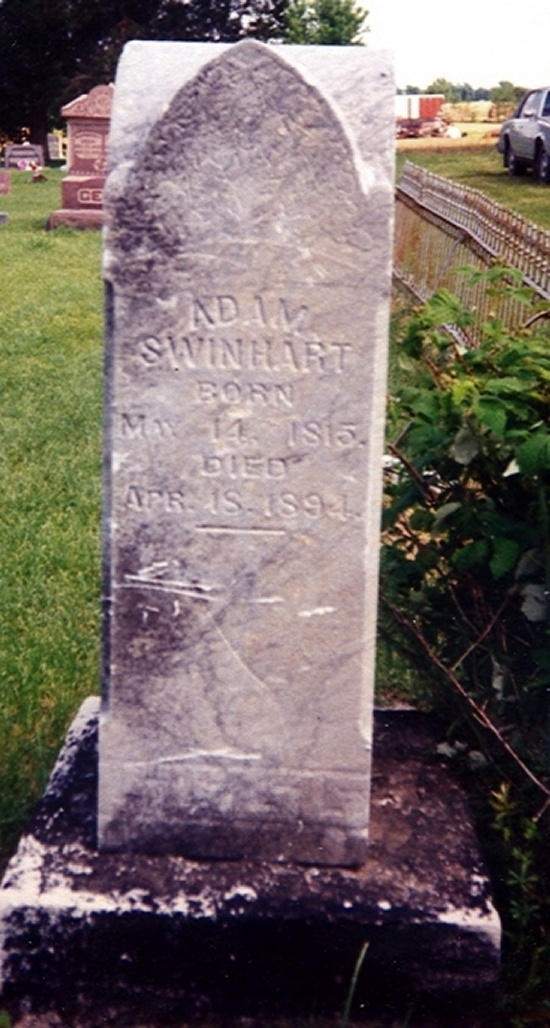 gravesite of Pvt. Adam Swinehart