Personal
birthdate:
March 13, 1840
place:
Westmoreland, Pennsylvania
father:
Samuel St. Clair
birthdate:
died:
place:
mother:
Lavina Long
birthdate:
died:
place:
pre-war occupation:
place:
post-war occupation:
laborer
place:
married:
November 15, 1866
to:
Nancy J. McCormick
place:
Maxville, Ohio
birthdate (wife):
February 22, 1846
died (wife):
November 17, 1935
place:
Dresden, Ohio
children:
Alva
born:
August 11, 1867
died:
June 12, 1952
Cordelia
born:
March 10, 1869
died:
March 4, 1870
Nellie M.
born:
March 17, 1871
died:
November 6, 1920
Jessie
born:
March 11, 1877
died:
March 23, 1877
Sheldon
born:
June 13, 1886
died:
March 29, 1910
died:
February 8, 1931
place:
Dresden, Ohio
cause of death:
Military Career
enlisted 3 year service:
September 13, 1861
Private
Company D
captured:
December 29, 1862
Battle of Chickasaw Bayou, Vicksburg, Mississippi
imprisoned:
December 29, 1862 thru January 30, 1863
"Negro Jail', Vicksburg, Mississippi
imprisoned:
January 30, 1863 thru March 10, 1863
Pearl River Bridge, Jackson, Ms
imprisoned:
March 10, 1863 thru April, 1863
unknown - in transit to Parole and exchange
paroled:
April 5, 1863
New Orleans, Louisiana
rejoined regiment:
abt. October 26, 1863
probably New Orleans, Louisiana
mustered out:
October 31, 1864
.
* Detailed information provided by Mike Dooley, husband of William St. Clair's great great grandaughter. Thanks Mike!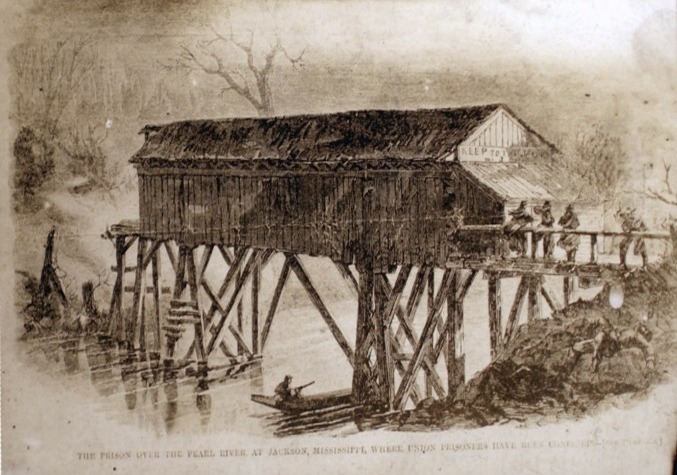 This is a drawing of the remains of a covered bridge over the Pearl River, near Jackson, Ms., which the Confederates converted into a prison. Pvt. St. Clair was held here after being captured at the Battle of Chickasaw Bayou, on December 29, 1862. Internet research can provide no other image of this interesting "prison" other than that provided by the donor, Michele Krause. See more details on the "bridge prison".

Update 5/31/2012: Thanks to information provided by Mike Dooley, it is now known that several, if not many 16th Ohio soldiers captured at Chickasaw Bayou were held in this "prison". This includes the web author's great great grandfather, Milton Mills, Captain of Company D, who was there for a few days before they moved him, being an officer, to other "accomodations".
---
Description of Capture and Imprisonment of Pvt. William St. Clair
The following was transcribed from a General Affadavit taken from Capt. Milton Mills in support of a claim for federal soldier's pension made by William St. Clair:
GENERAL AFFADAVIT
State of Ohio, County of Muskingum.
In the matter of Original Invalid Pension claim No. 602.023 of William St. Clair Co "D" 16th O.V.I.
ON THIS 6th day of April A.D. 1887; personally appeared before me a Notary Public in and for the aforesaid County, duly authorized to administer oaths Milton Mills aged 55 years, by occupation a miller resident ofZanesville in the County of Muskingum and State of Ohio P.O. #21 South Belknap St. well known to me to be reputabale and entitled to credit, and who being duly sworn, declared in relation to aforesaid case as follows:
I was the Captain of Company "D" 16th Regt. O.V.I. in the war of 1861 and was well acquainted with Wm. St. Clair who was a Pri. in said company. Was slightly acquainted prior to his enlistment and at the time of his enlistment he was a stout heart boy or young man. To the best of my recolection and belief he remained in good health until after we fell into the hands and tender mercies of the enemy at Chicasaw bluffs Miss. in the latter part of Dec. 1862. We were first taken to Vicksburg where we were a short time and from there removed to Jackson Miss. where we were put in a bridge across the Pearl river for a prison; said WIlliam St. Clair while on or in said bridge prison caught a cold from which he complained a great deal and was still afflicted with when I was separated from the boys and taken up into the City. Since his discharge I have personally known him though I only meet him occasionally, perhaps not more than two or three times a year and only know of his disabilities as he tells me them when in conversation with him. I have no doubt but that he is afflicted as alleged and from the effects of said exporsure in rebell prison. I know these facts from being Captain of the company at the time further declare that I have no interest in said case and am not concerned in its prosecution. I am no relation to St. Clair.
Milton Mills
Capt Co "D" 16th O.V.I.
---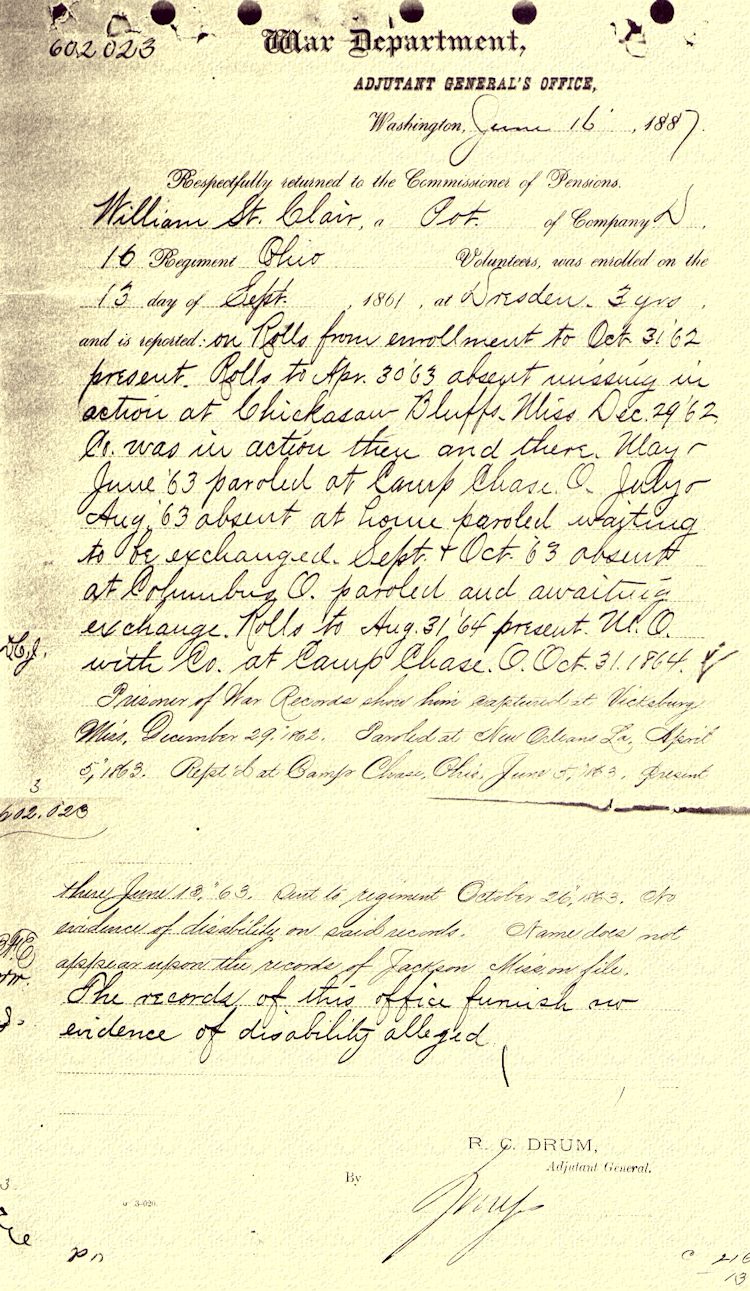 Report from War Department to Pension Commissioner detailing William St. Clair's military service during the war.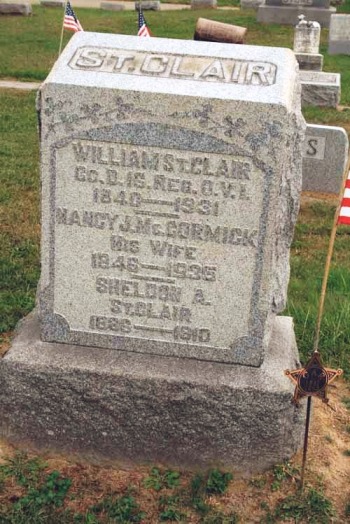 Gravesite of Pvt. William St. Clair, wife Nancy and son, Sheldon, at Dresden Cemetery, Dresden, Ohio.
Image courtesy of and with permission from Tom Hale, FindAGrave.com
---
Daniel and John St. Clair - The St. Clair Family Tragedy
As happened so often in the Civil War, William's younger brother, Daniel St. Clair, enlisted in Company D of the 16th OVI along side William on September 13, 1861. Just five months before the regiment's fateful battle at Chickasaw Bayou, while the regiment was occupying Cumberland Gap, Kentucky, as did so many soldiers, Daniel contracted "camp fever" and died on July 27, 1862. Probably before the news of Daniel's death reached home, another brother, John, enlisted in the 97th Ohio Volunteer Infantry on August 7, 1862. John became ill and died of disease, just six months later, on February 6, 1863, at Nashville, Tennessee, and while brother William was a prisoner of the Confederates and listed as missing in action. Also, during 1862, a six year old brother of William, Daniel and John died at home. William, the son who experienced the most dangerous of times, fighting and being captured at Chickasaw Bayou and being imprisoned in deplorable conditions for months, went on to survive the war and return home. One can only speculate at the great joy and deep sadness the St. Clair family experienced when William returned home on parole in May or June, 1863, finding three of his brothers had died. In less than a year, the family of nine was reduced to just six.