Official records show that Daniel Patterson, a Corporal in Company K of the 16th OVI, fought and was wounded at the Battle of Chickasaw Bluffs, December 28 and 29, 1862. The Official Roster of Ohio Soldiers indicates Cpl. Patterson died of his wounds on January 16, 1863, 19 days after the battle. The mass grave plaque, shown below, indicates a Daniel Patterson was buried there and confirms he was a casualty of Chickasaw Bayou. No other soldiers with this name are found to have fought at the Battle of Chickasaw Bayou. However, information received from a direct descendant of Daniel Patterson, Keith E. Patterson, describes several different stories of what happened to his great great uncle. These family stories, handed down through the years, provide a colorful and poignant glimpse of how people remembered the war and their ancestors who fought in it. Although official records seem to indicate Cpl. Patterson was wounded at Chickasaw Bayou, was captured and later died in a Confederate hospital in Vicksburg, such records are sometimes inaccurate.
The Mystery of Daniel Patterson
The Patterson family tells the story that Cpl. Daniel Patterson was, indeed, wounded in the winter of 1862. It does not indicate whether he was hospitalized and, if so, whether he was in the hands of the Confederates or remained with his regiment. According to the family, Daniel was wounded in the leg. He was surrounded by horrific scenes of men enduring amputations of their limbs and dying in agony. Seeing this, he decided it would be better to risk a journey home, away from the blood and battle. So, he somehow found his way home to Cambridge, Ohio. The story goes on to say that the very next day, on his own front porch, Daniel died from his ordeal.
Additionally, through the years, along with the story, the Patterson family has handed down one lone relic of their Civil War ancestor. Kept in an ancient leather pouch is a hunk of misshapen lead. It is believed this lead is the actual Confederate mini ball which was removed from Daniel's leg and which ultimately caused his death.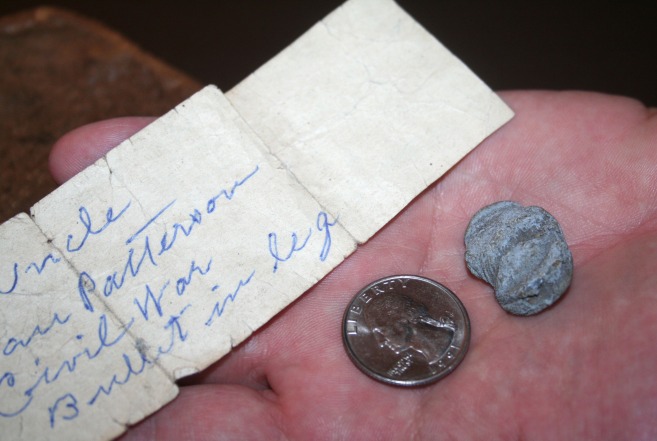 Some thoughts on Cpl. Daniel Patterson's story from his great-great nephew, Keith Patterson, are better made by him:
I have spent a fair amount of time trying to paint a scenario whereby the story could be at least partially true. I have looked at virtually everything (I can find) and wonder if a possible connection might be the photographer from Wadsworth Ohio by the name of T.D. Wolbach. I note his name at the bottom of the photo taken in Millersburg during one of the reunions. My family is from Wadsworth, and we have a number of old photos with his " logo" on the bottom. The relative that I inherited the bullet from was the town barber in Wadsworth from 1900 until around 1950 or so. This would be my great Grandfather Finn Patterson. As you see the piece of paper in my picture of the bullet, it says ...uncle Dan Patterson Civil War bullet in leg. I believe this was written by Finn, as Daniel would have been his uncle. The leather pouch you see in the picture has always held the bullet and the piece of paper, and it has, in faint gold lettering Fred Peters Carriage Works, Millersburg Ohio. Wadsworth was a pretty tiny little town, and with Finn and Wolbach being businessmen, I'm sure they knew each other well - probably drank together, as Finn was allegedly quite the drinker.
Perhaps Daniel was given medical treatment in Vicksburg after his capture, had the bullet removed and gave the bullet to someone in the 16th who survived and made it home. Wolbach obviously took the picture in Millersburg that you display on the site, and undoubtedly spoke to the veterans during the reunion. It's a long stretch, but perhaps one of those vets had been the one Daniel gave the bullet to, told Wolbach the story, only to find that Wolbach knew Daniel's nephew Finn. Or perhaps Finn accompanied Wolbach to the reunion in Millersburg, and somehow obtained it from the veteran who carried it back. That is really the only scenario that (however unlikely) would fit all of the facts. It is certain that Daniel did not walk home from Vicksburg....how else could the bullet have made it all the way to Wadsworth? The Wolbach / Millersburg / Wadsworth connection is too coincidental .... and somebody knew that Daniel had not just been wounded, but wounded in the leg. That is a detail that would only be known by a select few.
Keith E. Patterson, April, 2011
---
The Vicksburg National Cemetery plaque (below) and the Official Roster of Ohio Soldiers indicate Corporal Daniel Patterson was wounded at Chickasaw Bayou, sent to a Confederate hospital, died in captivity, and is buried there. But could Daniel, knowing he was going to escape and go home, have changed identities with another soldier who was in worse shape and died being incorrectly identified as Daniel? Did the hospital simply record their names incorrectly? The Patterson family has engaged a formal researcher who mentions a Daniel Patterson may have been paroled back to his regiment. Could that be how he got home? If he never made it home, how could such a story materialize? But no gravesite can be found for him near his home in Ohio. Could a loved one in agony, after reading a letter of regret, simply dreamed he came home? Could it have been his spirit?
We will probably never know what really happened to Daniel. What we do know as fact is that he was a Corporal in the 16th Ohio Volunteer Infantry, he fought in the Battle of Chickasaw Bayou, he was wounded and soon after died of that wound. He was an American patriot and hero of the first order, volunteered to defend his country and gave his life doing so. No more noble truth can be told.