Details provided by Suzanne Troje, great granddaughter of soldier:
The modest obituary published in the Wayne County Democrat upon Daniel's death provides little detail of his life.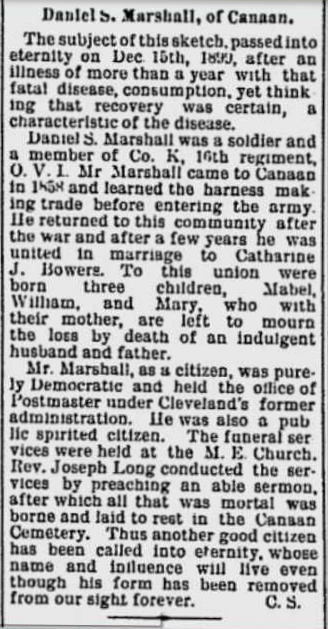 A review of his Civil War Pension file, by contrast, provides insight on the trials of war and life afterwards.
Only months after enlisting, Daniel became ill as a result of exposure to the elements, and subsequently suffered a double hernia after falling when carrying water for cooking. He was honorably discharged after less than a year of service on Surgeon's certificate of disability. He was awarded $6 per month invalid's pension which was suspended after three years for "want of more particular evidence of origin of disability." After eleven years it appears that Daniel secured legal assistance to reinstate his pension. A series of affidavits, testimonies and medical exams reveal further information as to his plight, along with census and other documentation excerpts of which follow:
1862 (Jan): An affidavit made in 1893 by K Company Captain W.P. Van Doorn notes: ... our first hard and exhausted march from Lexington, Kentucky to Mills Spring ... while at Halls Gap the command was exposed to a very cold and rainy night. Many of the boys slept in water. All without shelter or covering ... Daniel S. Marshall was exposed there and had a very bad cold. And afterward when the command arrived at Cumberland Ford he was very sick and had rheumatism. At Hall's Gap, Kentucky, on or about Jan 2, 1862, he by exposure incident to army life contracted colds causing Rheumatism and weakness of the back. [Note: It is about 100 miles between Lexington and Mills Spring with Halls Gap midway.]
1862 (April - Oct): Daniel suffered a double hernia due to a fall while carrying water uphill for cooking at Camp Patton/Patent, 12 miles north of Cumberland Gap. He was sent to a hospital in Covington, Kentucky. (Apparently this was not documented at the time). In March, 1877, former surgeon, Brashear, testified that:
"...in April 1862, in camp at Cumberland Ford, while carrying a camp kettle of water, he fell down with such violence as to produce a double rupture. Shortly after this he was taken down with camp fever which lasted until the end of May 1862. He was on duty with his Company at the surrender or evacuation by the enemy of Cumberland Gap, June 1862 -- was with his Company in the affair of Tazewell, August 1862 -- followed his company in the march or retreat from the Gap in Sept 1862. At Redhouse, W. Va., on the Kenkawa river, 28 Oct 1862, he presented himself for the first time and stated the fact of his rupture and the time and place of its occurrence. From Redpoint he went to Gallipolis, Ohio, where he stayed until the return of the regiment from Charlestown, W. Va, when he rejoined his Company on board the transport, Key West, at Gallipolis, and went as far as Covington, Kentucky, when he was sent to General Hospital for the second time."
Muster roll reports him Private, absent sick at Gallippolis, Ohio, since Oct 28, 1862.
1862 (Nov 29): Honorably Discharged "He has resided at Cincinnati, Ohio (or Covington, KY) since his discharge. That while in said service and in the line of his duty as a Private on or about the 8th day of May 1862, at or near a place called Camp Pattent, in the State of Kentucky. He slipt and fell while ascending a steep bank with a bucket of water causing an injury resulting in hernia on both sides - that he is thereby rendered unable to perform but little manual labor."
1862 (Nov 30): Daniel was awarded $6/month invalid pension.
1862 (Dec. 2): Discharged on Surgeon's certificate of disability and resided in Windsor Village.
1865: Pension suspended for want of more particular evidence of origin of disability.
1876: Statement filed by Milo Stevens "...since leaving the service ... he is now greatly disabled from obtaining his subsistence by manual labor by reason of his injuries, above described, received in the service of the United States; and he therefore makes this declaration for the purpose of being placed on the invalid pension roll of the United States.
1877: Testimony of Thomas Russell indicates he served with him, lives in his neighborhood, associates with him and attests he is entirely disabled for any manual labor that would require him to lift or carry any weight, and that he was in good health prior to his service.
1877 (Mar): Former surgeon of K Co., B.B. Brashear testifies (as noted above).
1877 (Apr): Surgeon examines Daniel in Wayne County (Wooster). Indicates he is permanently disabled, "3/4 incapacitated for obtaining his subsistence by manual labor" and that the disability originated in the service. Notes he is 5'9", 145lbs and 36 years old.
1877 (June): Daniel signed affidavit indicating injury occurred when he was going up a hill carrying water in May 1862.
1877 (Oct): Pension Approved.
1877 (Dec 20): Married to Catherine Bowers, 15 years his junior at age 36. They made their home in Canaan where they conducted a General Store and for a number of years held the Post Office.
1879-1881: ...perhaps during the year 1879 or 80 he treated claimant for an attack of Lumbago which lasted perhaps a month or more. And that from April 1878 to April 1881 he saw claimant almost daily and knew him to be almost a constant sufferer from Lumbago and Rheumatism. In his opinion he was at least 2/3 disabled from performing manual labor. (Aug 1, 1892 Affidavit filed by Dr. Bucher.)
1880 Census: Canaan Twp, Wayne County, OH: Daniel (39) with Jane Catherine (24).
1881 (March 28): Birth of Mabel Clare (Canaan)
1882 (July 11): Birth of William Webster (Canaan)
1883: Declared permanently disabled.
1884 (Apr 3): Awarded $12/month pension.
1886 (Jan 14): Assumed the position of Postmaster of Canaan under Cleveland's Administration.
1886 (Mar 19): Birth of Mary Ada (Canaan)
1888 (Apr): Daniel requests increase in pension commensurate with increase in disability.
1888 (Sep): Surgeon confirms tumor on left side is about the size of a hen's egg, that on the right being as large as a quart measure. Now deemed entirely incapacitated for the performance of manual labor. Confirmed by a second surgeon.
1888 (Nov): Dept of Interior makes specific request for surgeon to examine hernia.
1888 (Dec): Surgeon's Cert of Examination: Age 47, Weight 135: It is, in our judgement, probable that the disability was incurred in the service as he claims, and that it has not been prolonged or aggravated by viscious habits. He is, in our opinion, entitled to a 16/18 rating for the disability caused by double inguinal hernia ...
1888: Retired from Post Office
1889 (May): Daniel requests increase due to new disability from Jan 2, 1862 exposure and rheumatism.
1889 (Jan/Feb): Pension Increase rejected.
1892 (Aug): Affidavit of Dr. Bucher filed attesting at least 2/3 disabled from performing manual labor.
1892 (Oct): Two other physician's (Knestrick and Ruggles) affidavit attested he was totally disabled from performing manual labor and had considerable back pain.
1893 (Jan): 4 neighbors affidavits noting he is disabled from hernia and unable to do any manual, or any labor for that matter.
1893 (March): Surgeon's Examination notes he is suffering from disability incurred in the service: hernia, rheumatism and weakness of back, and receives a pension of $12/month. He is aged 57, 5'10" and 135 lbs.
1893 (Apr): Affidavit of William P. Van Doorn who was First Sergeant of Company K, 16 Regiment OVI from its organization until Feb 1862: I was well acquainted with Daniel S. Marshall of same company and regmt from before the war. And I well remember our first hard and exhausted march ...
1894 (Mar): $14 pension.
1895 (Jan): Affidavits by two neighbors (Russell and Bechtel) that in 1883 Daniel had to quit cutting wheat due to his hernia.
1895 (Feb): Physician's affidavit (Ferguson) affirms ill health.
1895 (Feb): Additional Statement by Van Doorn, Late Capt. Co. K, 16th OVI, reiterating hard march and sleeping in water at Hall's Gap and adding that in April 1862 Daniel slipped and fell causing a rupture. "I have known him ever since the War and know that he is totally disabled and fully believe it is the results of the War."
1895 (Oct): Seeking increase above $14 with new lawyers as those who filed six year ago were negligent (!)
1896 (Jan): Certificate of Examination: I have a double rupture which by spells is painful... I have rheumatism all through me, most troublesome and painful in my back and left thigh. I have pain all the time frequently confining me to the house, this is the first time I have been out for 8 weeks. My back is so weak I can't stoop down to pick up a pin, pain catches me so severely. Age 54, 135 lbs.
1898 (Apr): Daniel, aged 56, requesting increase.
1899 (Apr): Statement of Dr. M.C.Hanna: DS Marshall who has been ordered before the Pension Examining Board of Wayne County for examination as to disabilities resulting from service in the U.S. army, is in such ill health that to make the trip to Wooster for said examination would greatly impair his health and in fact endanger his life, arguing the examination should be made at home.
1899 (Jul 21): Daniel states before surgeon: My troubles for which I am pensioned are getting worse all the time and I am unable to do work of any kind and in fact am unable to care for myself. Age 58, 118 lbs. ... This claimant is disabled from double inquinous hernia, rheumatism and disease of the heart and lungs as to be incapacitated in a degree equivalent to the loss of a hand or foot for the purpose of labor and is entitled to $24/month.
1899 (Oct 31): Affidavit of George Shaver who was 1st Sergeant of Co. K.
1899 (Nov 14): Affidavit by Delphus Bowers now a Justice of the Peace but formerly a musician in K Co. with Daniel. Has heard him complain since 1877 of rheumatism and back problems.
1899 (Dec 14): Died of Consumption (TB). Age 58. Windsor Village, Canaan Twp, Wayne County, OH. Obituary published in the Wayne County Democrat Dec 27, 1899 p.3. (He was married 22 years almost to the day! Catherine was only 44 years old but never remarried. She died at age 83 in 1939).
Tombstone in Canaan Center Cemetery erroneously dates death as 1897!
---
Below is the musician's coat and cap worn by Daniel S. Marshall during his service with the 16th Ohio. These beautiful relics are currently owned by Musician Marshall's granddaughter and the images were provided by her daughter Suzanne and Suzanne's sister, Fran. The website sincerely thanks the family for sharing these wonderful relics.