Most information and photos, below, provided by Silas Corn's great-grandson, James Corn.
Civil War History of Silas Hunter Corn
June 3, 1840
Born on his parent's farm three miles west of Millersburg, OH.
September 23, 1861
Enlisted as Private, Co. B, 16th Ohio Volunteers, Millersburg, OH. Sent to Camp Tiffen, Wooster, OH, for basic training.
September 26, 1861
Appointed 1st Sgt.
November, 1861
Companies transferred to Camp Dennison near Cincinnati, OH, to await outfitting with arms and training in their use.
December, 1861 thru September, 1862
Battles of Mill Springs and Cumberland Gap, KY, and Tazewell, TN.
February 19, 1862
Promoted to 2nd. Lt.
August 6, 1862
Promoted to 1st. Lt.
December 29, 1862
Captured at battle of Chickasaw Bayou, Vicksburg, MS.
January thru February, 1863
Imprisoned at Vicksburg and Jackson, MS.
March 23, 1863
Transferred to Libby Prison, Richmond, VA.
May 8, 1863
Exchanged at Camp Chase, OH.
May 21, 1863
Presented commemorative sword by citizens of Millersburg, OH, while home on leave.
June, 1863
Camp Chase, participated in putting down the Holmes County Rebellion.
July 4, 1863
Rejoined regiment, Vicksburg, MS. The Confederates surrendered on this date after the city had been under siege for 46 days.
July, 1863
Jackson, MS.
April, 1864
Alexandria, LA.
May, 1864
Mansura, LA. - Red River Expedition.
May 21, 1864
Promoted to Captain.
October 4, 1864
Mustered out (3-year enlistment).
ca. 1900
Military pension.
July 14, 1929
Died, buried in Graceland Cemetery, Cameron, MO.
Silas' brother, William David Corn, was in the 90-day army prior to Silas' enlistment. W.D., as he was known, wasn't eligible to enlist in the regular army as he was blind in one eye.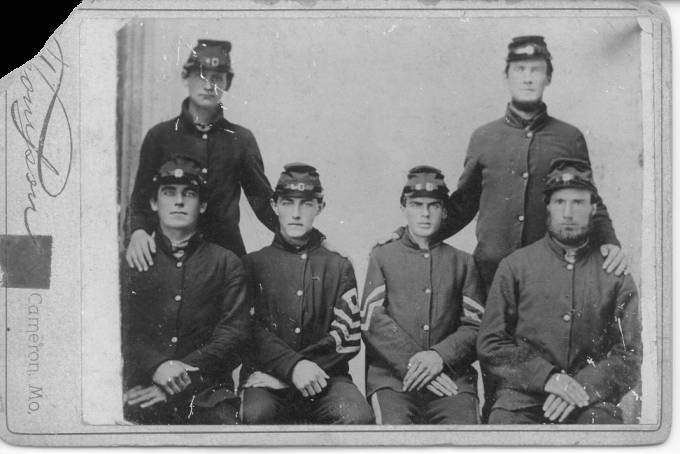 The above picture is a copy of a print made from a daguerreotype, date unknown. Silas H. Corn is seated 2nd from left and had been elected Orderly Sergeant or 1st Sergeant. This places the original between Sept. 1861 when Silas received his stripes and Feb. 1862 when he was promoted to 2nd Lt.
Front row, seated: left to right; Unknown, (a note on the back of the photo "he did not return"), Silas Hunter Corn, Orderly Sergeant, Millersburg, Ohio, Unknown, Unknown.
Standing Left: Unknown.
Standing Right: Thomas Miller, (married Letitia Corn, Silas' sister after the war)
According to S.H. Corn's Memoirs, 15 boys enlisted from his neighborhood (3 miles west of Millersburg). Of those, 7 served the full 3 year enlistment, 6 died of disease, 3 wounded, 1 killed in battle (William Chaney), 1 died of wounds, 1 later drafted, died of wounds (Ephraim Cellars, Silas' cousin).
Officers were: John F. DeCourcey, Colonel; George Bailey, Lt. Colonel; William Spangler, Capt. (a blacksmith who was the recruiter in Millersburg); Joseph Edgar, 1st LT. (Bloomfield, OH); Robert W. Liggett, 2nd Lt.
This group was transported by train to Camp Tiffin, Wooster, OH for basic training.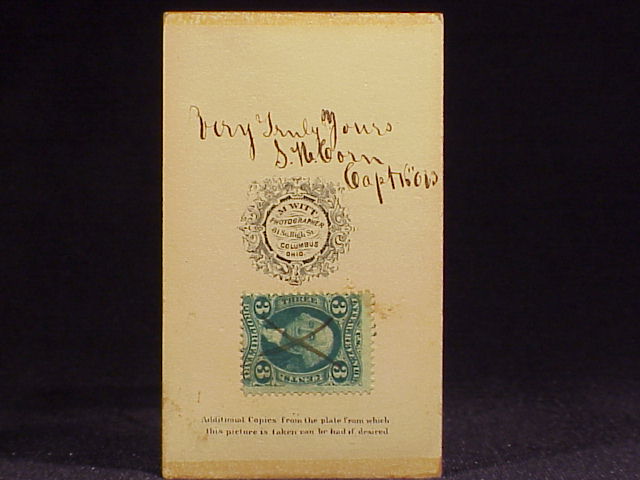 This photo is the reverse side of the portrait of Silas Corn shown at the top of this page.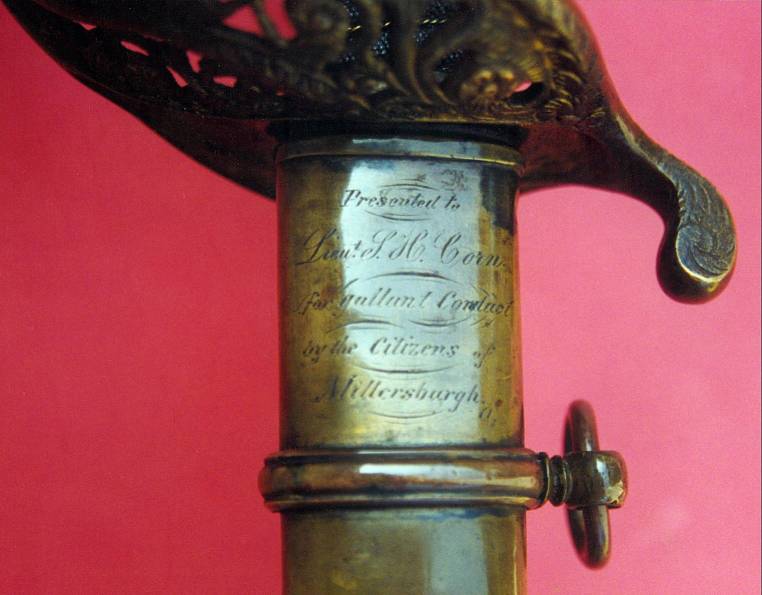 Photo of sword in scabbard with inscription: Presented to Lieut. S. H. Corn for Gallant Conduct by the Citizens of Millersburgh, O. This sword was presented to Silas in May or June, 1863, upon return to his hometown after being exchanged as a prisoner of the Confederacy and shortly before he returned to duty with the 16th OVI in time for the July, 1864, surrender of Vicksburg, Mississippi, to the Union.
Click here to view the full text of the ceremony which presented the sword shown above and below to Silas H. Corn and his response
Full view of sword in scabbard.

Sword shown on display with military belt and sash.

Sword shown on display with military belt and sash.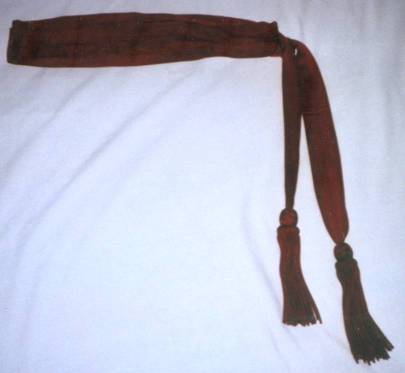 View of display board made to present photos and description of Silas Corn's military equipment and service.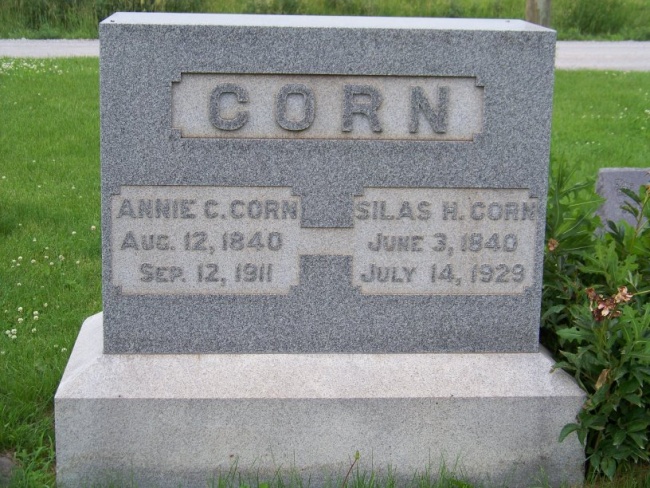 Gravestone of Silas H. Corn located in Graceland Cemetery, near Cameron, Missouri
* image courtesy of and with permission from David Fry at FindAGrave.com