Details and documents provided by Betsy Sternau, great-great granddaughter of William F. Butler.
Paraphrased from Betsy Sternau:
My great great grandfather was William F Butler, 16th OVI Co D, 3 years service. After he returned from the war a purple blister appeared on his lip that turned out to be cancer and he died in Jan 1877. He left a wife and three small children. His widow Ann claimed the cancer was caused by a cap from his gun that hit him in the mouth. After reading through the (pension) file it seems it may have been what we know today as melanoma and considering how little was known about cancer at the time I think it reasonable she might draw this conclusion. An investigation proceeded and the claim was denied after dragging on for several years. Some of the witnesses died, and the govt could not find anyone in his company that actually saw him get hit by this cap or any injury to his mouth.
Ann applied for a Civil War Headstone for William in 1879 that shows his burial place as the village cemetery near Dresden, Ohio. His Compiled Military Service Record from NARA was both interesting and disappointing. The interesting part was that he had one court martial! As I read what I could, not a good copy, I started to laugh, he was charged with disobeying orders by playing a game of cards for money. This of course seems outrageous to me but I have never been in the military and I guess they had their reasons for this rule. He plead guilty and was found guilty and the sentence was forfeiting $10 pay for three months.
Another interesting thing about William, in family records he is referred to as Pick, a nickname that was given to him after Pickett's Charge, but the 16th was not part of this battle. The nickname was mentioned in his pension file, one of his comrades stated he went by this nickname. William's wife, Ann Payne Hunter, was the niece of Robert William Poole Muse (served as Major of the 16th OVI August 27, 1862, to January 13, 1863). Her mother was RWP Muse's sister.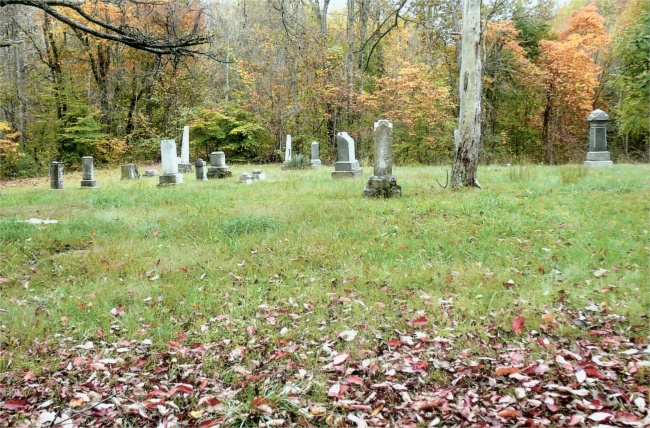 Sherrod's Chapel Cemetery near Dresden, Ohio, where William F. Butler's grave exists. The tombstone has, apparently, been lost to vandals.