Excerpt from History of Company B, page 32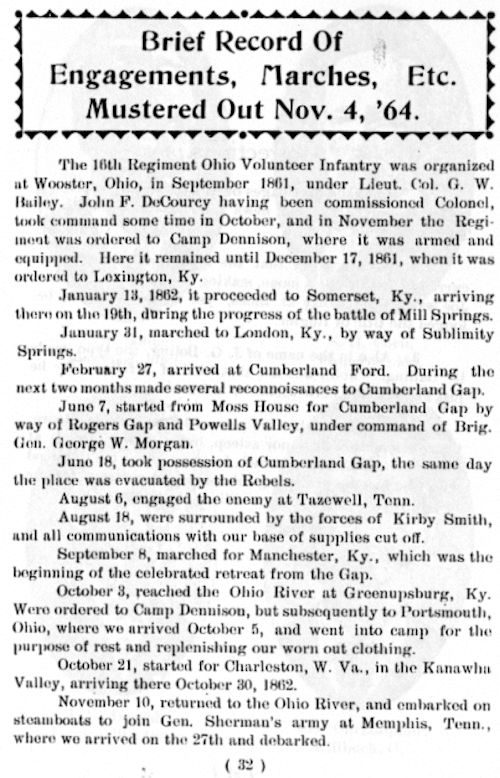 Brief Record of
Engagements, Marches, Etc.
Mustered Out Nov. 4, '64.
The 16th Regiment Ohio Volunteer Infantry was organized at Wooster, Ohio, in September, 1861, under Lieut. Col. G. W. Bailey. John F. DeCourcy having been commissioned Colonel, took command some time in October, and in November the Regiment was ordered to Camp Dennison, where it was armed and equipped. Here it remained until December 17, 1861, when it was ordered to Lexington, Ky.
January 13, 1862, it proceeded to Somerset, Ky., arriving there on the 19th, during the progress of the battle of Mill Springs.
January 31, marched to London, Ky., by way of Sublimity Springs.
February 27, arrived at Cumberland Ford. During the next two months made several reconnaissances to Cumberland Gap.
June 7, started from Moss House for Cumberland Gap by way of Rogers Gap and Powells Valley, under command of Brg. Gen. George W. Morgan.
June 18, took possession of Cumberland Gap, the same day the place was evacuated by the Rebels.
August 6, engaged the enemy at Tazewell, Tenn.
August 18, were surrounded by the forces of Kirby Smith, and all communications with our base of supplies cut off.
September 8, marched for Manchester, Ky., which was the beginning of the celebrated retreat from the Gap.
October 3, reached the Ohio River at Greenupsburg, Ky. Were ordered to Camp Dennison, but subsequently to Portsmouth, Ohio, where we arrived October 5, and went into camp for the purpose of rest and replenishing our worn out clothing.
October 21, started for Charleston, W. Va., in the Kanawha Valley, arriving there October 30, 1862.
November 10, returned to the Ohio River, and embarked on steamboats to join Gen. Sherman's army at Memphis, Tenn., where we arrived on the 27th and debarked.
Excerpt from History of Company B, page 33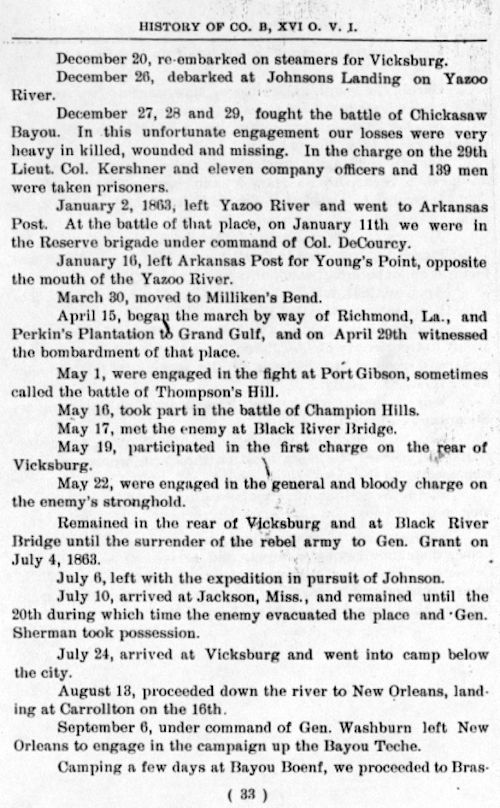 December 20, re-embarked on steamers for Vicksburg.
December 26, debarked at Johnsons Landing on Yazoo River.
December 27, 28 and 29, fought the battle of Chickasaw Bayou. In this unfortunate engagement our losses were very heavy in killed, wounded and missing. In the charge on the 29th Lieut. Col. Kershner and eleven company officers and 139 men were taken prisoners.
January 2, 1863, left Yazoo River and went to Arkansas Post. At the battle of that place, on January 11th we were in the Reserve brigade under command of Col. DeCourcy.
January 16, left Arkansas Post for Young's Point, opposite the mouth of the Yazoo River.
March 30, moved to Milliken's Bend.
April 15, began the march by way of Richmond, La., and Perkin's Plantation to Grand Gulf, and on April 29th witnessed the bombardment of that place.
May 1, were engaged in the fight at Port Gibson, sometimes called the battle of Thompson's Hill.
May 16, too part in the battle of Champion Hills.
May 17, met the enemy at Black River Bridge.
May 19, participated in the first charge on the rear of Vicksburg.
May 22, were engaged in the general and bloody charge on the enemy's stronghold.
Remained in the rear of Vicksburg and at Black River Bridge until the surrender of the rebel army to Gen. Grant on July 4, 1863.
July 6, left with the expedition in pursuit of Johnson.
July 10, arrived at Jackson, Miss., and remained until the 20th during which time the enemy evacuated the place and Gen. Sherman took possession.
July 24, arrived at Vicksburg and went in to camp below the city.
August 13, proceeded down the river to New Orleans, landing at Carrollton on the 16th.
September 6, under command of Gen. Washburn left New Orleans to engage in the campaign up the Bayou Teche.
Camping a few days at Bayou Boeuf, we proceeded to Bras-
Excerpt from History of Company B, page 34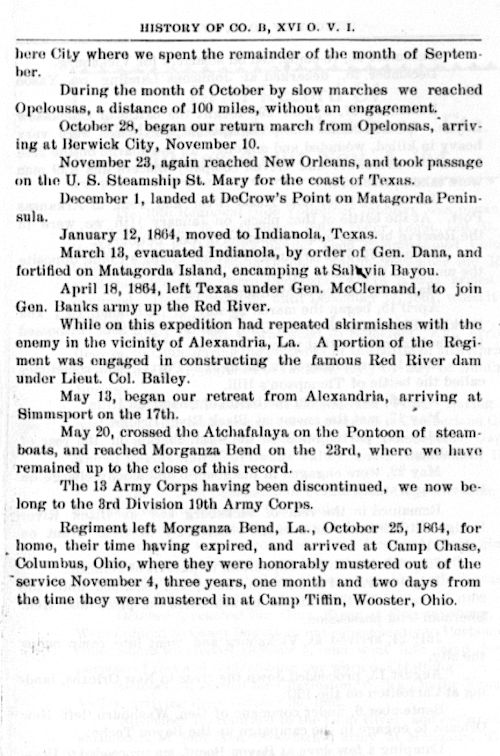 here City where we spent the remainder of the month of September.
During the month of October by slow marches we reached Opelousas, a distance of 100 miles, without at engagement.
October 28, began out return march from Opelousas, arriving at Berwick City, November 10.
November 23, again reached New Orleans, and took passage on the U. S. Steamship St. Mary for the coast of Texas.
December 1, landed at DeCrow's Point on Matagorda Peninsula.
January 12, 1864, moved to Indianola, Texas.
March 13, evacuated Indianola, by order of Gen. Data, and fortified on Matagorda Island, encamping at Saluria Bayou.
April 18, 1864, left Texas under Gen. McClernand, to join Gen. Banks army up the Red River.
While on this expedition had repeated skirmishes with the enemy in the vicinity of Alexandra, La., A portion of the Regiment was engaged in constructing the famous Red River dam under Lieut. Col. Bailey.
May 13, began our retreat from Alexandria, arriving at Simmsport on the 17th.
May 20, crossed the Atchafalaya on the Pontoon of steamboats, and reached Morganza Bend on the 23rd, where we have remained up to the close of this record.
The 13 Army Corps having been discontinued, we now belong to the 3rd Division 19th Army Corps.
Regiment left Morganza Bend, La., October 25, 1864 , for home, their time having expired, and arrived at Camp Chase, Columbus, Ohio, where they were honorably mustered out of the service November 4, three years, one month and two days from the time they were mustered in at Camp Tiffin, Wooster, Ohio.