SCOUTING ALONG THE ATCHAFALAYA
On Wednesday, September 21, the Union troops engaged the Confederates in the vicinity of Centerpoint, Louisiana. The event is described by Cpl. Theodore Wolbach, Company E, as follows:
[On the night of the 20th...] Many voices could be heard on the opposite shore, but when day dawned [on the 21st] we could not see anybody there. Two companies of the 16th had been deployed behind the low levee near the bayou, the balance of the regiment being in a thick wood about five hundred yards back. Knowing that plenty of rebs were concealed across from us, a detachment of our Texas cavalry were ordered to gallop up and down the road in the rear of our skirmishers to draw the fire and get the enemy to expose themselves so that our infantry could get a shot at them. It succeeded well but cost us one of our bold dusky riders, who was shot through the bowels, and a splendid horse. Many balls over shooting the skirmishers, struck among the regiment. Col. Kershner's horse was wounded in the shoulder and the hospital steward's killed. Fred F. Falk got a ball through the calf of his leg. We lay low and did lots of shooting through the day and after dark started for camp.
Wolbach states the troops started back for camp (at Morganza Bend) after dark. Current information doesn't specify how long this return trip took but does indicate they didn't arrive until the 23rd. We can assume Wolbach, in remembering the events of this period, was off by a day or that the regiment took more than a full day to march back to camp. The cavalry units that were with them aarrived back at camp at Morganza on the 22nd which may indicated the infantry troops also began their march back to camp sometime on that day.
---
This period map shows the location of key landmarks at the Battle of Stirling Plantation (or Fordoche Bridge) which occurred, as mentioned above by Wolbach, on September 29, 1863. The 16th Ohio passed by this site on its way to the Atchafalaya River at Centerpoint while searching for Rebel troops. It is believed that Centerpoint is a short distance north of current day Melville, Louisiana.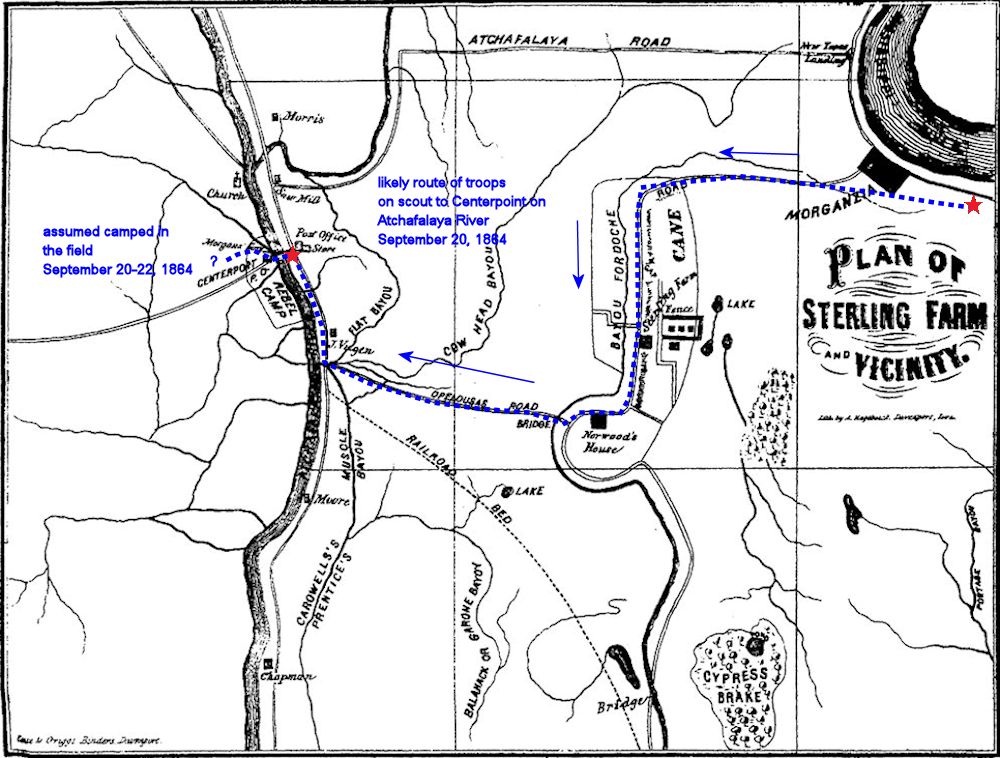 ---
Modern day map showing the estimated location ( A ) of the 16th Ohio's campsite at Morganza Bend, Louisiana, from July 4 to October 6, 1864 and the regiment's likely route taken on a scouting mission to the Atchafalaya River near Centerpoint, Louisiana ( C ), passing through the location of the Battle of Stirling's Plantation ( C ) which occurred about one year earlier.