ANOTHER MARCH TO THE ATCHAFALAYA
Late the previous evening the regiment joined a force which would march to the Atchafalaya River on a scouting mission to look for Rebel positions. Cpl. Theodore Wolbach describes the day:
A little after sunrise we were on the road tramping toward the Atchafalaya. We didn't march so fast as to miss things of interest along the road. Far beyond our camp we passed within two hundred yards of the small-pox hospital. There were some negro soldiers there under treatment at the time. This institution needed no guarding. The notice in plain letters would keep off an army. Further along we came to a place where dead mules and horses were dragged. It was a veritable equine golgotha. Some big, black, sleek-looking turkey-buzzards that were gorging themselves with the disgusting rotten mess, showed no fright at the nearness of the passing troops.
Ten miles from the river we marched past the place where the 19th Iowa and the 22d Indiana infantry were ambushed by a large force of the enemy a year before [The Battle of Stirling's Plantation]. The split board fence on the left showed many bullet marks. On the right was a dense growth of heavy trees whose branches were laden with the long grey Spanish moss. Much of this material was pulled off and arranged for bedding on the ground.
Before reaching the Atchafalaya we turned to the right from the main road and marched through the primeval forest, reaching the bayou some time in the night. A few deserted buildings here at a ferry had been called Centerpoint in more prosperous days.
---
This period map shows the location of key landmarks at the Battle of Stirling Plantation (or Fordoche Bridge) which occurred, as mentioned above by Wolbach, on September 29, 1863. The 16th Ohio passed by this site on its way to the Atchafalaya River at Centerpoint while searching for Rebel troops. It is believed that Centerpoint is a short distance north of current day Melville, Louisiana.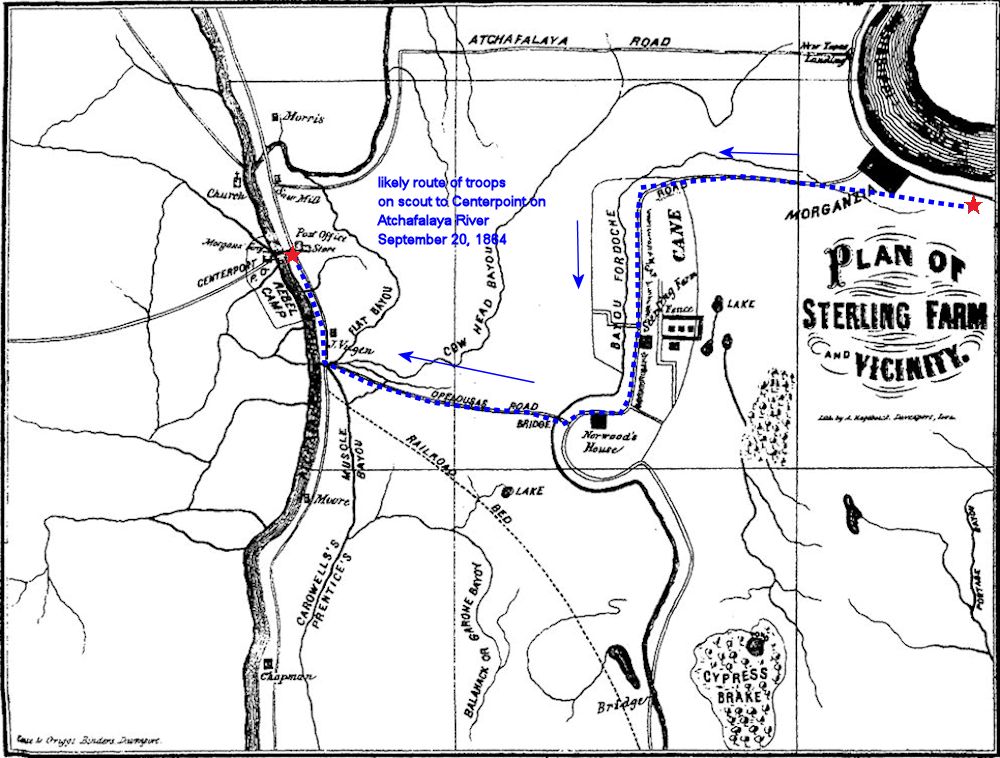 ---
Modern day map showing the estimated location ( A ) of the 16th Ohio's campsite at Morganza Bend, Louisiana, from July 4 to October 6, 1864 and the regiment's likely route taken on a scouting mission to the Atchafalaya River near Centerpoint, Louisiana ( C ), passing through the location of the Battle of Stirling's Plantation ( C ) which occurred about one year earlier.