SOUTH TOWARD YOUNG'S POINT
During this time, the 16th Ohio and McClernand's troops, aboard steamboats, continued moving south toward Vicksburg. Very little detail is available so the web author will estimate the location of the troops as they float down the Mississippi River.
General Ulysses S. Grant rendezvoused with the fleet on January 18 and took command of the army. He ordered the fleet to Young's Point, on the Louisiana side of the Mississippi River, which became their winter campsite and staging area for actions against Vicksburg in the spring.
Pvt. Robert Newton Newt Gorsuch records these events:
January 18
Start down river and run till night. Boat got loose and floated down river a long way before they could get steam up to get back.
January 19
Boat went some distance and stop to take on wood. Fill boat with wood.
Gorsuch also reminds us that one year ago this day the battle of Mills Springs was fought with Rebels being routed and their General Felix Zollicoffer being killed near Somerset, Kentucky. The 16th Ohio, however, having recently left Ohio for the war, did not arrive in time to participate in the battle.
January 20
Boys killed hog, calves, etc. and got any amount of sweet potatoes and butter at cecesh plantation. Boats start at daylight. Eat sweet potatoes which made me sick.
---
Period map showing Young's Point, Louisiana, where the 16th Ohio and Grant's army wintered after the Battle of Arkansas Post. Also visible are Milliken's Bend and Vicksburg. Chickasaw Bayou is shown due north of Vicksburg: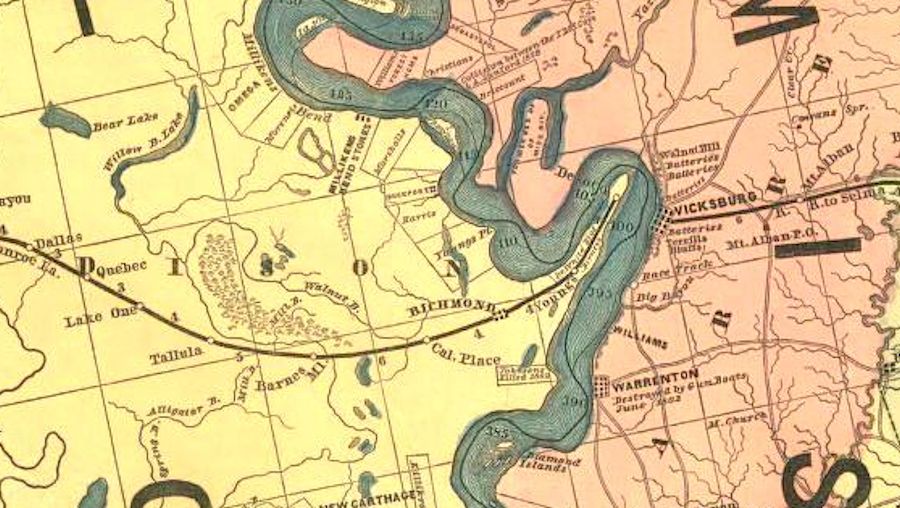 ---
Modern map of the locations of the 16th Ohio as it moved south with Gen. McClernand's fleet toward its winter quarters near Vicksburg, Mississippi from January 18 to 20, 1863.
Lavender
pushpin - Arkansas Post, Arkansas (on the Arkansas River)
Yellow
pin - Napoleon, Louisiana (no longer exists)
Green
pin - notional point on the Mississippi River where McClernand's fleet reached on January 17, 1863
Purple
pin - approximate point on the Mississippi River where McClernand's fleet reached on January 18, 1863
Aqua
pin - approximate point on the Mississippi River where McClernand's fleet reached on January 19, 1863
Lavender
pin - approximate point on the Mississippi River where McClernand's fleet reached on January 20, 1863
Red
pushpin - approximate position of Young's Point, Louisiana, the destination of Grant't fleet and winter campsite of his army