DOWN THE ARKANSAS RIVER
On this day, Pvt. Peter Perrine states the 16th Ohio and Gen. McClernand's victorious Union troops sailed from Arkansas Post on the Arkansas River down to *Napoleon, Louisiana, on the Mississippi River near the mouth of the Arkansas River.
Pvt. Frank Mason, Company A, 42nd Ohio, states:
The army came down the Arkansas in splendid spirits and with the demoralization induced by Chickasaw Bluffs thoroughly cured.
The town of Napoleon,Louisiana, was eventually destroyed by the flooding of the two rivers and, basically, ceased to exist after the flood of 1874
---
Period map of the area around Arkansas Post, Arkansas:
Red
star - Confederate stronghold Arkansas Post, the target of McClernand's attack; please note that the site of the fort at Arkansas Post has been covered by the ever changing waters of the Mississippi River, a historic marker and overlook now exists near that place.
Blue
star - mouth of the Arkansas River on the Mississippi River
Yellow
star - the cut off, a navigable bayou that connected the White and Arkansas Rivers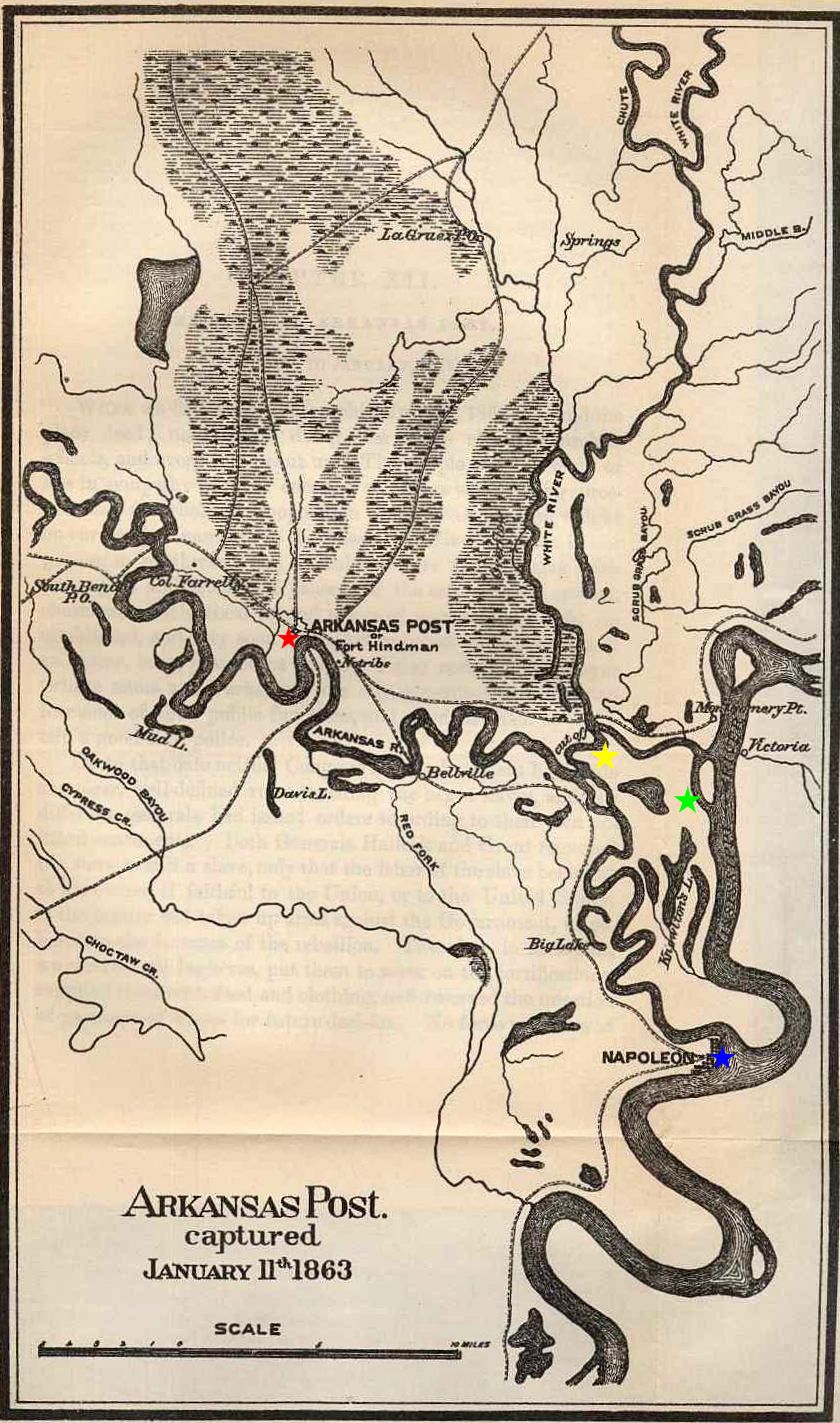 ---
Modern map of the area around Arkansas Post, Arkansas:
Lavender
pin - Confederate stronghold Arkansas Post, the target of McClernand's attack; please note that the site of the fort at Arkansas Post has been covered by the ever changing waters of the Mississippi River, a historic marker and overlook now exists near that place
Blue
pin (upper) - probable loading point for troops
Blue
pin (lower) - mouth of Arkansas River on the Mississippi River
Yellow
pin - Napoleon, Louisiana, where the 16th Ohio and fleet moored (assumed) the night of January 16, 1863