SLOW MOVING ON A LOW RIVER TOWARD MEMPHIS
DeCourcey's brigade continued their journey down the Ohio River, destination, Memphis, Tennessee. Records do not provide enough information to definitively state exactly where the flotilla was on the days November 20 through 22, so, the web author will take some liberty and make assumptions based on what information is available. In his diary for November 20 through 22 Pvt. Peter Perrine states that the flotilla continued going down the river slowly. Cpl Wolbach writes (below) that the ships tied up at Cannelton, Indiana, to bring on coal. We will assume, then, the stay at Cannelton occurred on the night of November 20, and that they had sailed 85 miles from the Previous anchorage the night before. It is understood that the river level was very low which posed great hazards to the boats which was, no doubt, the reason for the slow progress. Cpl. Theodore Wolbach writes:
Below Louisville, at Cannelton, Indiana, while the boat was tied up, coaling, between midnight and morning, two boys of Company H, H. G. White and B. F. Clark, decided to get ashore and make a little trip inland, and catch the boat at some point down the river. The guard at the staging prevented them from getting off there. Their next resort was the big hawser at the stern of the boat. They both climbed on it, but when they had got about half way to the shore the big rope slacked under their weight and let them gently down into the water. The rope then began vibrating up and down, and before they reached shore they had been ducked under a number of times. They struck out for a barn at the edge of the village and crept under the hay to get warm, where they lay until after the departure of the boat in the morning. For several days they had a right jolly good time. Clark fell in love with the hotel keeper's daughter at Cannelton, and when he left his heart was sadly demoralized. They visited Mt. Vernon and several other towns, spending their money freely. But, lo! when they reached Evansville the regiment was gone and money was about played out. However, luck was with the two fellows. They found a steamboat that was short of hands, and about ready to depart for Cairo, to which point they worked their way, helping to load and unload at the different landings. At Cairo the mate of the boat gave them three dollars a piece. The 16th Indiana Infantry was on a boat here ready to move south. With this regiment they reached Memphis, and rejoined their regiment, where it required on their part some very ingenious talking to escape with only a sharp reprimand from Captain McClure.
---
unknown steamboat moored at Cannelton, Indiana (late 19th century)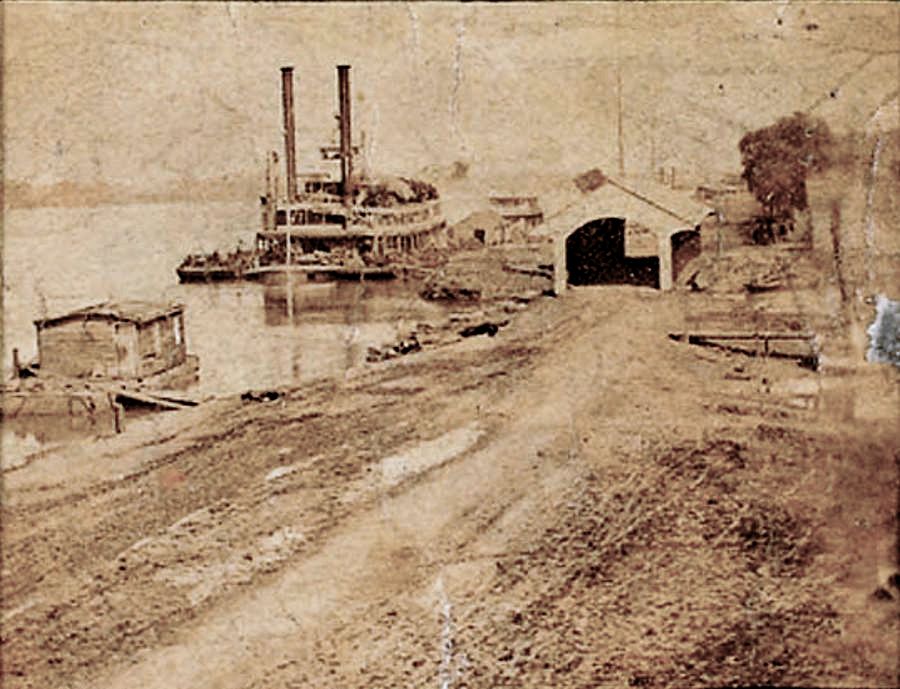 ---
Modern day map of the 16th Ohio's journey on the Ohio River to Cannelton, Indiana (positions approximated):
Blue
pin - New Albany, Indiana
Green
pin - notional point where the flotilla anchored for the night on November 19, 1862
Red
pin - Cannelton, Indiana, where flotilla docked to take on coal on what may have been the night of November 20, 1862