THROUGH THE LOCKS AT LOUISVILLE
On this day at 2:00pm the 16th Ohio, with DeCourcey's brigade, aboard the steamships which had taken them all the way from Point Pleasant, (West) Virginia, enjoyed watching as their boat captains maneuvered their way through the canal and locks at Louisville. The locks, operated by the Louisville and Portland Canal Company, were first opened in 1830, and allowed boats to safely bypass the Falls of the Ohio (River), a drop of 26 feet through perilous rapids. After passing through the locks, the flotilla anchored down river a short distance below New Albany, Indiana. Theodore Wolbach writes:
"The passage of steamboats through the locks of the big canal around the falls or rapids, was a novel entertainment to the soldiers. This work is said to be a fine piece of engineering. The labor of constructing it was immense; the most of it being blasted from the solid rock. It is of great commercial value in low water time, and should be, as it cost the U. S. Government a mint of money.
The usual straying off and then running to catch the boat took place here; some rejoining us at the lower end of the canal. In the continuation of our journey a part of the regiment was on the little sternwheeler Marmora (Mamora). The engineer's position was on the lower deck, in the aft part of the boat. It was a great curiosity to the boys to see the man that was posted here perform his work. Many gathered around to watch him make his quick and skillful movements whenever the pilot above jingled the little bell or sent an order down through the speaking tube. This, with the crowd around a big stove a few feet distant, brought too much weight on to one place and interfered seriously with the management of the steamer. So it became necessary several times to order the boys to disperse.
---
A view of the Falls of the Ohio showing why the canal and locks were needed.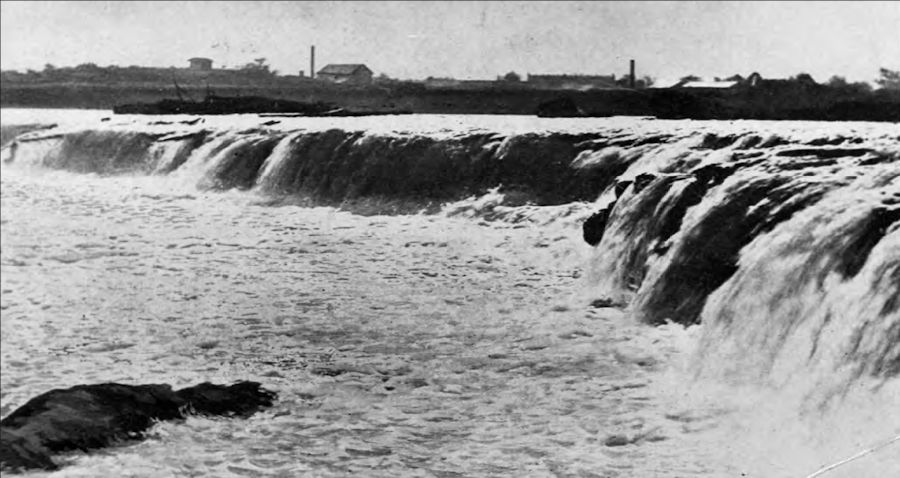 ---
The upper entrance to the Louisville and Portland Canal as seen by DeCourcey's brigade on November 18, 1862.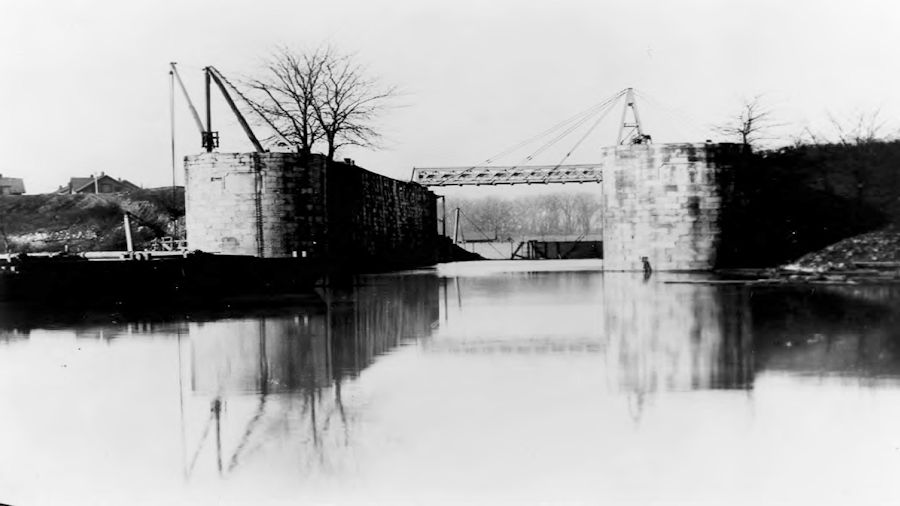 ---
A view of the Louisville and Portland Canal at 18th Street in Louisville. DeCourcey's brigade would have passed through this canal on November 18, 1862.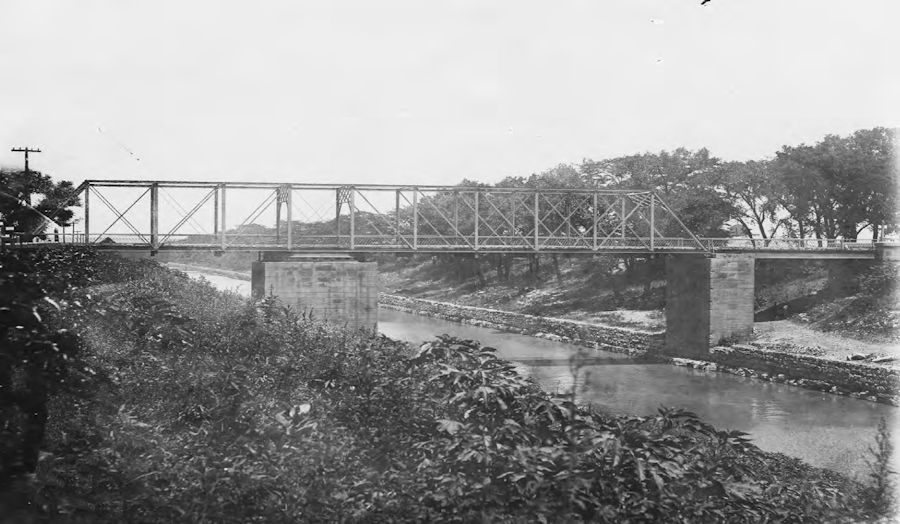 ---
A view of the Louisville and Portland Canal locks where DeCourcey's brigade passed through on November 18, 1862 (possibly under repair in this photo).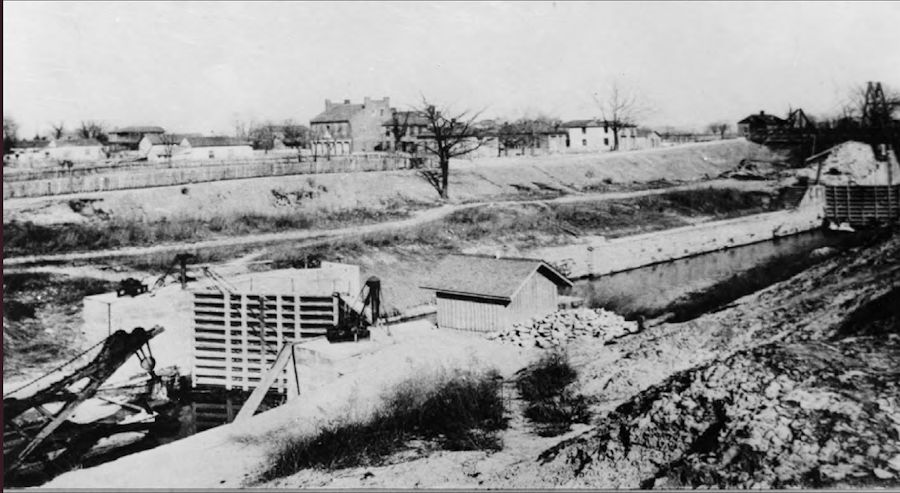 ---
Civil War era map of the route taken by DeCourcey's brigade and the 16th Ohio through the canal and locks at Louisville (positions approximated) and their anchorage at New Albany: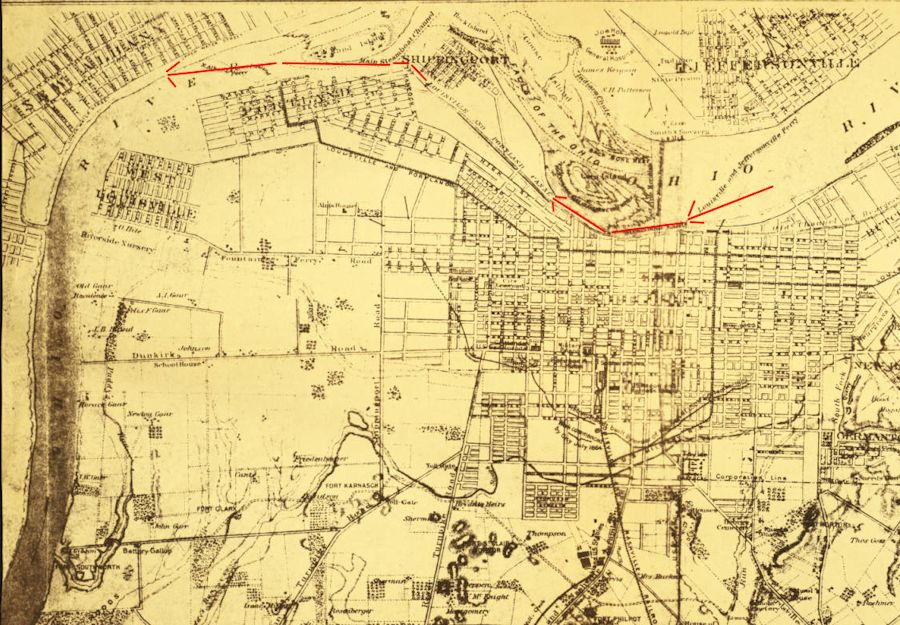 ---
Modern day map showing the route of the flotilla through Louisville. The original canal and locks have been greatly expanded since 1862.
Red
pin - entrance to the Louisville and Portland Canal (now named McAlpine Locks) in Louisville, Kentucky
Yellow
pin - the locks which bring boats down about 26 feet allowing bypass of the Ohio Falls on the north side of the river
Blue
pin - New Albany, Indiana, where the 16th Ohio and their flotilla anchored after passing through the locks