WAITING FOR THE RIVER
The 16th Ohio needed to cross the Rockcastle River, to resume its trek to London, Kentucky. Due to the constant rains the river was too high and dangerous to cross, so, the troops found quarters and waited for it to fall. During this time the food supply grew scarce and the men were put on short rations. Cpl. Theodore Wolbach, Company E, describes the events at Sublimity Springs:
A long, commodious white building, with a spacious veranda extending the entire length of the house, on the river front, furnished ample room for many guests during the pleasure season. At this season of the year the rooms were vacant, except a few that the proprietor and his family occupied. The boys took possession of the vacant rooms without orders, and settled down to make the best of it. With appetites sharpened by short rations they began to look around for something to eat. The small stock that the cellar afforded was soon gobbled. Some of the men even went further. Lieut. DeSilva and A.M. Donald entered a private room and stole the landlady's whisky. Quarter rations were issued to us on the 3d. The Artillerymen were working hard to get their material ferried over the river. Col. DeCourcey and Capt. Wetmore had a war of words about the possession of the ferry-boat, but the plucky little Captain held the boat and the work went on until the swollen condition of the stream compelled them to stop until the water subsided.
Many of the boys had eluded the guards and officers and straggled ahead during the two days that preceded the arrival of the regiment at the river. A stout dam furnished water to a small saw and grist mill that was located on the east side, and a short distance down stream from the hotel. On the rough hillside that sloped up from the mill were several vacant log huts; in one of these about a dozen of the stragglers found comfortable quarters. They had come up to and crossed the river before night, and had several hours of daylight to look around for something to eat. A half bushel of corn from the hopper in the mill (the grist of some poor fellow, perhaps) was confiscated. A pair of pantaloons were exchanged for some corn bread and dried beef at a house a half mile below. A large iron kettle in the cabin served to cook the corn in. When night came the boys settled down to enjoy themselves as best they could until the corn was cooked soft enough to eat. Pipes and story telling were the order of the evening, and at intervals uproarious laughter filled the cabin as some one reached the nub of a good story.
No images of the resort have yet been found by this website.
---
period map showing approximate route of the 16th Ohio marching to Sublimity Springs, Kentucky
image from Library of Congress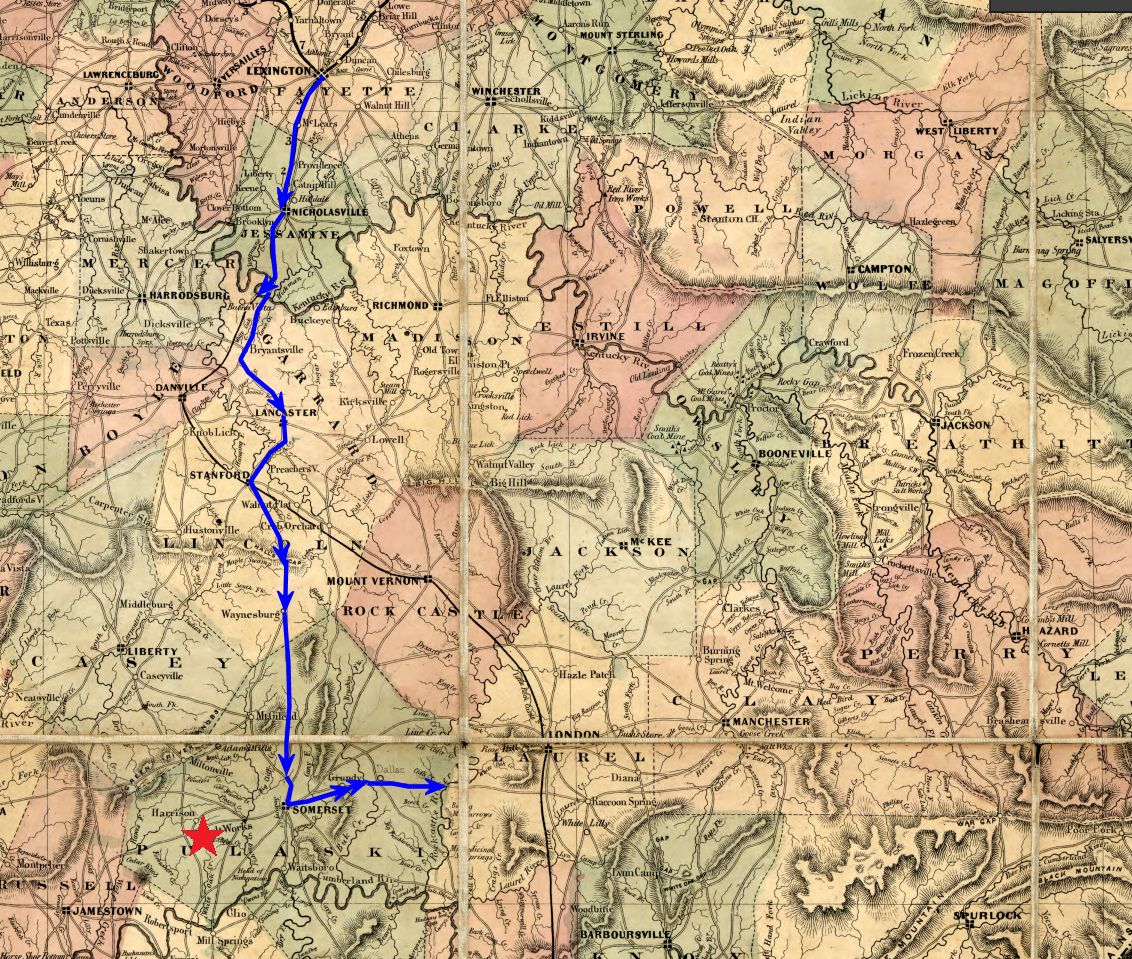 ---
modern day map showing a very approximated route of the 16th Ohio from its camp at Buck Creek to Sublimity Springs, Kentucky