Letter (#2) from William McCormick, Private, Cos. G, H, 16th OVI,
to his wife, Charlotte Scott McCormick
Camp Cumberland Ford, Kentucky
March 13, 1862
Web Author's Notes:
The following letter was transcribed from the original letters of
William McCormick
, a private in the 16th OVI. This transcription was kindly provided by Joni Crane, 3rd great-grandaughter of Private McCormick. The McCormick family passed these letters down through the years until they were acquired from Alice Armstrong (McCormick) by her grandson, David A. Hilliard. The letters were donated to the United States Library of Congress, Rare Manuscripts Division, with copies retained by the family. Please go to the
McCormick Letter Index page
to read an introduction by Joni Crane.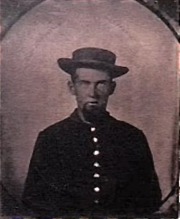 Camp Cumberland Ford
March 13, 1862
Dear Wife,
It is with pleasure that I am laying here in my tent writing to you on this the day of our anniversary of marriage. This day six years ago we were married and for me to look over my life in that period and think of how I have used you, it makes my heart bleed and for me to be away from home now and in a distant state and not to be at home so that we might have the pleasure of spending our marriage day together - but I hope and expect it will be the last anniversary of our marriage that I will be absent from you and the children.
Day before yesterday we were marched to within sight of the Rebel Brest works at Cumberland Gap. While on the way, our battalion got word that the Enemy, one thousand strong, was after us and we were halted and under much excitement.
Col. Bailey ordered us to load, load, load. Our boys took it very cool and loaded. The officers were more excited than the men. One Battalion of Regiment had been sent on in advance and we supposed the Enemy had cut them off and we were ordered forward at the double quick. We went three miles in a short time which brought us within a mile of the Enemy Entrenchments.
We had a very plain view in and around the Gap of the Enemy's works. Our advance Battalion under the Col. DeCourcey and Maj. Kershner were all right. We were brought up the line of battle and after standing fifteen minutes we were ordered to lay on blankets (which we had in rolls round our shoulders) and take a rest which we relished very much after marching so much.
After our rest we were ordered back to camp. We got into camp at 8 o'clock at night after a march of twenty eight miles. We intend to attack the Enemy soon and I think we will have to charge on their fortifications at the point of the bayonet. If we do, there will be a great loss on both sides as they are very strongly fortified. If they were not cowards, they would have attacked us when we were within a half mile of them and fourteen miles from the balance of our forces. But they did not through fear. Nothing more at present, I am well and hearty. My love to you and the children.
P.S. Johny and Clary must not forget their Pa, and Pa will bring them something nice when he comes home. Send postage stamps. I have received no answer to my three last letters - write