CAMP DENNISON, December 4, 1861.
Sister MARTHA: -- I have promised to write to so many individuals, that I fear I cannot accommodate them all, as I have not much spare time. So if my communications are worthy of a place in the county papers, I will keep a diary; and, if possible, write a short extract for publication every week. You will, no doubt, have rumors that some of us are dangerously sick, or perhaps dead and buried; or perhaps killed, or wounded, or taken prisoners, while we know nothing about it. So I will try to give a true account of our removal from Camp Tiffin to this place. On Wednesday, Nov. 27th, citizens were not permitted to enter the camp, and officers and men were busy making preparations to march. At 2 p.m., the long roll of the drum warned us to prepare to strike tents. And, at the sound of the bugle, the tents were struck, rolled up, and placed in wagons to be taken to the depot, and placed on the cars. We then formed in battalion line in front of the Camp, and Colonel De Courcey gave the longed for command, Without doubling, Left face. Guide right, MARCH! And near one thousand men, with light hearts and buoyant spirits, marched forward, or rather waded through the mud to the cars. The regiment, while passing through town, marched through the yard of the Grove Female Institute, and each company gave three hearty cheers for the patriotic ladies of Wooster. The Soldiers Aid Society. was held in the school building. The Society collected about $200 for the benefit of the Regiment, lined our blouses, and furnished us with needle-cases, needles, thread, pins, buttons &c. The lady teachers of the school, labored in the school room during the day, and sewed for the soldiers at night. Long may they live beneath the folds of the Star Spangled Banner. I believe there is as much true patriotism in crinoline as there is in corduroy. At 6 p.m., amid deafening cheers, waving of hats and handkerchiefs, we left for our present encampment. The train consisted of twenty-eight cars and two locomotives. We were cheered by almost every person in sight of the railroad. Hats, flags, hands and handkerchiefs, were flourished as we passed. Even the old women, with their babies in their arms, ran out to wave their handkerchiefs or their aprons. We arrived at Columbus at 4 a.m., Thursday morning, remained two hours and then left for this camp, where we arrived at 1 p.m. the same day. We came through without change of cars, and without fatal accidents, which often occur on such occasions. One man broke ranks when about to leave Wooster, and ran up town with the officer of the Guard after him, who caught him and wished to know his reason for acting so. He said he was going to see his gal. The officer told him he should let the woman go until the war is over. I suppose he would say, with the Irish woman, whose husband left Camp Tiffin without leave, and was taken out of bed by the picket guard, and marched back to camp; the divil take the war that takes a man right out of his bed. -- When we arrived here it was raining and very muddy. On Friday it rained and snowed; but the snow melted about as fast as it fell. I stood out on duty during the greatest part of the night, in the rain, snow and mud. I confess, it is not quite so pleasant as playing on the Dulcimer, or sitting comfortably around the hearthstone of a comfortable home; but I stand it very well, and have gained twelve pounds in weight since I enlisted. The ground was considerably frozen on Sunday night. The nights of this week have been very cold, but during the day time, the ground thaws slightly. Our barracks were unfinished when we came here, and still remain so. The bunks are mostly finished but the doors are unhung, and no stoves up yet. We have suffered considerably from the cold at nights. We were compelled to place large boxes on the floor filled with earth, on which to build fires; and then the smoke almost blinded us. Our eyes look as though our quarters might be a grocery. So between smoke and cold weather, we have had rather an unpleasant time of it, so far. I think we will soon get our barracks finished when they will assume an air of comfort. There is a building about 100 feet long by 25 feet wide, for each company. The bunks, or beds are arranged along the side of the buildings, somewhat like the drawers of a dryhouse, for drying fruit. We have no feather beds nor downy pillows, I assure you. But I suppose we can get used to sleeping on a wooden bed. Many of the men are complaining of bad colds, caused from smoke and exposure to cold. Some were unwell when they came here, and would no doubt have been able to perform duty by this time, had they been placed under favorable circumstances. There are five men of Capt. Spangler's company on the sick list to-day; but they are not dangerously sick. They are as follows: ALFRED NISCON, GEORGE WEATHERWAX, ANDREW DUNCAN, JOHN STIMMEL and HENRY SHIRE. We have not sent any persons from our company to the hospital yet. There is a general hospital in this camp. I understand that some of Capt. Drake's company, from Western Virginia, are in it. There was one soldier buried in camp on last Sunday. There are one hundred and fifty sick in the hospital. Camp Dennison is sixteen miles from Cincinnati, on the Little Miami river. The Little Miami, Columbus and Xenia Railroad passes through the camp. The drilling of 9000 troops, 300 house carpenters building barracks, and the almost continual running of the cars, gives it the appearance of quite a business place. The camp contains 600 acres of ground for which the government pays an annual rent of $9,000, or fifteen dollars per acre. There are three regiments of cavalry, five of infantry and one of artillery. Brig. Gen. Wade is commander of the post. We expected to get our arms and overcoats yesterday, but have not received them yet. We received a telegraph dispatch that they are on the way. The Quartermaster told me yesterday that he expected we would leave here about the 10th of the month. Here is a short extract from the Cincinnati Commercial. --
The arms of the 16th Regiment are a superior French rifle, with saber bayonet. It will probably leave for the South on Monday next. The Regiment has the reputation of being well drilled. We might possibly leave by that time, but as we failed to get our guns by the first of the week, I think probably we will remain longer. But I might as well try to predict the state of the weather a month hence, as to tell when, and where we will go; for the movement of troops is like the negro's master, mighty unsartin. It was reported that we were to try our hand at Cumberland Gap. As Col. De Courcey is an experienced commander, and has the entire confidence of the War Department, I think we will be sent where something is to be done. When we leave camp Dennison, I hope to have something more interesting to write. We heard to-day that you have sleighing in Holmes county. There is no snow here. The friends need not delay writing to us, because they expect us to leave soon. If letters are properly directed, they will follow the Regiment wherever it may go. Our company mailed near ninety letters in one day.
WILLIAM BUCHANAN.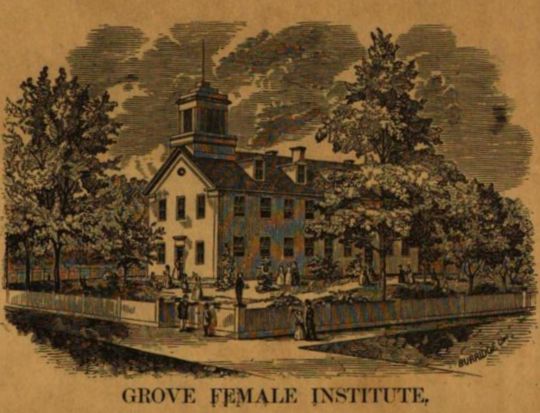 Grove Female Institute, Wooster, Ohio
ca. 1858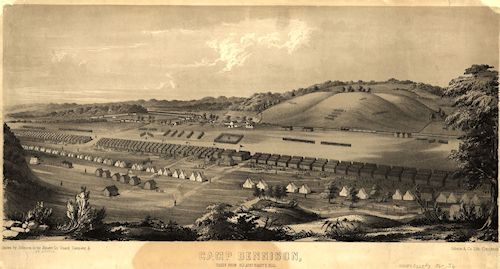 Camp Dennison, near Cincinnati, Ohio
ca. 1858