Detailed information provided by Freemason researcher Tim Stegg and from other sources.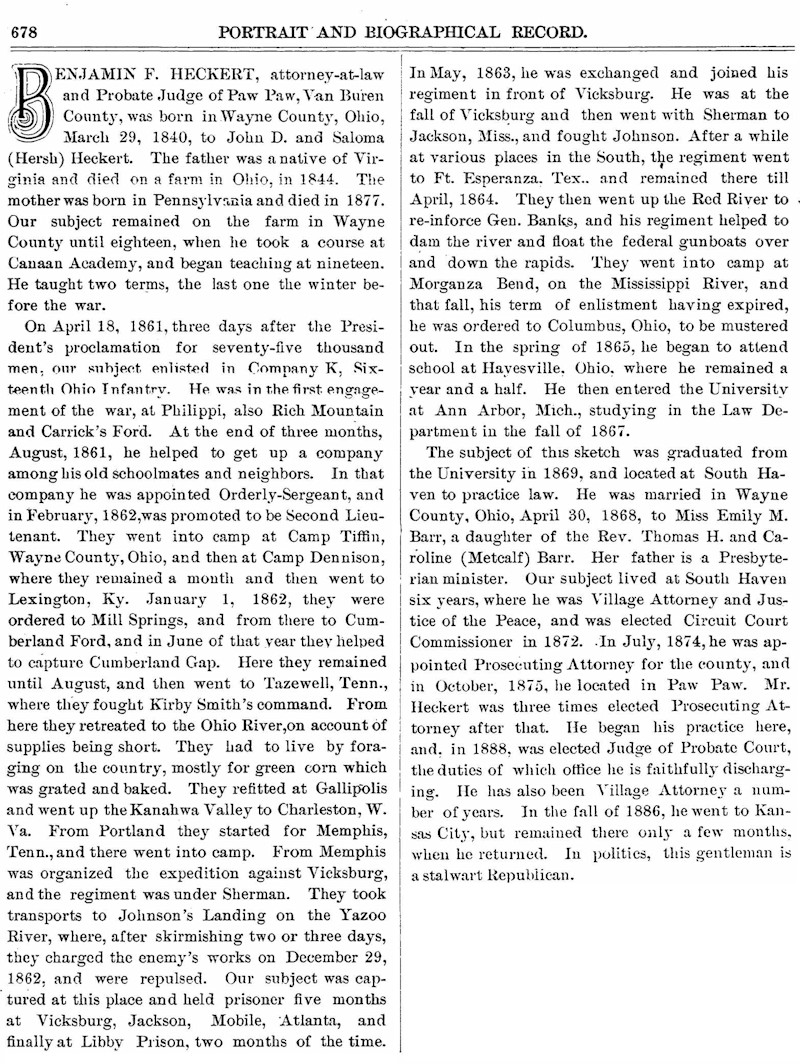 Addendum from Tim Stegg:
The (above) bio was written while he was still living. What it doesn't tell is that he was elected to the Michigan House of Representatives for Van Buren County and served in that capacity until his death. I imagine that is why he was in Lansing (the State Capitol of Michigan) when he died instead of being near his home in Paw Paw, MI. He also adopted a daughter sometime around late 1800's, early 1900's as she can be found on a census and as signer of his death certificate.
Shortly after graduating law school he became the village attorney for South Haven, MI. He lived in South Haven from 1870 until 1875. (He can be found on the 1870 US Fed Census in South Haven). While in South Haven he served as Master of Star of the Lake Lodge #158 F & AM. (Upon finding his tombstone photo), at first glance I thought he had a Federal Eagle representing his service in the Union Army. But, after further examination, I noticed it's actually a double-headed eagle. He was also a member of the AASR Valley of Grand Rapids, i.e., Scottish Rite Freemasons which is represented by a double eagle.
I also found that Co. K had two other Heckerts: Elias and Levi. These two were brothers and B.F.'s first cousins. i.e., B.F.'s father's brother's sons. So, of the three Heckerts in Company K who charged the Confederates for Sherman that day in December (Battle of Chickasaw Bayou, Dec. 29, 1862), one was killed, one was taken prisoner and one was able to retreat.
From U.S. Federal Census Records - note various name spellings:
1850 - Benjamine F Heckert - Canaan, Wayne, OH
1860 - Benjamin Hackard - Canaan, Wayne, OH
1870 - B F Heckert - South Haven, Van Buren, MI
1880, 1900, 1910 - Benjamin F Heckert - Paw Paw, Van Buren, MI
From PoliticalGraveyard.com:
Benjamin Franklin Heckert (1840-1911) - also known as Benjamin F. Heckert - of Paw Paw, Van Buren County, Mich. Born in Wayne County, Ohio, March, 1840. Son of John David Heckert (1801-1844) and Salome (Hirsch) Heckert (1808-1879); married 1868 to Emily Metcalf Barr. Served in the Union Army during the Civil War; lawyer; probate judge in Michigan; candidate for circuit judge in Michigan 36th Circuit, 1899; delegate to Michigan state constitutional convention 8th District, 1907-08; member of Michigan state house of representatives from Van Buren County, 1909-11; died in office 1911. German ancestry. Member, Freemasons; Shriners. Died in Lansing, Ingham County, Mich., April 12, 1911 (age 71 years, 0 days). Burial location: Prospect Hill Cemetery, Paw Paw, Michigan.