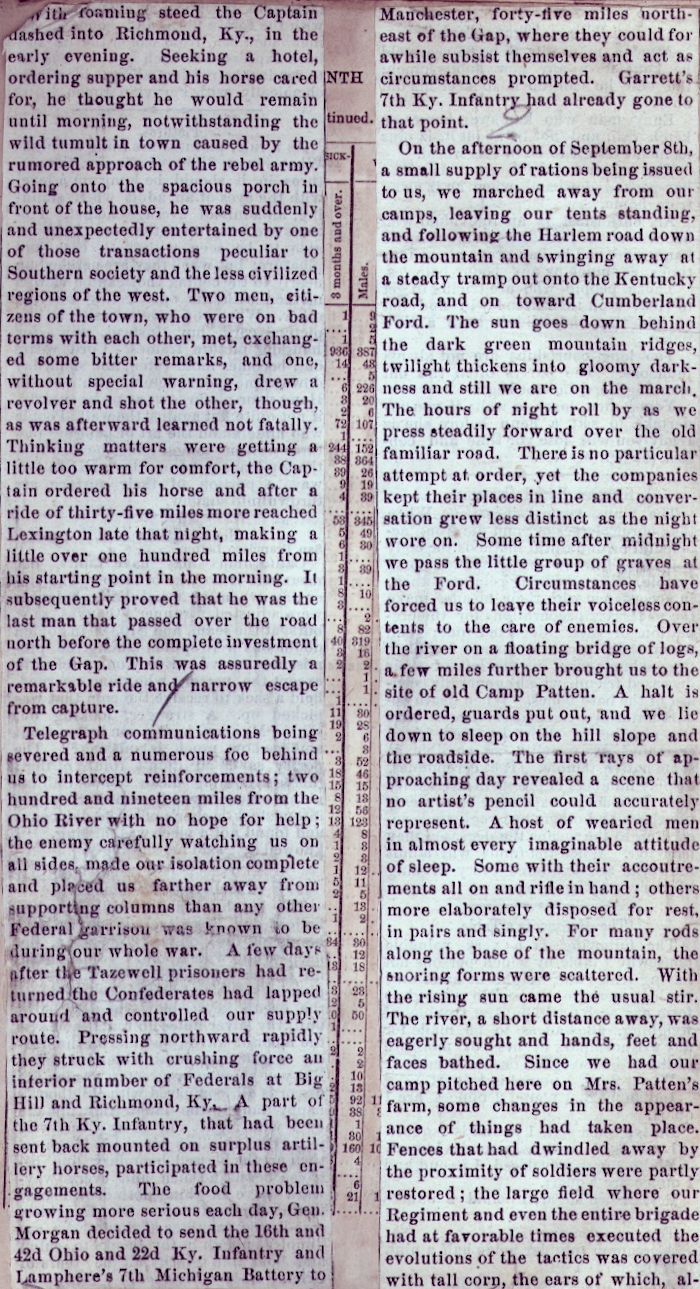 With foaming steed the Captain dashed into Richmond, Ky., in the early evening. Seeking a hotel, ordering supper and his horse cared for, he thought he would remain until morning, notwithstanding the wild tumult in town caused by the rumored approach of the rebel army. Going onto the spacious porch in front of the house, he was suddenly and unexpectedly entertained by one of those transactions peculiar to Southern society and the less civilized regions of the west. Two men, citizens of the town, who were on bad terms with each other, met, exchanged some bitter remarks, and one, without special warning, drew a revolver and shot the other, though, as was afterward learned not fatally. Thinking matters were getting a little too warm for comfort, the Captain ordered his horse and after a ride of thirty-five miles more reached Lexington late that night, making a little over one hundred miles from his starting point in the morning. It subsequently proved that he was the last man that passed over the road north before the complete investment of the Gap. This was assuredly a remarkable ride and narrow escape from capture.
Telegraph communications being severed and a numerous foe behind us to intercept reinforcements; two hundred and nineteen miles from the Ohio River with no hope for help; the enemy carefully watching us on all sides, made our isolation complete and placed us farther away from supporting columns than any other Federal garrison was known to be during our whole war. A few days after the Tazewell prisoners had returned the Confederates had lapped around and controlled our supply route. Pressing northward rapidly they struck with crushing force an inferior number of Federals at Big Hill and Richmond, Ky. A part of the 7th Ky. Infantry, that had been sent back mounted on surplus artillery horses, participated in these engagements. The food problem growing more serious each day, Gen. Morgan decided to send the 16th and 42d Ohio and 22d Ky. Infantry and Lamphere's 7th Michigan Battery to
Manchester, forty-five miles northeast of the Gap, where they could for awhile subsist themselves and act as circumstances prompted. Garrett's 7th Ky. Infantry had already gone to that point.
On the afternoon of September 8th, a small supply of rations being issued to us, we marched away from our camps, leaving our tents standing, and following the Harlem road down the mountain and swinging away at a steady tramp out onto the Kentucky road, and on toward Cumberland Ford. The sun goes down behind the dark green mountain ridges, twilight thickens into gloomy darkness and still we are on the march. The hours of night roll by as we press steadily forward over the old familiar road. There is no particular attempt at order, yet the companies kept their places in line and conversation grew less distinct as the night wore on. Some time after midnight we pass the little group of graves at the Ford. Circumstances have forced us to leave their voiceless contents to the care of enemies. Over the river on a floating bridge of logs, a few miles further brought us to the site of old Camp Patten. A halt is ordered, guards put out, and we lie down to sleep on the hill slope and the roadside. The first rays of approaching day revealed a scene that no artist's pencil could accurately represent. A host of wearied men in almost every imaginable attitude of sleep. Some with their accouterments all on and rifle in hand; others more elaborately disposed for rest, in pairs and singly. For many rods along the base of the mountain, the snoring forms were scattered. With the rising sun came the usual stir. The river, a short distance away, was eagerly sought and hands, feet and faces bathed. Since we had our camp pitched here on Mrs. Patten's farm, some changes in the appearance of things had taken place. Fences that had dwindled away by the proximity of soldiers were partly restored; the large field where our Regiment and even the entire brigade had at favorable times executed the evolutions of the tactics was covered with tall corn, the ears of which, al-