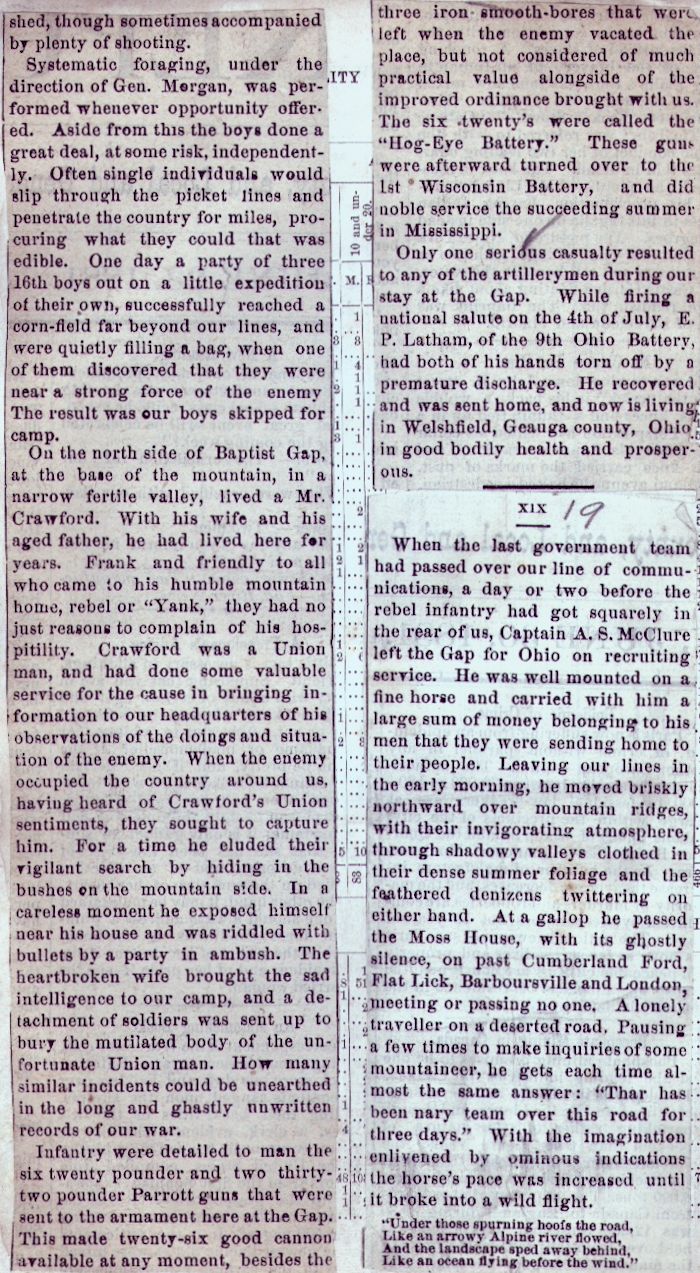 shed, though sometimes accompanied by plenty of shooting.
Systematic foraging, under the direction of Gen. Morgan, was performed whenever opportunity offered. Aside from this the boys done a great deal, at some risk, independently. Often single individuals would slip through the picket lines and penetrate the country for miles, procuring what they could that was edible. One day a party of three 16th boys out on a little expedition of their own, successfully reached a corn-field far beyond our lines, and were quietly filling a bag, when one of them discovered that they were near a strong force of the enemy. The result was our boys skipped for camp.
On the north side of Baptist Gap, at the base of the mountain, in a narrow fertile valley, lived a Mr. Crawford. With his wife and his aged father, he had lived here for years. Frank and friendly to all who came to his humble mountain home, rebel or Yank, they had no just reasons to complain of his hospitality. Crawford was a Union man, and had done some valuable service for the cause in bringing information to our headquarters of his observations of the doings and situation of the enemy. When the enemy occupied the country around us, having heard of Crawford's Union sentiments, they sought to capture him. For a time he eluded their vigilant search by hiding in the bushes on the mountain side. In a careless moment he exposed himself near his house and was riddled with bullets by a party in ambush. The heartbroken wife brought the sad intelligence to our camp, and a detachment of soldiers was sent up to bury the mutilated body of the unfortunate Union man. How many similar incidents could be unearthed in the long and ghastly unwritten records of our war.
Infantry were detailed to man the six twenty pounder and two thirty-two pounder Parrott guns that were sent to the armament here at the Gap. This made twenty-six good cannon available at any moment, besides the
three iron smooth-bores that were left when the enemy vacated the place, but not considered of much practical value alongside of the improved ordinance brought with us. The six twenty's were called the Hog-Eye Battery. These guns were afterward turned over to the 1st Wisconsin Battery, and did noble service the succeeding summer in Mississippi.
Only one serious casualty resulted to any of the artillerymen during our stay at the Gap. While firing a national salute on the 4th of July, E. P. Latham, of the 9th Ohio Battery, had both of his hands torn off by a premature discharge. He recovered and was sent home, and is now living in Welshfield, Geauga county, Ohio, in good bodily health and prosperous.
---
When the last government team had passed over our line of communications, a day or two before the rebel infantry had got squarely in the rear of us, Captain A.S. McClure left the Gap for Ohio on recruiting service. He was well mounted on a fine horse and carried with him a large sum of money belonging to his men that they were sending home to their people. Leaving our lines in the early morning, he moved briskly northward over mountain ridges, with their invigorating atmosphere, through shadowy valleys clothed in their dense summer foliage and the featured denizens twittering on either hand. At a gallop he passed the Moss House, with its ghostly silence, on past Cumberland Ford, Flat Lick, Barboursville and London, meeting or passing no one. A lonely traveller on a deserted road. Pausing a few times to make inquiries of some mountaineer, he gets each time almost the same answer: Thar has been nary team over this road for three days. With the imagination enlivened by ominous indications the horse's pace was increased until it broke into a wild flight.
Under those spurning hoofs the road, Like an arrowy Alpine river flowed, And the landscape sped away behind, Like an ocean flying before the wind.