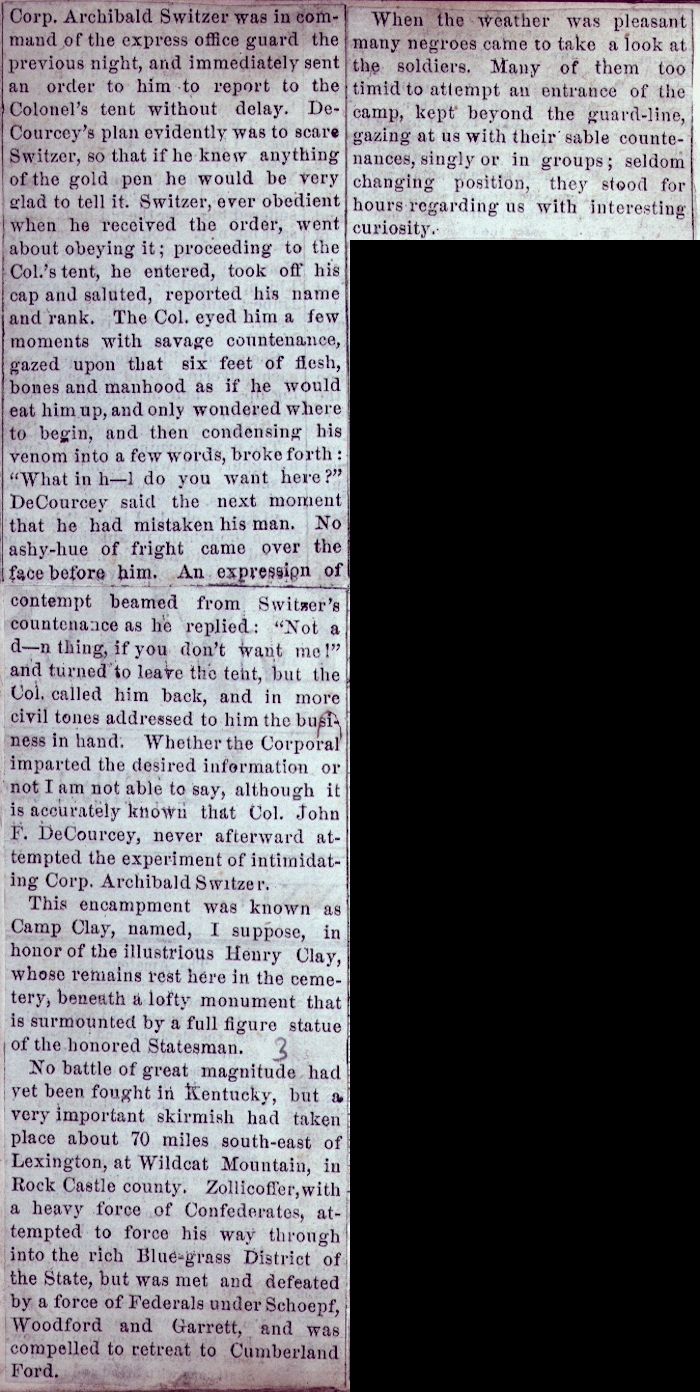 Corp. Archibald Switzer was in command of the express office guard the previous night, and immediately sent an order to him to report to the Colonel's tent without delay. DeCourcey's plan evidently was to scare Switzer, so that if he knew anything of the gold pen he would be very glad to tell it. Switzer, ever obedient when he received the order, went about obeying it; proceeding to the Col.'s tent, he entered, took off his cap and saluted, reported his name and rank. The Col. eyed him a few moments with savage countenance, gazed upon that six feet of flesh, bones and manhood as if he would eat him up, and only wondered where to begin, and then condensing his venom into a few words, broke forth: What in h--l do you want here? DeCourcey said the next moment that he had mistaken his man. No ashy-hue of fright came over the face before him. An expression of contempt beamed from Switzer's countenance as he replied: Not a d--n thing, if you don't want me! and turned to leave the tent, but the Col. called him back, and in more civil tones addressed to him the business in hand. Whether the Corporal imparted the desired information or not I am not able to say, although it is accurately known that Col. John F. DeCourcey, never afterward attempted the experiment of intimidating Corp. Archibald Switzer.
This encampment was known as Camp Clay, named, I suppose, in honor of the illustrious Henry Clay, whose remains rest here in the cemetery, beneath a lofty monument that is surmounted by a full figure statue of the honored Statesman.
No battle of great magnitude had yet been fought in Kentucky, but a very important skirmish had taken place about 70 miles south-east of Lexington, at Wildcat Mountain, in Rock Castle county. Zollicoffer, with a heavy force of Confederates, attempted to force his way through into the rich Blue-grass District of the State, but was met and defeated by a force of Federals under Schoepf, Woodford and Garrett, and was compelled to retreat to Cumberland Ford.
When the weather was pleasant many negroes came to take a look at the soldiers. Many of them too timid to attempt an entrance of the camp, kept beyond the guard-line, gazing at us with their sable countenances, singly or in groups; seldom changing position, they stood for hours regarding us with interesting curiosity.