Pvt. Samuel Gordon Accidentally Shot and Killed on First Day of Enlistment
October 2, 1861
Web Author's Notes:
Young Samuel F. Gordon, just 17 years old, exercised his patriotic zeal and joined the 16th Ohio Volunteer Infantry, ready to fight for his country. He went to Camp Tiffin, one of several camps established in Ohio to process the large numbers of recruits joining the army, and was assigned to Company G, a company whose commander, Capt. Hamilton Richeson, had not yet been officially assigned. Samuel mustered into service as a Private on October 2, 1861. Later that same day, while examining a revolver with friends, the gun discharged while being handed to him. The bullet passed through his heart and he died of the wound. Poor Samuel officially served only a few hours in the service of his nation before his death.
Samuel Gordon does not appear on any official military rosters, those rosters not yet having been documented when Samuel died. Samuel was buried in Wooster Cemetery, Wooster, Ohio. Although not listed on the official Roll of Honor, the list of soldiers who died while in military service during the war, as there was, evidently, confusion as to whether Samuel Gordon was officially in the military at the time of his death, based on the document below and the fact a military pension was granted to his mother, this website will consider Samuel Gordon as having died in the service of his country and a member of the Roll of Honor.
On March 17, 1884, Samuel's mother applied for a military pension. The United States Senate report, below, seems to indicate the pension was eventually approved some time after February 13, 1885. Such pensions were typically about $12 per month.
Below is the United States Senate committee report recommending the granting of a pension to the mother of Pvt. Samuel F. Gordon.
This is the pension index card used by the government to keep track of military pensioners and implying that Samuel Gordon's mother did receive a pension for her son.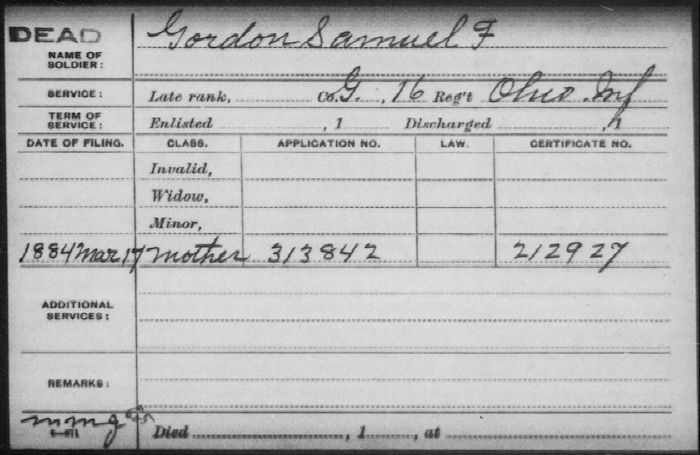 Here are images of the gravestone and GAR marker for Samuel Gordon. Gordon's gravesite is in the Wooster Cemetery, Wooster, Ohio. Thanks to John Bastin at FindAGrave.com for taking and publishing the photos.