Adjutant-General Henry B. Carrington Presents Newly Formed 16th Ohio Volunteer Infantry With Relic from Ft. Sumter
abt. May 16, 1861
Henry B. Carrington became adjutant general for Ohio at the onset of the Civil War. He musterd ten regiments of militia, eventually organizing twenty-six Ohio regiments. It was Carrington's intention to lead the 16th Ohio into battle, thus the nickname of the regiment, Carrington's Guards. However, he was commissioned colonel of the 18th United States Infantry in May, 1861, and relinquished his goal of commanding the 16th Ohio. While still organizing Ohio regiments at Camp Jackson in Columbus, Carrington spoke to the 16th Ohio, probably at the Ohio State House. At that address, Gen. Carrington presented the Carrington Guards a stand of colors of embroidered silk. During the presentation he removed from his pocket a small piece of wood saying,
This splinter is a fragment of the Fort Sumter flag staff, which Major Anderson recently gave me here in Columbus, while on his way from the surrendered fort to his home in Kentucky. I give it to the Carrington Guards and shall have it inserted in the top of your Regimental flag staff so that you shall carry over your heads the sacred memento; and may you never surrender it to traitors.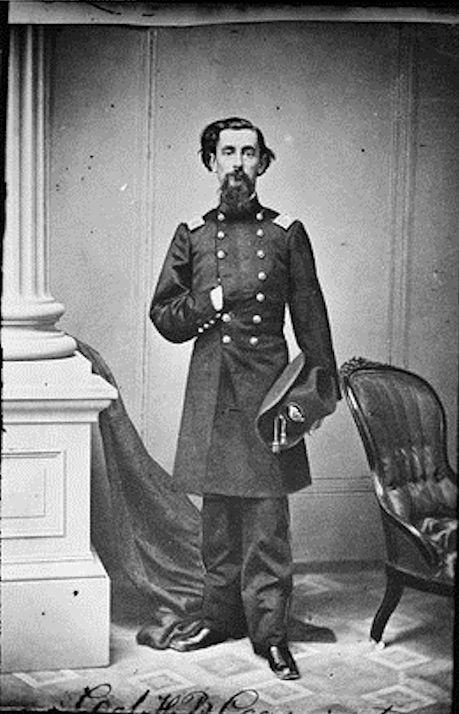 General Henry Beebe Carrington