The telegraph office across the Mississippi River from Vicksburg received an urgent message from Major L. L. Daniel at Lake Providence, 36 miles to the north. The operator, Colonel Philip H. Fall took the message. The weather was cold and stormy but Col. Fall risked his life, crossing the turbulent river in a small skiff, so he could deliver the critical information to General Smith, who he knew would be at the Christmas Eve ball being hosted by prominent citizen Emma Balfour.
At the Corner of Cherry and Crawford, Vicksburg, Mississippi, stood the home of famous Vicksburg siege diarist Emma Balfour. This home was the setting for one of the most dramatic moments in Vicksburg history when the Balfours hosted a Christmas Eve ball in 1862 for Confederate officers and their ladies. A little past midnight a courier, Col. Philip Fall, covered with mud, interrupted the festivities to deliver a message to Gen. Martin Luther Smith. The General read the note and then announced, "This ball is at an end. The enemy are coming down the river." That enemy included the 16th Ohio Volunteer Infantry and what followed was the Battle of Chickasaw Bayou, the Union's first attempt at taking Vicksburg. This battle would be the bloodiest engagement the 16th Ohio would endure in the Civil War.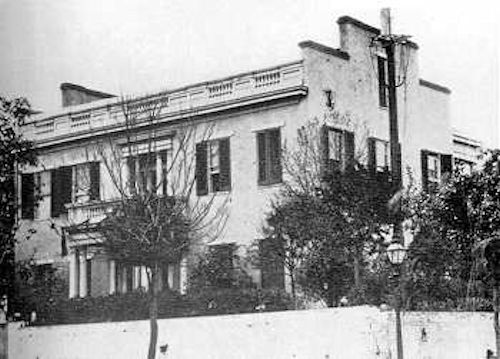 The Balfour House, Vicksburg, Mississippi, 1866. Shell damage visible on right side above left window.