INTO THE MIST
The regiment spent some period of time at Camp Chase, Ohio, a few miles west of Columbus. This camp was used to prepare Union troops for the field and also to gather them for mustering out when their term was finished, as was the case, now, with the 16th Ohio. The camp also housed a large prison camp for captured Confederates. It is not known how long the regiment, as an organized unit, stayed at Camp Chase. Pvt. Robert "Newt" Gorsuch, Company B, tells us that on this day, he obtained a pass to the city and toured with friends, returning to camp that night. He again went into the city on October 17 but states he started for home with his friend, Thomas Linn, Company B, arriving there at 10:00 that night. Gorsuch did not return to Camp Chase until October 26 when he states:
Came to camp (in an) omnibus. Mustered for pay. Turned over government property and came to town ready for starting home in morning.
Whether the entire regiment mustered, one last time, for pay on October 26 is not known. Reports mention the companies were paid out at the Ohio State House in downtown Columbus. Cpl. Theodore Wolbach, Company E, mentions all were paid out by November 4. Official military records list the soldiers of the 16th Ohio as having been mustered out October 31, 1864. Wolbach describes this time:
The daily theme with the boys was "when will we be discharged?"  Such a spirit of restlessness took possession of the majority that high board fences and vigilant guards could not confine them to camp limits.   Many took lodging in the city, while others visited their homes.  Finally the entire regiment was boarding in the city at their own expense.  When the paymaster was ready the companies, one at a time, were marched to his office in an upper room of the State House, received their pay, including the one hundred dollars bounty, and discharged.
It was, understandably, a somewhat chaotic time, having the men so close to home and their term of enlistment expired or expiring. It is likely only the awaiting of their final pay kept them in the Columbus area, most living some miles to the east in the counties of Holmes and Wayne and several others nearby. They had done their jobs, and done them well and it was time to go home.
We shall conclude our Day By Day account of the 16th Ohio Volunteer Infantry, appropriately, with the words of Cpl. Wolbach:
The roll of the regiment showed about four hundred and forty including the absent sick. Before the evening of Nov. 4th every company was mustered out of the United States service. The 16th O.V.I. as an organization ceased, is disbanded, its ranks dissolved like mist. The war-worn boys are citizens once more, to go and come at will. Comrades take a final hand-shake and depart for their homes. The flag of the old 16th is placed in the flagroom of the State House. On either hand are the flags of sister regiments, whose eagles have pointed to victory and final triumph. Shut in from sunshine and storm the silken fabric peacefully hangs an honored relic of a mighty civil war.
Furl that banner, for 'tis weary,
Round its staff tis drooping dreary,
Furl it, fold it, let it rest.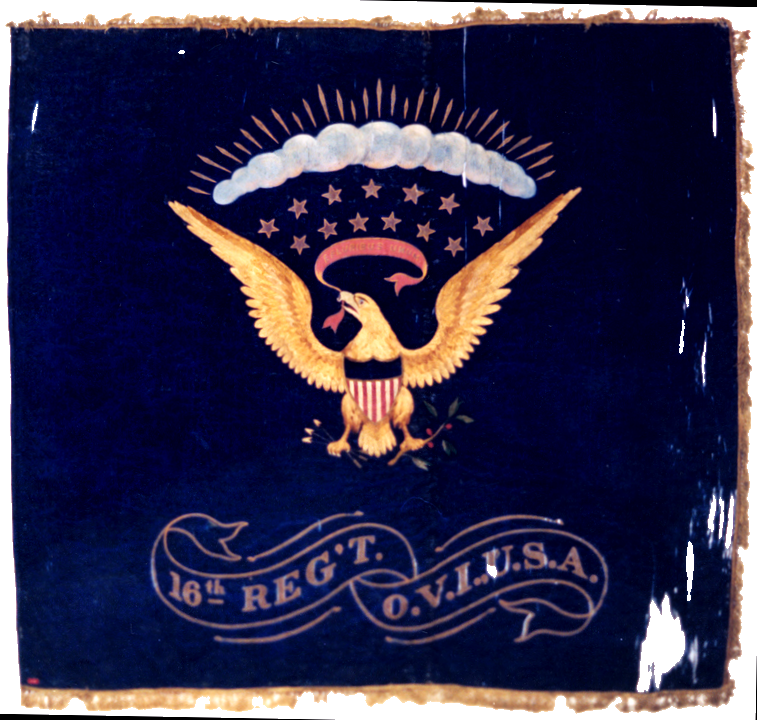 ---
A personal comment from the Web Author:
Our nation's gratitude, then and now, should be showered upon these brave soldiers, from every regiment, these young boys who, when their nation called, dropped everything in their already difficult lives and offered those lives to help save their young nation. Their hardships are, today, unimaginable, as are those suffered by their families, struggling back home to keep going the farms and businesses and to raise and teach the children that were left behind. The patriotism and passion of the people of this era were the foundation of what was becoming the greatest nation in the history of Earth. Without these qualities this nation cannot survive. Hopefully, by reading these honest and heartfelt accounts, by better understanding the realities of life, readers will be reminded of what made America great and prosperous and, just maybe, be inspired to better emulate those qualities and work to save this great nation.....lest this horrific sacrifice, this righteous war for freedom and survival, and those that followed, will have been in vain.