UNDER CONTINUOUS FIRE
During this time, the left wing of the 16th Ohio continued to camp several miles northwest of Alexandria, Louisiana, participating in the defense of the city. Rebel forces under Gen. Richard Taylor continued to harass the Federal troops, firing on their pickets on both the left and right flanks.
Col. Joseph Bailey, who engineered the dam, was afraid that if they plugged the breech in the dam it would likely break again. He decided to leave the 70 foot opening and to build several smaller, lighter dams near the upper rapids. These dams would help channel the water and reduce the pressure on the main dam. The result was a series of dams which provided a deep channel of water around all the sets of rapids which allowed the boats to pass. We're not sure what specific work the right wing of the 16th Ohio performed during these three days, only that they remained on the east bank and, no doubt, performed much heavy work preparing the dams.
Move our camp to the extreme left and stop in the woods. Draw rations. The enemy have followed us back closely and are new near. Much picket firing just after dark. Sleep with our accouterments on.
The 16th Ohio and other troops had driven the Confederates back up Bayou Rapides the day before and were now camped and holding a position about eight miles northwest of Alexandria. The Rebel forces, under Gen. Richard Taylor, harassing the Union troops in and around Alexandria were desperate to strike a fatal blow with hopes of changing the outcome of the war. As smart and aggressive as Taylor was, and as hesitant and indecisive Gen. Banks seemed to be, the Confederates just didn't have enough manpower to make an all out attack on the much larger Union force.
---
This period military map is annotated with the approximate campsite of the left wing of the 16th Ohio and other Union troops defending Alexandria, Louisiana, and where the 16th Ohio would stay until May 13. Also shown are the approximate sites where the right wing of the 16th Ohio camped while helping to build Bailey's Da.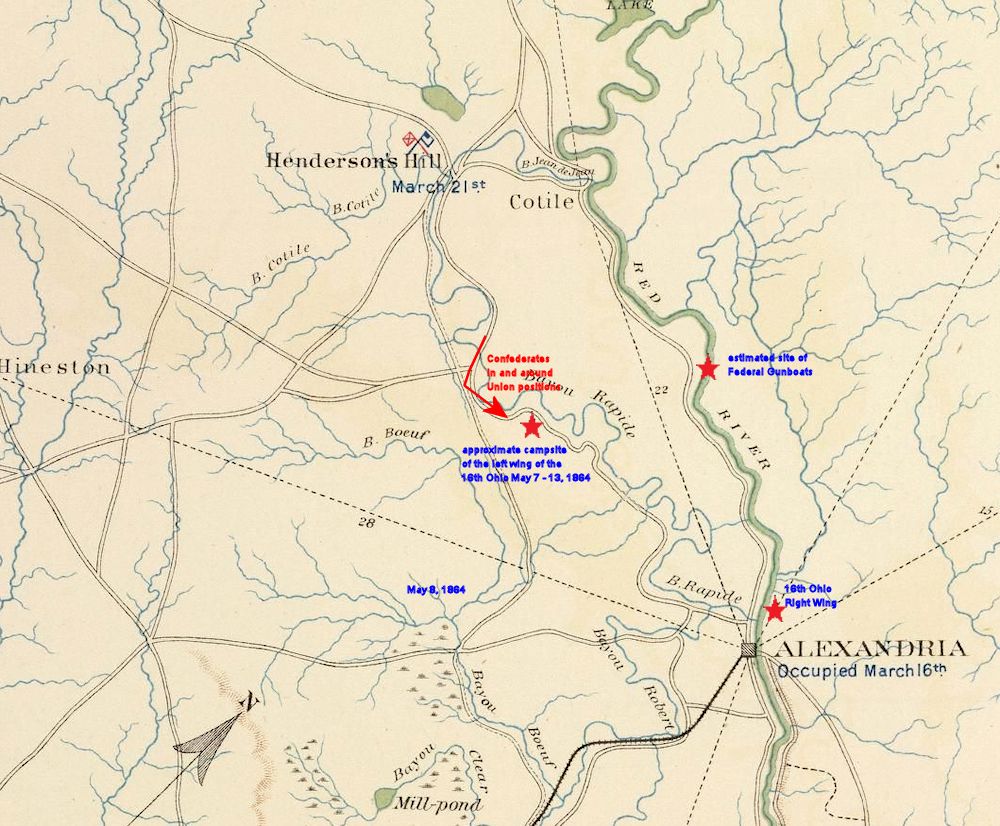 ---
This map shows the location of the main dam, as well as the new wing dams, built to create a deeper channel over the upper rapids and to relieve pressure on the main dam, below.